Performance Festival Announces Series of Interactive Workshops
MAY and June 2013 will once again see Tmesis Theatre present Physical Fest, and for their ninth year the physical theatre festival has announced an exciting 8 day line-up of workshops to accompany its performances.

Physical Fest will run from Friday 24, May to Saturday, 1 June 2013, in venues across Liverpool. Presented by Liverpool based theatre company Tmesis Theatre, Physical Fest will showcase a variety of physical theatre workshops encouraging audiences to get involved and showcase their improv skills.

These workshops, given by some of the world's most exciting physical theatre practitioners, make up a large part of the festival with interactive events including physical theatre, clowning, improvisation and acrobatics, all taking place at the Bluecoat arts venue in Liverpool City centre.

Physical Fest workshops start on Saturday, 25 May 2013, with The Theatrical Body, presented by Compagnie Mangano-Massip, a French Theatre Company formed by Sara Mangano and Pierre-Yves Massip to explore the art of mime and associated forms of expression. Inspired by Marcel Marceau, Etienne Decroux and Jacques Lecoq, the workshop will explore the full range of an actor's physical expression, nuances of movement and dramatic gesture.

Sunday, 26 May 2013, will see Daphnis Kokkinos host a workshop based on the work of the late Pina Bausch. Beginning with modern dance training, Daphnis will then teach a series of movements which will allow students to find their own movement, unique to themselves. Participants will get the chance to explore their innermost feelings and transform them into dance and theatre.

An evening class will also take place on Sunday, 26 May 2013, hosted by Mary Prestige and Jo Blowers. This workshop will explore contact improvisation as a tool for physical performance as well as release-based techniques. Students will explore developing trust, spontaneity and expressivity through touch and weight sharing.

On Monday, 27 May 2013, Tmesis Theatre's own Yorgos Karamalegos will host the morning class Seeking for Pleasure. Based on Lorna Marshall's 'fun time for the body' this dive inside the human body is the perfect way to start the day.

Also on Monday, 27 May 2013, will be the workshop Delve Deeper, held by movement director Fin Walker. Open to performers from all disciplines, participants will get the opportunity to step into their bodies inhabiting them fully in the moment of being, letting its movement support the movement of energy.

Tuesday, 28 May 2013, see Yorgos Karamalegos host a workshop as part of the London based Physical Acting Lab. Through durational movement and music, participants will open up physically and emotionally, focusing on physical grounding and identification of individuals qualities.

Barefeet Acrobatics will hold their Afro-Batics workshop on the evening of Tuesday, 28 May 2013.

Participants should prepare to spend a mass of energy as the Barefeet Acrobats guide them through a series of lifts, dives and spins. Developing flexibility and strength, the acrobats take inspiration from traditional Zambian myth and folklore, mixing rhythm, voice and crump influenced movement.

Barefeet Acrobatics will also hold a workshop for 11 to 18 year olds on Saturday, 18 May 2013.

Adam Meggido presents his improvisation in performance workshop on Wednesday, 29 May. As the artistic director of Extempore Theatre, Adam is the co creator of some of the most ambitious and successful improvised theatre in the UK today. This hands-on approach to improvisation and spontaneity in theatre will give performers a freedom release and confidence in the moment.

Artistic director of Tmesis theatre Elinor Randle leads Morning Moves on Thursday, 30 May 2013. This gentle way into moving is the perfect way to revitalise the mind and body after 6 days of workshops, using partner stretches, gentle movement and improvisation in preparation for expression.

Next up on Thursday, 30 May 2013, is performer, director, and clown doctor, Jamie Wood's workshop exploring clowning as a
place to be open, honest, vulnerable, present and playful. Clown, Open to the space between us explores the space between the audience and performer and how you can have fun in this space.

The series of workshops comes to an end with a 2 day mask workshop from Unbridled Theatre's artistic director, Michael A Brown on Friday, 31 May and Saturday, 1 June 2013.
Day 1 will explore the neutral mask, representing a human with no past or future plans; this state of neutrality allows the actor to live fully in a state of discovery.
Day 2 will look at the expressive mask, from abstract to full face character masks; exploring the opportunity mask play makes of the performers body and imagination.

The only festival of its kind in Europe, Physical Fest is organised by Tmesis Theatre and brings the world's best local, national and international movement and physical theatre artists to Liverpool in an exciting 9 day programme of events, workshops, taster classes and performances. For full information on all workshops please visit:- physicalfest.com/fest-workshops-2013 and to book a place on a workshop, download a form from:- physicalfest.com. Alternatively send an email or call:- 0781 330 1517.

Work experience scheme launched at Ropewalks construction site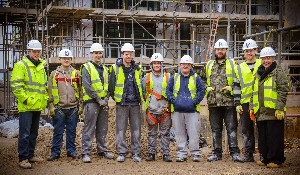 THE Prince's Trust has teamed up with VINCI Construction UK to offer unemployed young people in Liverpool the opportunity to "Get into Construction". 15 -- 18 to 25 year olds received a 2 week introduction at the North Liverpool Regeneration company before taking part in 10 days of multi-discipline, construction work experience. The programme took place at East Village Student Accommodation, a £10m scheme in the Ropewalks area which is being undertaken by VINCI Construction UK.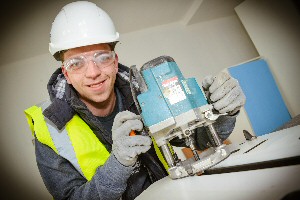 Carl Ingman, age 23, said:- "I would like to give a big thank you to VINCI Construction UK and The Prince's Trust for the great experience and opportunity they have given me. I really enjoyed learning new things and finding out what it is like to work on a construction site. The programme has given me the confidence and experience needed to pursue a career in construction and get the job I have always been looking for"

Peter Dodd, Project Manager, VINCI Construction UK, Building Division – North, said:- "We greatly support any initiative such as, the Get into Construction programme, which inspires young people to develop new skills and encourages them into a career. With the high number of young people claiming Job Seekers Allowance it is important for us to create opportunities for work and development."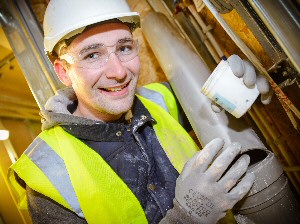 A celebration was held at the end of the programme, and young people delivered a presentation to demonstrate what they learned. Those who did in the programme may be offered an apprenticeship; furthering their development in their chosen trade. East Village site recently welcomed 3 apprentices, including Louis Crosbie who joined as a full time technical trainee. William Morris and John Parry also completed 2 weeks of work experience.
Blind photographers' exhibition success
AN innovative new project by UK artist Egle Meistaite has recently opened at the Camp and Furnace in Liverpool. 2 local visually impaired Henshaws parents, Kevin Pagan and John Edgley, were collaborators on the project along with other collaborators Elaine Fielding, Tana Corps and Chineze Okeke and photographers Petra Stridfeldt and Julieann O'Malley. The photographs were taken by 3 groups of participants - professional photographers without disabilities, people with different physical state ie. blind or visually impaired people and participants with different state of mind, in particular autistic people. Each photographer was partnered with one blind or visually impaired and one autistic person and workshops were based on seven different guidelines. The pairs then wandered around Merseyside for 7 days, exploring spaces/ environments using one guideline per day. John gained so much from participating in the project:- "When I was initially asked to take part in the photography project I didn't know what to expect. I hadn't done any serious photography before and I was curious about what it would entail and what I could learn from it. I really enjoyed the project and realised that we look at things from different perspectives whether we are visually impaired or sighted. I have gained photography skills, a sense that I can do more, an awareness of my surroundings and my confidence has soared. I would definitely do something like this again, and am keen to maintain and develop my photography skills further. I was so proud to see my photographs exhibited in a gallery." The artist, Egle, said of John:- "Walking with John Edgley you find simple and honest meanings which you leave behind while rushing through the day. Vertical lines, playful shadows, contemplation and a sense of longing are typical for John's photography." Elaine Stewart, a Family Support Officer at Henshaws was delighted to be involved in the project, and noticed a definite change in the outlook of the participants:- "The Launch went extremely well and the photographs that John and Kevin had taken were amazing. They were exhibited alongside photographs taken by professional sighted photographers and no one could tell the difference. It was a fantastic project for them to get involved in, and has really improved their confidence as well as given them a new appreciation of the world."