Liverpool Has a New Rose in Town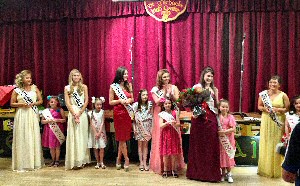 AFTER a 2 year break, the Liverpool Rose of Tralee returned this bank holiday weekend with the special event taking part at St Michael's Irish Centre on 4 May 2013.

The festival is a world wide event with organisers looking for young women who best capture the famous love song of the same name; incorporating beauty, personality and a unique quality.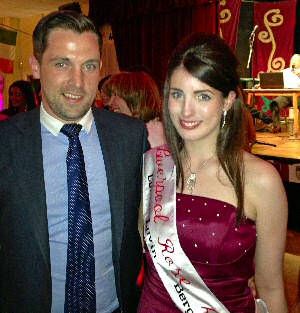 The Liverpool leg was won by Lisa O'Halloran, 24. Originally from Galway, Lisa moved to Liverpool in 2006 to study for an undergraduate degree in Psychology with Sports Science, a Masters in Sport Psychology and is currently studying for a PhD in Sports Psychology. Her research is in the area of elite football, and in the future she wants to work with athletes as an accredited sports psychologist.

After receiving the title, Lisa said:- "Thank you to all the girls and the organisers of the night... It was such a brilliant experience and my family had the best weekend."

The festival organiser and former Rose, Grace Kelly, commented:- "A huge congratulations to all our 6 roses did themselves, their families and sponsors proud. Each and every girl was outstanding and made the night what it was. Thanks to our sponsors Canter Levin & Berg and judges and huge congratulations to our Liverpool Rose 2013 Lisa O'Halloran. We are all backing you all the way to Tralee. Thanks everyone who turned out; it was a great night"

Canter Levin & Berg solicitor, Sean Carty, who was amongst the judges said:- "It was an honour to be on the judging panel for this year's Liverpool Rose of Tralee. All of the competitors did a grand job, the standard was very high, great craic was had by all. Many congratulations to Lisa, a worthy winner indeed."

Lisa will now go on to represent Liverpool in the final stages of the Regional Final to be held in Co Laois, Ireland on the weekend of the 29 June to 2 July 2013.

60 girls from all over the world will get together for this 4 day event. From those 60, just 32 will be chosen to go through to the televised final in Tralee in Co Kerry in August 2013.

If you do not know what the festival is this might help you... The Rose of Tralee International Festival is one of Ireland's largest and longest running festivals, celebrating 54 years in 2013. The heart of the festival is the selection of the Rose of Tralee which brings young women of Irish descent from around the world to County Kerry, Ireland for a global celebration of Irish culture. The festival also includes street entertainment, carnival, live concerts, theatre, circus, markets, funfair, fireworks and our internationally renowned Rose Parade. To find out lots more why not visit the events website.

Commissioner meets with Street Pastors founder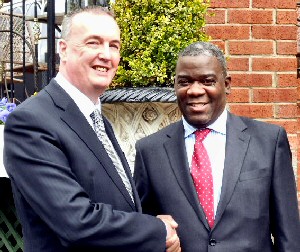 THE founder of the Street Pastors movement was in Lancashire and the County's Police and Crime Commissioner headed out to
find out more about the initiative.

Police and Crime Commissioner Clive Grunshaw met with Rev Les Isaac, who founded the now global Street Pastors movement
10 years ago, at an event to celebrate the work being done by volunteers in Chorley.

The Street Pastors give up their time to offer help, advice and support to young people – often late at night outside Lancashire's busy clubs and bars - and the Commissioner said:- "It was a pleasure to meet with Rev Isaac and find out more about the work being done by the network of Street Pastors across Lancashire. These are volunteers who are giving up their own time to help our communities to feel safer, and they are to be applauded for the work they do, often in difficult circumstances. The help and support the Street Pastors offer the Police and the local authority cannot be underestimated, and I am grateful for their contribution toward making Lancashire a better place to live."

Rev Isaac, director of the Ascension Trust, pioneered Street Pastors in London in 2003 and has now seen the scheme go across the UK as well as around the world, with plans to launch Street Pastors in California. He said:- "One of the reasons I'm here is to inform local authorities and the Police about the work we are doing and the impact it's having in communities, and to encourage the Street Pastors because I think they are doing a fantastic job. I believe whole-heartedly they are helping communities to be safer because they are doing 3 things. They are there, they listen to people and thirdly they are there to help and work in collaboration with the local authority to signpost people to different areas where they can get help."

There are currently 52 Street Pastors working in Chorley with another 11 in training, and Chorley coordinator Brian Jones said the scheme is about to expand into nearby Adlington.

Discussions are also underway about the possibility of placing Street Pastors in local hospitals.

Mr Jones said:- "The event was a chance to say thank you for all the support we have been given over the last few years. Rev Isaac did a presentation showing the phenomenal growth of Street Pastors, there are now 11,000 Street pastors nationally and they are based in every major City in the country. We have 52 in Chorley and another 11 coming through training, which is brilliant because you can do a lot more with more Street Pastors."
Are you going? Comedy Night at the Longton VM Sports and Social
THE club is holding a Comedy Night on 25 May 2012 and Introducing The Tena Ladies, The Tena Ladies, who are renowned for their appearance on ITV's 'Britain's Got Talent,' where they excelled in the 1st audition and gained 4 yes' from the judges. Their comedy act consists of their own side-splitting versions of acts such as Dolly Parton, Duffy, Lady GaGa and many more. They have also come up with their own 'characters' including a hilarious performance of their grandma creation. You have been warned, be prepared to laugh hard when The Tena Ladies take the stage! For tickets and more information visit:- longtonssc.co.uk.