Legendary Liverpool crime writer Lynda La Plante to tell her own life story at 'In Conversation' event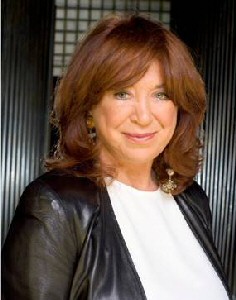 THE crime writer Lynda La Plante has been confirmed as the latest interviewee in the hugely successful Liverpool In Conversation series from the City's Little Atom Productions, adding to an already impressive list of guests including Paul McGann, David Morrissey and Stephen Graham.

The Liverpool-born creator of TV successes 'Trial & Retribution', 'Prime Suspect' and 'Above Suspicion' will take to the stage of St George's Hall Concert Room on Tuesday, 10 September 2013, to share stories about her life and career as well as her favourite pieces of music which will be performed live by 5 separate music acts in this now extremely popular and well-loved format.

Gemma Aldcroft of Little Atom said:- "We've been in talks with Lynda's publisher for some time now and we're absolutely delighted that she's agreed, not least because her latest novel will just have been released when she takes part in the series. We're very lucky to have secured her at this time."

La Plante, who left Liverpool to study at the Royal Academy of Dramatic Art (RADA) and began her career as an actress appearing with the Royal Shakespeare Company as well as in popular TV series' such as Z Cars and The Professionals, and penned a breakthrough script in 1983 when she created and the six-part robbery series Widows for Thames Television.

After this initial success Lynda became highly sought after as a crime writer and since signing her 1st book deal in 1987 has written a raft of hugely successful novels including the 'Cold' and 'Anna Travis' series. However it is probably the creation of DCI Jane Tennison and 'Prime Suspect' for which she is best known.

Little Atom's Karen Podesta said:- "Lynda has had such an impressive and inspirational career and we know our audience will be thrilled to hear her talking about her life and her relationship with the City. We're so happy to have her as a guest and to be welcoming our first female 'In Conversation' guest since we interviewed Janice Long back in 2010!"

Her latest novel 'Wrongful Death' is due for release in early September; as well as being able to ask questions during the Q&A fans will also be able to purchase a copy of the book after the event and have it signed by the author.

Lynda La Plante said:- "I always enjoy returning to Liverpool, it is a City which holds so many fond memories for me and I am very much looking forward my 'In Conversation' evening at the magnificent St George's Hall."

In Conversation With Lynda La Plante will take place on Tuesday, 10 September 2013, in the Concert Room of St George's Hall from 7.30pm (7pm doors).

Tickets (priced at £25) are on sale from 10am, Thursday, 9 May 2013, and available from:- littleatomproductions.com.

Commissioner welcomes new bill
LANCASHIRE'S Police and Crime Commissioner Clive Grunshaw has welcomed proposals for the new crime and policing bill, announced during this years Queen's Speech to Parlament.

Tackling anti-social behaviour and ensuring Lancashire Constabulary is victim-focused are 2 of the Commissioner's key priorities – and today's announcement covers both of those areas.

Under the proposals, 19 existing powers to deal with anti-social behaviour would be replaced with 6 faster, more effective, ones. The bill would also make the rights of victims the focus, with quick action taken to deal with persistent anti-social behaviour.

Clive Grunshaw said:- "I know anti-social behavior is a key concern for residents in Lancashire and it can have a serious detrimental impact on victims, raising their fear of crime and affecting their quality of life. I want to put the needs of victims of crime such as this at the heart of the work we do, and it is pleasing to see that focus in the new bill. Lancashire Constabulary has a good record on tackling anti-social behavior, but we are not complacent, and I hope the proposed bill will help to continue the excellent work being done by our officers and staff."

Another element of the bill would see Police and Crime Commissioners given responsibility for commissioning victims'
services.

The Commissioner said:- "I welcome the proposals to transfer responsibility for commissioning victims' services to Police and Crime Commissioners. We are already working hard in Lancashire to establish how best to help the county's victims, and I have given my Assistant Police and Crime Commissioner, Saima Afzal MBE, special responsibility for this work. Discussions have already begun with partners to establish how we can work together to ensure residents in Lancashire get the best possible help and support."

The bill also includes policies to tackle forced marriage, dangerous dogs and illegal firearms used by gangs and in organised crime.
TRAIN COMPANIES AND THE CLA RESPOND TO HS2 HYBRID BILL ANNOUNCED IN QUEEN'S SPEECH
COMMENTING on the HS2 Hybrid Bill and High Speed Rail (Preparation) Bill announced in today's Queen Speech, Michael Roberts, Chief Executive of the Association of Train Operating Companies, said:- "The inclusion of the HS2 legislation in today's Queen's Speech is good news for both passengers and the economy. This commitment is the next important step in securing a modern high speed rail network linking the north and south of Britain which will unlock significant economic and environmental benefits. A new high speed line, alongside sustained investment in the existing network, is key to providing the extra capaCity today's booming rail industry will need in the years ahead." CLA North Regional Director Dorothy Fairburn said:- "We hope that the inclusion of compensation within the bill is the Government's recognition that something must be done more quickly to compensate rural businesses affected by HS2. Currently there is one scheme in place, which offers those who will lose property and business opportunity, little prospect of compensation in the short term. This bill provides an opportunity for government to introduce the CLA's proposed Property Bond Scheme to protect property from any loss in value and needs to be introduced as soon as possible." But will Liverpool loose out again to Manchester? Email us your views to:- news24@southportreporter.com and let us know what you thing about the HS2.