THIS YEARS RALLY IS GEARING UP TO BE A GREAT NEW SHOW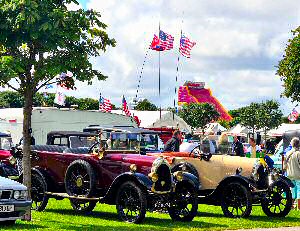 ORGANISERS of the popular Woodvale Rally have just revealed details of this year's new look show at Victoria Park, Southport. Woodvale Rally presents the Woodvale Transport Festival at the park on Saturday, 22 June and Sunday, 23 Jun 2013.
The show will still offer a fun-filled weekend for all with a wide range of attractions for enthusiasts, collectors and for those looking for a great family day out. And organisers are delighted to be able to announce that this year will see the return of the hugely popular model aircraft demonstrations.

General manager Peter Wood, said:- "To have the model aircraft this year is fantastic. The demonstrations are a real crowd-puller and we are so pleased that we have been able to accommodate this big attraction at Victoria Park. This new 2 day family event will be a smaller version of the rally but with all the ingredients to offer a fun weekend for all in a wonderful location. The Flower Show committee has been really supportive with helping us get this new venture off the ground."

The Liverpool and District Model Aero Club will be carrying out displays on both days.

Steve Christian, Sefton Council's tourism marketing officer, said:- "This new Woodvale Transport Festival next month is a real boost for Southport's event calendar and the Town itself. A show like this is perfect for Victoria Park at a time of year when it is not usually in use. It really enhances our reputation as a destination that really does have something for everyone."

In addition the show will feature vintage and classic vehicles, motor vehicle clubs, military jeeps, classic and vintage motorbikes and motor cycle clubs, monster trucks, model boats, model railways, model car racing and stationary engines.

Other highlights include the Spitfire Display Team who will have the Mark IX Spitfire RAF Bowser and supporting ground equipment on display.

New for this year's event and the first of its kind in the UK is 'Skyfall', giving show-goers the chance to experience the thrill of riding a zip-line and, back by popular demand, is the thrilling and original 'Wall of Death' Ken Fox Troupe World Tour.

Other attractions include martial arts displays, dance displays, water bouyz and water boats, giant slides, children's fairground rides, craft fair, car boot sale, model steam train rides and numerous trade stands.

Also entertaining the crowds throughout the weekend will be a selection of bands including the Savoy Jazzmen and Mike Byrne and the Sunrockers. Laurel and Hardy look-a-likes will also be spotted around the showground. A picnic area is also located next to the bandstand.

Other good news this year is that free parking is at Princes Park and a free vintage bus service will operate from Southport's Chapel Street station to the showground and back every half hour. Public camping is also available this year on site at Victoria Park and costs just £60 for 3 nights. Tickets cost £5 a day for adults and accompanied children under 15 are free. In advance 3 tickets are available for the price of 2 (£10) from:- Woodvale Transport Festival, PO Box 30, Southport, PR9 9ZN.

For further information telephone:- 08447 409172 or for tickets and camping and trade stand details visit:- woodvalerally.com or email:- info@woodvalerally.com.

European Parliament transport and tourism delegation visits North West for EU investment discussions
AS well as representing the North West region in Europe, the local North West MEP Brian Simpson is chair of one of the most important committees in the European Parliament - the Transport and Tourism Committee. Last week Brian hosted a delegation of MEPs from the Committee on the visit to the North West. From strengthening passengers' rights and investing in regional transport links, to protecting heritage sites and providing funding for museums, the visiting MEPs are responsible for promoting and improving transport and tourism across Europe.

Brian said that:- "The North West is leading the way when it comes to transport and tourism, so last week I welcomed some of my colleagues to my home region, to give them a first hand look at some of the excellent work that's being done here."

The MEPs met with local Councillors, airport industry experts and tourism officials to learn more about what the North West has to offer and hear what the European Parliament can do for tourism and transport in the North West.

The visit included a tour of Manchester Airport to find out more about its security and ground handling operations, as well as to learn more about the plans to build an airport City, the 1st in the UK and only the 3rd in the whole of Europe.

The visit also included discussions with Merseytravel on European investment in Liverpool's transport systems. The group heard from Councillors on the Merseytravel Authority about how European legislation and funding can continue to benefit the North West. "I know that this is the greatest region in the world and we need to make sure that others know the fantastic things that are on offer here. My fellow MEPs will return to the European Parliament with the 1st hand understanding to help ensure that transport and tourism continues to flourish across the North West." added Brian.
2013 IS THE PERFECT TIME TO DISCOVER IRELAND FOR LESS
2013 is the year of The Gathering Ireland and Stena Line and Tourism Ireland believe there has never been a better time to visit the Emerald Isle.

Visitors can set sail with Stena Line from Holyhead to Dublin Port or Dun Laoghaire or Fishguard to Rosslare and enjoy world class attractions, thrills, tastes, culture, laughter and fun and discover Ireland for less with great value fares from only £79* single for car and driver.

Stena Line also offers a fantastic choice of hotel breaks from only £70 * per person, per night (minimum 2 night stay) in a great range of 3, 4 and 5-star hotels with breakfast each morning. What's more, kids can travel and stay for free.

There is also the opportunity to enjoy up to 24 hours in Ireland and explore with a range of discounts at local attractions from only £33* per adult and travel by foot or by car.

Stena Line's Route Marketing Manager, Alexandra Smith said:- "2013 is the perfect year for people to enjoy a short break in Ireland. With so much taking place, special events, so many top class attractions and not to mention lots of beautiful places to explore, a great time will be had by all. With that in mind, Stena Line has teamed up with Tourism Ireland to launch this new campaign to encourage people to discover Ireland for less. Travelling by ferry to Ireland is the best way to go as people can make their holiday their own as they can stop off where and when they want. There are lots of ferry good reasons to travel with Stena Line including no baggage charges or restrictions on what you can bring with you and no lengthy airport queues. What's more, the holiday fun starts as soon as you step onboard with free movies, games and Wi-Fi, play areas for the children and a fantastic selection of restaurants as well as fantastic onboard shopping which offer great savings on fragrances, spirits, jewellery and gifts with average prices up to 40% cheaper than the high street."

For further information or to book go to:- stenaline.co.uk/ireland, call Stena Line on:- 08447 70 70 70 or visit your local travel agent.
* Terms and conditions apply. Subject to availability.