Fear over Council tax rises for singletons
COUNCIL Tax Advisors predicts public outrage at the Local Government Association (LGA), which is seeking to abolish the 25% Council tax discount given to single person households.

The LGA, the national voice of local government, works with Councils to support, promote and improve local authorities. Following the abolition of Council tax benefits and the creation in its place of Council Tax Support in April, the number of people struggling with Council tax arrears has increased.

As reported in The Daily Mail, Communities Secretary, Eric Pickles, referred to the potential removal of the discount as the 'Bridget Jones tax'. According to The Daily Mail, more than seven million people are thought to receive the 25% discount. Abolishing it is likely to incur the anger of people living alone, who, typically, would see their Council tax bill increase by an estimated £30 a month for a Band D property.

Chris Richards, MD and Founder of Council Tax Advisors, says:- "Taking away the 25% Council tax discount for single occupants will hit the most disadvantaged parts of Britain hardest. The cutback of funding in cash terms will be more drastic in areas where Council tax benefit spending is higher."

Council Tax Advisors recently predicted a 10% rise in the number of people falling behind with their Council tax as a result of the elimination of Council Tax Benefits in April 2013. It also believes that the number of debtors vulnerable to bailiff action will increase by around 25%. Despite this, the LGA is calling for Councils to be given full and unconstrained local powers to vary all Council tax discounts, including the single person's discount. Labour authorities including Liverpool, Sheffield, Islington and Exeter are backing the LGA's plan.

Council Tax Advisors helps people with Council tax arrears. Its staff members take a unique approach and care for their clients with constant dedication. CTA offers free advice which resolves 60% of cases in the first instance, diligently and swiftly. A comprehensive mediation service is also available at a maximum fee of £150.00 to resolve more difficult situations.

For more information, visit:- Counciltaxadvisors.co.uk.
North West nursing agency opens new Liverpool office
NORTH West nursing agency Jane Lewis Health & Social Care has announced a return to Liverpool. Based in Chester, the health and social care provider has unveiled a new base in the Corn Exchange, Fenwick Street, to help meet the growing demand for nurses and carers across Merseyside, including Knowsley, Sefton and St Helens.

"There's been a significant expansion in our client base and a stronger demand for our specialist skills in supporting clients of all ages with acquired brain injuries and other physical and psychological disabilities. Demands for our core services in supplying nurses and carers to the NHS, and to private care and nursing homes, are also showing a marked increase. We ran an office in Liverpool many years ago and we're proud and delighted with our decision to return. The new office will enable us to meet the needs of our Merseyside clients and allow us to expand our reach even further." says Jane Lewis Managing Director, Nick Hodson.

Jane Lewis Health & Social Care provides flexible staffing solutions for the nursing, domiciliary care, occupational health and social care sectors across the North West of England and North Wales.

For more information about Jane Lewis and the services they provide, visit:- janelewis.co.uk.

MARTINI LOUNGE GUARANTEES HOT & STEAMY FORECAST FOR JUNE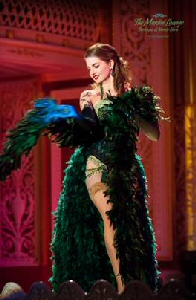 MARTINI Lounge Burlesque and Variety Show will return to the Epstein Theatre this June for their sizzling summer show; and they promise this is going to be their sauciest show yet! With the April Spring Showcase a raging success, Millie, Fred Bear and the Martini Lounge team have been busy putting together a diverse line up consisting of some of the most exciting burlesque and variety performers around in order to make Saturday, 22 June 2013, the hottest night on record!

With the award for "Best Burlesque Act" at the London Cabaret Awards 2013 under her belt, the beautiful Laurie Hagen is at the top of her game and ready to wow the crowd at the Epstein Theatre with her dazzling show. With the fabulous Dusty Limits as her mentor from an early age, this burlesque diva and actress from Brussels was one of Miss Polly Rae's original Hurly Burly Girls and is set to astound the Epstein audiences with unrivalled, cheeky panache and her highly charged antics.

Back by popular demand, the endearingly silly Velma Von Bon Bon makes a welcome return to the Martini Lounge stage. Since this peeling perfectionist made her memorable debut at the Martini Lounge she has set tongues wagging all over the UK with her hilarious and seductive routines and wide range of characters; all of which have made her the talk of the burlesque scene. With an organ grinder's monkey and Scooby doo amongst her repertoire this is a very special showcase which will see Velma's alter ego Natasha, bring her brand-spanking new aerial act to the Epstein for the very first time. This is one act which has to be seen to be believed!

Also back in town is that gorgeous Glaswegian Beau Rocks, a lady who combines vintage 60s glamour with a heart-warming pinch of girl next door calamity… but don't let her angelic features fool you as she has been known to make both men and women blush with a well-timed wink and bump of her hip! We are excited to announce that TriCity Vogue will be in action, adding her charming offbeat musical cabaret to the evening's festivities with her unique catalogue of surprising tunes and colourful history of romantic misadventures; all brought together with a sprinkling of her own brand of "cheeky jazz".

The ever impish Fred Bear is once again the evening's host and promises to keep the audience in check whilst entertaining with his witty banter and rib-tickling brand of humour and as always Liverpool's leading Burlesque star Miss Millie Dollar is back in town. Having effortlessly enchanted audiences internationally with her own famous routines, Millie can perform anything from traditional burlesque to the raunchy bump and grind popularised in the 50's and usually mixes the 2.

Unanimously regarded as the must-see Burlesque and Variety show in the UK, The Martini Lounge honours the satire and performance art that evolved since Burlesque's 19th Century beginnings. The audience is invited to enjoy heart-pounding performances of glitz and glamour from a by-gone age and a stylish and enchanting night of variety entertainment.
PERFORMANCE DETAILS
The Martini Lounge Burlesque and Variety Show
Saturday:- 22 June 2013
Tickets:- £20 pp
Start time:- 8.30 pm
Doors open:- 7.30 pm

The Epstein Theatre
Hanover House
85 Hanover Street
Liverpool
L1 3DZ

HOW TO BOOK:- Please visit:- martinlounge.co.uk.