POST OFFICE ROBBERY / ATTEMPT ROBBERY - BOOTLE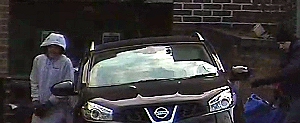 MERSEYSIDE Police Detectives in Sefton have released CCTV images of 2 men who may be able to assist with a police investigation, following 2 incidents at a Post Office in Bootle.

The 1st incident took place at around 8.40am on 13 March 2013. Staff at the Post Office on New Strand, were opening the shop when 2 men entered and started opening the cash drawers. The offenders then left the shop empty handed and got into a red Peugeot, which was parked outside. They drove away, the wrong way along the New Strand access road, onto Washington Parade. Officers have since discovered this car was travelling on cloned number plates.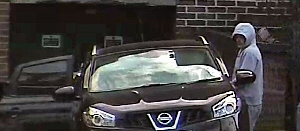 Officers are linking this to an incident on 28 March 2013, when at around 8.50am, at the same Post Office, 3 men entered as staff were going through the opening procedures. The men then threatened staff, who ran from building. The offenders proceeded to take a significant quantity of cash from drawers and the safe.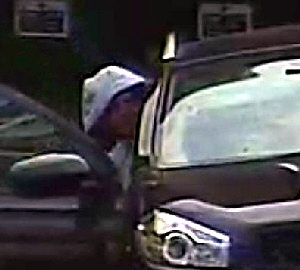 The 3 men, 2 of whom were thought to be wearing grey tracksuits and the other a black tracksuit; had their faces covered and wearing gloves. They left Post Office and got into a black Nissan Qashqai, which again was driven the wrong way down the access road onto Washington Parade, and back over the bridge onto Merton Road, before going through the bollards opposite Washington Parade onto Pembroke Road. Officers have since discovered that this car was travelling on stolen number plates. Officers believe 1 of the men was walking with a limp when he got back into the car, possibly as result of gaining entry to the Post Office.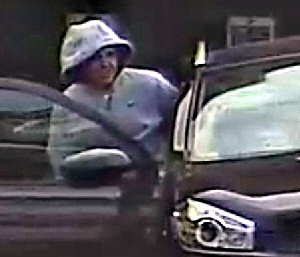 In both incidents the staff were uninjured, but understandably shaken up by their experiences. The scene was forensically examined and CCTV sought from the area.
Detective Constable Jamie Dean said:- "Robberies such as this are not victimless crimes and we are working hard to identify those involved and bring them to justice. I would ask anyone who recognises the men pictured in the CCTV, or anyone who saw this incident to get in contact; they could have information that could assist with our enquiries. This area is generally a busy area of Bootle and I'm sure if you saw either car in the area being driven erratically, you would remember. I would ask anyone with any information about either incident to come forward."

Detectives would urge anyone with any information to contact Sefton CID on:- 0151 777 3011 or Crimestoppers anonymously on:- 0800 555 111.

Formby Emporium Entrepreneur James Williamson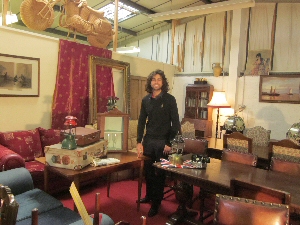 YOUNG Entrepreneur James Williamson (23) has been running his furniture business now for exactly 3 years and he wanted to take this opportunity to thank all the people he has met along the way. He started after completing an Access course at Southport College at the age of 20, painting and restoring furniture whilst he went to study the skill of carpentry at West Lancs Construction Academy. During the 3 years he has had various outlets in this area and at Botany Bay in Chorley. More recently he opened The Formby Emporium on Stephensons way, since closing, his stock has been all over the area in peoples storage spaces. Because he didn't have a shop the only opportunity to sell was online, which is a business he has been developing.
James commented:- "It has been a huge learning curve with the most difficult aspect being, where to run the business from, because of the huge cost of rent and rates in the area, it hasn't been easy to find an affordable premises which would make the business more viable."
James has been really grateful to so many people for their offer of assistance and now particularly to a local businessman for the use of part of his Unit at Mayflower (now Ascot) Industrial Estate.
James also said:- "I have use of this unit for a limited time and have managed to get all of my stock under one roof for the first time in 6 months so I need to hopefully get the message out that I am there and those people who loved the Formby Emporium will come along, even if it is only to say hello and have a free cup of tea".
His online shop is coming along but all the stock is in Unit 4 and there is a small window of opportunity for his customers to pop in and view the stock or just catch up with James and his progress.

From Saturday, 18 May 2013 to Saturday, 25 May 2013, he will be open for viewing 10am to 5pm, there is free parking and free cups of tea or coffee for all who pop over He's really looking forward to seeing everyone again to say Thank you. He has everything from Sofas, Vintage, Antiques, Dining sets, bric a brac, garden ornaments and so much more items of interest such as Singer sewing machines quirky drinks globes. If you want to contact him to view stock at another time just give him a ring on:- 07848 696619.
South Yorkshire Police appeal for help in locating Kamaron Behboubina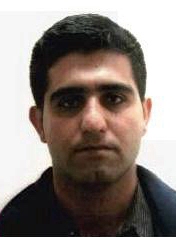 SOUTH Yorkshire Police are appealing for assistance to locate Kamaron Behboubina, a 26 year old man who has been living in the Doncaster area of South Yorkshire. Police want to speak to him in connection with an alleged serious sexual assault on a 21 year old woman from Stainforth, Doncaster.

On Thursday, 18 April 2013, the woman was walking home from Doncaster Town Centre at approximately 10.50pm after a night out. Whilst walking along Broxholme Lane it is believed that she was approached and coerced into a property and subjected to a serious sexual assault.

A 30 year old man from Doncaster has been arrested on suspicion of rape and false imprisonment and released on police bail pending further enquiries.

South Yorkshire Police would urgently like to trace Kamaron Behboubina, who is known to move across the country and could currently be in the South of England.

If anyone knows the whereabouts of Kamaron Behboubina or can help police with their enquiries, they are urged to ring:- 101 or call Crimestoppers anonymously quoting incident number:- 382 of 22 April 2013.
Repairs along southbound M6 in Cheshire completed
CHESHIRE Drivers are being advised that emergency repairs in lane one of the southbound M6 in Cheshire have now been completed. Emergency re-surfacing along 2 short sections of the motorway just North of Junction 16 at Barthomley were carried out this afternoon after sections of the carriageway surface failed on Wednesday, 15 May 2013. The work has been completed before this evening's peak traffic period and congestion associated with the lane closure has now started to ease. The traffic management for the repairs was removed at 3pm. The Highways Agency provides live traffic information via its website, local and national radio travel bulletins, electronic road signs and mobile platforms, such as the iPhone. Local Twitter services are also available at:- @HAtraffic_nwest and @HAtraffic_pen9 for transPennine routes. Providing they can do so safely, road users can also call the Highways Agency Information Line:- 0300 123 5000, to keep up to date with road conditions.