City ready for maritime commemorations
LIVERPOOL is to take centre stage as host of the national commemorations for the 70th Anniversary of the Battle of the Atlantic.

From Friday, 24 May, until Tuesday, 28 May 2013, activities will take place on the waterfront and in the City centre in tribute to the men and women involved in the longest continuous military campaign of Word War II.

From parades for veterans, Lindy Hop flash mobs, a fly past and action packed displays, right through to more than 20 warships arriving in the City; it will be an unmissable bank holiday weekend for all the family.

On 25 and 26 May 2013, from 9.30pm until midnight, 2 high intensity lasers projected from the Liver Building, transmitting the phrase 'Thank You' in Morse Code. This is a nod to British mathematical genius Alan Turing, who helped crack the Enigma Code which saved many lives during the Battle of the Atlantic.

Craig Morrison, the artist responsible for the work, said:- "I am thrilled to be showing my Light work, Thank You, at The Battle of the Atlantic Commemorations. The lasers will pulse into the heavens, and I sincerely hope that it will provide a fitting memorial to all the men and women who gave their lives in the Second World War."

From Saturday until Monday from 11am to 5pm, there is a packed programme of events, including a model boat exhibition inside the Liver Building. Many of the vessels lining the waterfront will be open to visitors and a dramatic Battle of the Mersey will see Royal Marine Commandos carry out a fast-roping rescue exercise involving a Royal Navy helicopter and several warships. Further information on the names of the ships visiting Liverpool for BOA70 and times when they are open to visit will be released very shortly.

A Veterans Welcome Centre will also be open all weekend from 12-4pm at the Port of Liverpool Building. Veterans and a guest can take some time away from the hustle and bustle of the Pier Head and enjoy a cup of tea and a biscuit served by the City of Liverpool Sea Cadets.

Other highlights include:-
Saturday, 25 May 2013
At 11.30am veterans and their families are invited to gather at the Cunard Building, where a procession led by Chinese lion dancers, Indian drummers and troops from the Polish community (representing the nationalities which made up crew on merchant and royal navy vessels) will head to the Merchant Navy memorial on the Pier Head for a poignant wreath-laying ceremony.

Just after 1.30pm a Spitfire and Hurricane aircraft will fly over the waterfront in a Battle of Britain memorial flight. (Please note, this is weather dependent)
The Band of Her Majesty's Royal Marines will join local artists in a sold-out concert at the Liverpool Philharmonic Hall.

Sunday, 26 May 2013
A private commemorative service will take place at the Anglican Cathedral, followed by a parade at 12.30pm, which includes platoons from the Merchant Navy, Royal Fleet Auxiliary, Regulars, Reservists and Cadets from the Royal Navy, Army and Royal Air Force. The route is along Rodney Street, Mount Pleasant, Hope Street, down Upper Duke Street finishing at the Anglican Cathedral.

Monday, 27 May 2013
Organised by the 156 Transport Regiment, around 15 teams made up of ships' companies and guest visitors including the Merseyside Fire Service will take part in a fun raft race in Salthouse Dock at 1pm.
A sold-out 40s themes veterans party at St George's Hall.

Tuesday, 28 May 2013
From 2pm the fleet of vessels will sail out of the City in a spectacular co-ordinated departure.

Liverpool City Council's cabinet member for culture and tourism, Councillor Wendy Simon, said:- "It is a real honour for Liverpool to be the national focus of these 70th anniversary commemorations. When it comes to maritime events, Liverpool excels. We're expecting around 250,000 visitors, and whatever the weather, the City will shine. Working in partnership with the Royal and Merchant navies, we are proud to have developed a huge programme consisting of well over 100 events. These will not only be a tribute to those who took part in the Battle of Atlantic, but will also appeal to people of all ages, entertaining them but also teaching them about the sacrifices made for the lives of future generations."

Rear Admiral Chris Hockley, Flag Officer Regional Forces, said:- "Liverpool is absolutely the right place for the national focus on commemorating the Battle of the Atlantic on its 70th anniversary. It was the home of the Western Approaches operations room and the receiver of over 1000 convoys, together with ship repair and building activity in support. The events planned over the weekend of 24 May to 28 May the time in 1943 recognised as being the turning point for this long and drawn out battle; will provide a fantastic opportunity for the public to engage with, and learn more about, those who made such a vital contribution, including Merchant and Royal Navy veterans."

Chairman of the Liverpool Retired Merchant Seafarers Association, Pat Moran, said:- "Liverpool took the men and women of every maritime nation to crew her ships, particularly from the Commonwealth and Empire. It is the achievements of these men and women and Liverpool's own sons and daughters that the cavalcade will celebrate. If you love Liverpool and the people who made her great you must come and take part."

Merseyside engineering firm Cammell Laird is the main sponsor of Battle of the Atlantic 70th Anniversary commemoration weekend.

For full details of all the events taking place, the location and times visit itsliverpool.com/culture and click on 'On the Waterfront'.

REDUCED SHAKESPEARE COMPANY® In THE COMPLETE WORKS OF WILLIAM SHAKESPEARE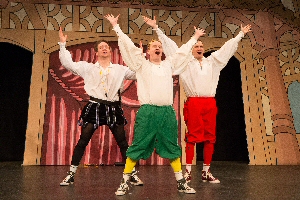 AN irreverent, fast-paced romp through the Bard's plays, The Complete Works of William Shakespeare (abridged) was London's longest-running comedy having clocked a very palpable nine years in London's West End at the Criterion Theatre! Join these madcap men in tights as they weave their wicked way through all of Shakespeare's Comedies, Histories and Tragedies in one wild ride that will leave you breathless and helpless with laughter.
The Reduced Shakespeare Company is a 3 man comedy troupe that takes long, serious subjects and reduces them to short, sharp comedies.

Since 1981, 'The Bad Boys of Abridgement' have created 8 stage shows, 2 television specials, several failed TV pilots and numerous radio pieces – all of which have been performed, seen, heard and translated into Klingon the world over.

The company's first 3 shows, The Complete Works of William Shakespeare (abridged), The Complete History of America (abridged) and The Bible: The Complete Word of God (abridged) enjoyed a 9 year run at the Criterion Theatre in Piccadilly Circus. Not only were they London's longest-running comedies, but at one point the Reduced Shakespeare Company had more shows running in the West End than Andrew Lloyd Webber. Some of them were funnier too…

The "other RSC" were last seen in the UK with their highly successful Complete World of Sports (abridged) which toured the country before completing a season in London's West End during the 2012 Olympics.
Warning! This show is a high-speed roller-coaster type condensation of all of Shakespeare's plays, and is not recommended for people with heart ailments, bladder problems, inner-ear disorders, outer-ear disorders, Shakespearean scholars, degrees in Elizabethan history and/or people inclined to motion sickness. The RSC cannot be held responsible for expectant mothers!

Listings Information:-
Venue:- The Atkinson SOUTHPORT
Dates:- Wednesday 12th June 2013
Box Office:- 0151 928 1919
Website:- seftonarts.co.uk.
Euro MP welcomes EU action on potential oil price fixing
RESPOMDING to the raids by the European Commission of several large oil companies' premises on allegations of price fixing, Arlene McCarthy, Vice President of the European Parliament's Economic and Monetary Committee and draftswoman on the EU Market Abuse rules said:- "In July I wrote to EU Competition Commissioner Almunia urging him to look closely at the IOSCO work on allegations of cartels price fixing in oil and gas markets. I remain very concerned that benchmarks in key indices, interest rates and commodity are subject to manipulation. These prices have a knock on effect for households and businesses bills as well as the price of petrol at the pump. People are paying more while companies are booking high profits on the basis of manipulated prices. There is a serious lack of transparency in the price setting system which means we have no idea if the prices are fair and honest or whether they are a true reflection of the wholesale price. The lack of action by UK regulators means it is vital for the European Commission to investigate potential abusive practices in these markets. Should consumers be the victim of overcharging then I want to see companies redress the situation and consumers that have been ripped off compensated. What is clear is that we need urgent reform to introduce stronger, independent rules on commodity benchmarks."
APPEAL FOR MAN FOLLOWING ALLEGED RACIST ABUSE IN SOUTHPORT
MERSEYSIDE Police are appealing for the public's help in tracing a 31 year old man from the Southport area who is wanted for racial abuse and possession of cannabis. Francois Peens is wanted in connection with an incident where he is alleged to have racially abused a group of Eastern European men, on Cable Street, in Southport, on 21 March 2013. He was also being investigated in connection with possession of Cannabis. He failed to attend Copy Lane Police Station on 3 May 2013 to comply with the conditions of his Police Bail. Mr Peens is a white male, medium build, with hazel eyes and is approximately 5ft 11ins tall with short dark hair. He speaks with a distinctive South African accent. Officers looking for Mr Peens are urging him or anyone who knows of his whereabouts to call Merseyside Police on:- 0151 777 3020 or Crimestoppers anonymously on:- 0800 555 111.
LOST MEDICATION - BOOTLE
MERSEYSIDE Police are urging anyone who finds prescription drugs lost in Bootle, on Monday, 13 May 2013, to hand them in. The medication - 90ml of methadone - was lost by someone who took a train from Bootle to Liverpool City Centre so may have been left on a train or at a railway station. Anyone who comes across these drugs or others is urged not to take them and instead hand them into their nearest police station, pharmacy or medical centre.