LIVERPOOL HIT-MAKERS THE CHRISTIANS PLAY THE ATKINSON SUPPORTED BY THE HUMMINGBIRDS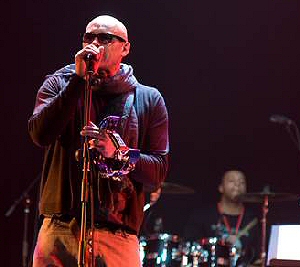 THE Christians, the outstanding, soul influenced group who had hits in the late 80's and 90's including:- 'Forgotten Town', 'Harvest For The World', 'Born Again', 'Ideal World', and 'Hooverville', are celebrating their 26th anniversary with a date at the regions brand new venue The Atkinson in Southport on Saturday, 8 June 2013, to coincide with the release of their brand new album:- Speed of Life', plus Deluxe Anniversary editions of their 1st 2 multimillion selling albums:- 'The Christians' and 'Colour'.

The Christians followed up their 1987 self-titled million selling debut album with the number one hit album 'Colour' in 1990, which heralded the magnificent tracks:- 'Words' and 'Father', while The Daily Mirror described the voice of Garry Christian as:- "the best voice of the decade".

The name Christians refers simply to the brother's surname and has absolutely no religious coonections!! (the original line-up included Roger, Russell and Garry, as well as Henry Priestman) and the band were also renowned for the strong messages and morals in their songs. During their rise to fame the Liverpool based band packed out international and UK stadiums and developed a reputation for being 'socially aware' …. unsurprisingly comparisons were drawn to The Temptations due to the depth, range and warmth of the brother's vocal harmonies.

Fast forward 26 years and the group; are still headed by their unique selling point ... the smooth toned Garry Christian and sound 'tighter' than ever before with Mr Christians voice being perfectly complimented by keyboards by Mike Triggs, Drums – Lionel Duke, Acoustic Guitar and Vocals Neil Griffiths, Electric Guitar – Joey Ankrah, bass guitar – Cliff Watson ... Garry sounds (and looks) better than ever and the 90 minute set includes all the old hits (sounding remarkably slick) and a taste of the new album plus a rumoured comedy entertainment by frontman Garry. The Christians are enjoying a surge of publiCity following the new album release and 25th anniversary 'deluxe' re-issue having recently been received well by 20000 fans at the 80's Rewind Henley and Scotland as well as guest appearances at the Isle Of White Festival.

Supporting The Christians are The Hummingbirds, a 6 piece acoustic outfit from Liverpool, influenced by music from the 50s/60s era. The Hummingbirds capture that "Liverpool" sound as well as putting an interesting twist on conventional folk and blues music, bringing it to a more mainstream audience providing what they describe as modern skiffle (21st Century Merseybeat). The lads are set to release their first single entitled:- 'Emma' 15 July 2013.

More information on The Christians can be found at:- thechristianslive.com. More information on The Hummingbirds can be found at:- wearethehummingbirds.com.
The Performance is supported by The Hummingbirds and starts at 8:00pm, in the The Atkinson – Studio. Tickets are £16 (£14 Concs). To book call on:- 01704 533 333* or online at:- theatkinson.co.uk*.

* Subject to booking fee.

Labour Euro MPs back strong action on tax dodgers
LABOUR Euro MPs have voted for strong proposals to tackle tax dodgers, calling for action to stem the 1 trillion Euros (850 billion pounds) lost to public finances, due to tax fraud and avoidance. Labour's Economic affairs spokeswoman, Arlene McCarthy MEP said:- "It is time to get tough on those intent on avoiding tax. To those big businesses who say stop the talk on tax avoidance we say stop trying to find ways around paying your fair share of tax. According to HMRC figures, in the UK alone £9billion is lost every year which could pay for the construction of more than 600 new schools or over 50 new hospitals or pay the annual salaries of over 330,000 Police Officers." In a European Parliament vote today Labour Euro MPs backed a range of proposals, including calls for, naming and shaming those sheltering tax evaders by creating a EU wide black list of tax havens, companies avoiding tax not to be awarded public contracts, more resources to be delivered to tax authorities to tackle tax dodgers and an end to aggressive tax planning by companies trying to avoid paying tax an obligation on companies to publish a single figure for the amount of tax paid in each EU country. Conservative MEPs refused to back proposals to bring greater transparency to multinationals' tax affairs by requiring them to publish a single figure for the tax they pay in each country. This would help to shed light on the practice of companies using their international operations to avoid paying their fair share of tax such as the recent high profile cases involving Google, Amazon and Starbucks. Labour's leader in the European Parliament, Glenis Willmott MEP, called on the British government to use tomorrow's (Wednesday) European summit to take international action to tackle tax avoidance and evasion:- "We call on David Cameron to match his words with tough action. The UK Government claims that tax avoidance is a key priority for their presidency of the G8 yet their lack of action shows it is all rhetoric. We've made it clear today that there are cross-border solutions that can be used to tackle companies that don't want to pay their fair share. Here's an issue on which international cooperation is essential, but with Cameron under pressure from his backbenchers, will he deliver anything but warm words?" Arlene McCarthy MEP added:- "As for UKIP, Nigel Farage claims to be 'free thinking', but he is instead encouraging free loading by tax dodgers. Today he could have backed proposals to crack down on tax evaders and avoiders - but his colleagues voted against the proposals and he left before the end of the vote."
CCTV released after member of rail staff assaulted at Edge Hill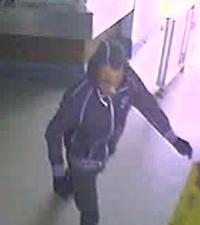 THE British Transport Police have released the CCTV image of man officers would like to speak to after a member of rail staff was assaulted at Edge Hill Rail Station. The incident happened at around 1.30pm on Saturday, 20 April 2013, after the member of staff challenged a woman who did not have a valid ticket for travel. PC Shaun Lee said:- "The woman claimed her boyfriend would pay for her ticket and asked the member of staff to wait for her boyfriend to arrive. A few minutes later a man on a bike arrived at the station and, without slowing down, cycled directly into the booking office, colliding with the office door which struck the staff member in the face, cutting his lip. The man then became abusive, swearing at the victim stating he would not pay for the fare, before leaving the station with his girlfriend. The victim attempted to follow the pair out of the station, but the offender turned as if to attack and the victim ran back to the security of the office. Though the victim wasn't seriously injured this was nevertheless an extremely harrowing experience. We have carried out a number of enquiries and have isolated CCTV images of a man we believe is key to this investigation. It is now vital that we trace him as soon as possible."
If you recognise the man, or have any information about the incident, please contact British Transport Police on:- 0800 40 50 40 or call Crimestoppers, anonymously on:- 0800 555 111. In all calls please quote log:- B5/NWA of 17/5/13.