New Discovery visits Liverpool
Photographs by C & L Trollope.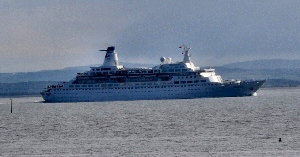 ON Thursday, 16 May 2013, Cruise & Maritime Voyages' latest addition, the cruise liner Discovery paid Her 1st visit to Liverpool, using the new turnaround terminal at Pier Head. Her visit is 1 year on from when the company were the 1st to use this facility, which is now well established and popular with its visitors. This line is particularly significant, because they chose to use Liverpool despite the less that attractive berth then on offer, assuming correctly that a fair number of travellers were prepared to go from the port despite the problems, so it deserves special note in the City for its loyalty. This is local boarding, dispensing with the need to travel large distances, saving time and extra expenses, the currency on board is sterling and she has British and international cruise guides and directors to help.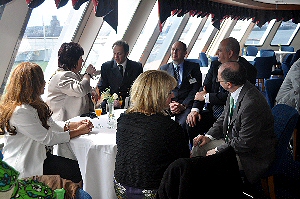 Discovery has an interesting history. She was built in 1982, then called Island Princess and was a state of the art liner for that time. She was sister ship to the star of the ABC Television Network "Love Boat", that ran in the late 70's early 80's. Indeed some of the action was filmed on Her decks too, and this fact provided a humorous comment from the Lord Mayor of Liverpool, Councillor Sharon Sullivan, during Her welcoming address. Now renamed Discovery and after refurbishment she takes Her place alongside other ships of the line in providing regional cruises around the British Isles; this trip from Liverpool is the Celtic Explorer. Voyages are also made to the continent and Iceland and even further afield to South America (the latter on Marco Polo). This year, 8 of the scheduled voyages begin in Liverpool and this may be increased. The gross tonnage of Discovery is 20,186grt, and she carries around 700 passengers. Thus Discovery is smaller than many of the grand visitors, including Queen Mary who followed Her in to the port next day, but Her smaller size allows Her access to places the bigger vessels cannot reach and also allows passengers to find their way around with far greater ease. For example, the majority of Her public rooms are all on 1 deck, a fact welcomed by many who choose her. Over 60's are 1 group this ship appeals to, but families with children are welcome although there are no special facilities for youngsters. Whilst she lacks the glitz and razzmatazz of some of the giants, Her comfortable size plays a part in Her appeal as a homely ship with friendly staff, and as a liner with stabilizers she can still offer as comfortable a voyage. She has 2 capacious restaurants, on a 2 sitting basis and the food is appealing, as we noted when we sampled some. There are 4 lounges and choices of daytime and evening entertainment is available at no added cost, from theatre and live bands to lectures, craft sessions and classical concerts, and others, so there is much to choose from. 2 swimming pools await, alas with no shallow end! Plus 2 whirlpools, gym equipment and hair and beauty facilities, library and card area, and the inevitable ship's jigsaws, why are they so compelling? Also dotted around are little alcoves to sit in and chat to fellow passengers and, of course, bars for liquid refreshment, to relax and unwind in.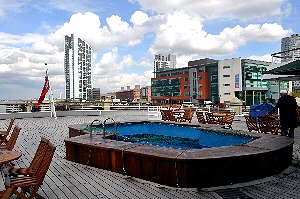 When in port, passengers may choose to make their own plans, but organised excursions are available where someone else has taken the stress of planning leaving the traveller just to enjoy.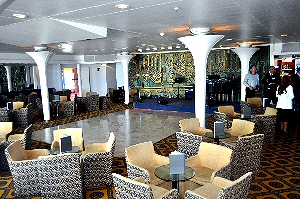 As with all cruises one can explore without the hassle of dragging luggage from one destination to the next and the familiar cabin is always at hand to retire to when required.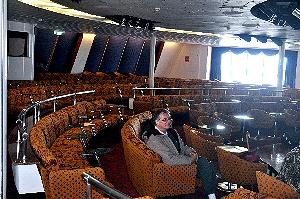 We wish Discovery, Her Captain, Her crew and passengers well, on this voyage and those to come.
If you would like more details, click on to the cruise company's website at:- cruiseandmaritime.com.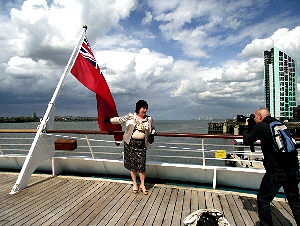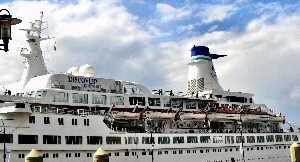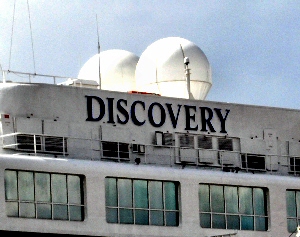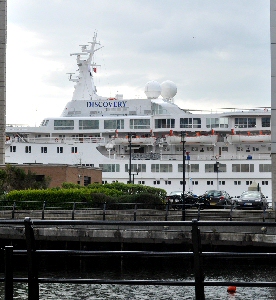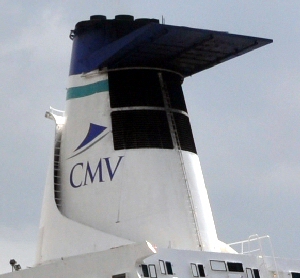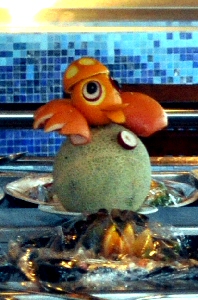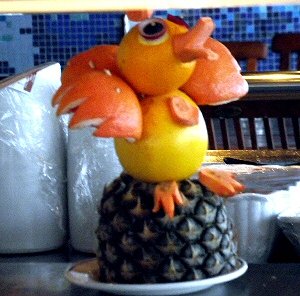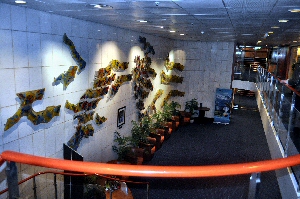 PAGE 1 OF 5
We hope you liked the photos, but please, don't copy them. Click on here to find out how you can get you copy of these photos.