New group is up and running
A new group for women runners is already making great strides. In its first 3 weeks the group at Stanley Park, attracted 60 women of all ages and abilities. "They are mainly beginners, but we have had some more experienced runners and some women who used to run and who want to take it up again. We have a couple of 16 year olds and some women over 50, but everybody is welcome. Some of the women want to lose weight, others just to keep fit generally and many are in training to take part in the Race for Life at Sefton Park in July. All the distances and paces are adjusted to the abilities of those taking part. We usually jog for 2 minutes and then walk for a minute but if people want to jog further or walk more, that's fine. It's about improving stamina and fitness; but it is also an opportunity to make new friends." said Michelle Hughes, the group's organiser.

The running group invites those who want to take part to meet outside the Isla Gladstone Conservatory on:-

Tuesdays – 9.30am
Wednesdays – 6.00pm
Thursdays – 9.30am.

Councillor Peter Mitchell, Mayoral lead on Parks, said:- "We are very pleased to see a new group making good use of one of our parks. One of the great ways our green spaces benefit the City is by helping people keep fit and active and this group is a fine example of that."
MP'S PAY REVIEW BODY IS RECOMMENDING A 15% RISE IN MP SALARIES
FRONTLINE public service workers have as good if not a better case and its time this case got a fair hearing as what's good enough for MPs is good enough for other public sector workers says GMB! GMB, the union for public service workers, responded to reports that The Independent Parliamentary Standards Authority (IPSA) is recommending a £10,000 or 15% increase in MPs salaries. Brian Strutton, GMB National Secretary for Public Service, said:- "The report says that the independent pay setting body for MPs (IPSA) is recommending a £10,000 or 15% pay rise. In part this is to offset pension changes. Although it is highly unlikely that this recommendation will be acted on it nevertheless shows that there is a case to be made for public servants whose pay has been capped to pay for an austerity program that they didn't cause or benefit from. Whether it is MPs or care workers or school dinner ladies or nurses or social workers, the fact is that the same pressures highlighted in this MPs report apply widely throughout the public sector. It is only because government pay policy has imposed pay ceilings on the public sector and placed restrictions on the equivalent bodies to IPSA that set pay for ordinary public sector workers that this hasn't been made clear before. MPs may well have a case to argue for higher pay and denying it to them will not help the low paid public sector workers who are genuinely suffering and relying on welfare benefits and pay day loans. The ordinary front line public service workers have as good if not a better case and its time this case got a fair hearing. What's good enough for MPs is good enough for other public sector workers."
Kids Fun Fest 2013
KIDS Fun Fest, the 1st ever children's festival will be staged at Shaw Hall Caravan Park , Scarisbrick on the 7 August and 8 August 2013, possibly the 1st ever taste of a summer festival a child could experience, the event is aimed just at the under 10's. Kids Fun Fest will open each day at 10:30am and offer continuous live stage entertainment in the colourful big top through to 6pm. Entertainment will include top circus performers 'The Rapide Brothers' the GLEE Tribute Show, from BBC Television 'Ward Allan with Roger the Dog', from Britain's Got Talent 'Faces of Disco', from CBeebies 'Rhyme Rocket' with Andrew Crawford and Joe Chambers and the star of the show PEPPA PIG. Around the festival site and for just the one admission price visitors to the festival can enjoy Face Painters, Climbing Wall, Archery, Crazy Golf, Stilt Walkers, Circus Workshops, Street Dance Academy, Land Train, Inflatable World, Children's Rides, Zorb Balls and Puppet Shows with more being added all the time. Food and drink will also be available to purchase. For those who want the true festival experience you can also camp or bring your caravan and stay for one night or as long as you like to take in the beautiful Lancashire countryside or use as a base to visit other local attractions during the summer holidays. Parents can save upto £5 per ticket by purchasing in advance from the events website where all other information can also be found.
Choir Children Given £500 Boost for Activity Holiday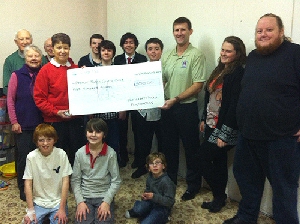 THE youngsters of a Church of England choir have received a £500 grant towards their summer holidays. Prescot Parish Church Choir were awarded the cheque by the Liverpool-based Harry Tyrell Foundation, a charity set up to help small community groups that promote values such as teamwork, friendship and self-esteem. The mixed-age choir, including about a dozen school children, will spend 4 nights at Plas Caerdeon, near Barmouth, Wales, an outdoor activity centre run by Liverpool Hope University. Last year's trip saw members as young as 8 and as old as 84 take part in zip-wiring, canoeing and other challenging pursuits. Choir director Edna Weaver said:- "The annual holiday is always an excellent opportunity for fitness and morale boosting activities, and it's particularly encouraging to have people of all ages mixing together and having fun." Singers do their own fundraising throughout the year, and they also receive many donations from private sponsors. The generosity of individuals and charities, such as the Harry Tyrell Foundation, means that all children of school age can participate in the annual holiday for free. Young Choristers to Receive Awards at Cathedral... In other news, three talented choristers recently received awards from the Royal School of Church Music. After a challenging exam that tested singing ability, music theory and knowledge of church worship, treble singer Owen Clark, 13, passed his Dean's Award with merit. Bass Ellis Waldron, 14, and soprano Chloe Clark, 15, passed their Bishop's Awards with merit. The 3, all of whom are students of Knowsley Park Centre for Learning in Prescot, will be presented with their medals and certificates on 15 June 2013, during a special service at Liverpool Cathedral.

Grange and Pyramids store assistant runs 2 10k races in a fortnight in memory of his beloved Nan's cancer battle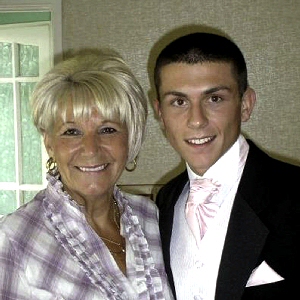 A much loved Nan's brave battle with cancer has spurred on a young man to run 2 big charity road races within a fortnight in her memory.

20 year old Luke Sullivan, who works part time at the Grange and Pyramid's Holland and Barrett health food store in Birkenhead, will be taking part in the BUPA Great Manchester 10K Run on Sunday, 26 May 2013, then in the Mersey Tunnel 10K on Sunday, 9 June 2013.

In both events he will be raising cash for the Wirral's St John's Hospice where his grandmother, Mavis Sullivan, died from bowel cancer at the age of just 69 seven months ago.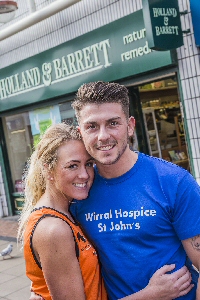 And pounding the concrete alongside Luke on the tunnel run will be his girlfriend, Kelly Owens, 25, who will also have a close family member firmly in mind as she tries to raise as much money as possible to help sufferers of multiple sclerosis, which her mum has been fighting for the past 13 years.

Luke, of Prenton, works at Holland and Barrett on Saturdays and spends the rest of the week as a personal trainer at the Evolution Training Centre in Upton.

He will be donning his running shoes 1st at the end of May to join an estimated 4,000 entrants in the Great Manchester 10K in and around the City centre, then a fortnight later he will again be in action during the Mersey Tunnel 10K event, which starts at Pall Mall in Liverpool, goes beneath the river through the Kingsway Tunnel and ends in New Brighton.

Luke said:- "I'm running both races in memory of my Nan, who was known as Our Mave to the family and who died from bowel cancer last October. I am 1 of her 8 grandchildren and she also had a great-grandson. She was a great woman and we all loved her very much. We were all devastated that such a big part of our lives had been taken from us. It was terrible to see her suffer with cancer but for the last few weeks of her life she received some fantastic care at St John's Hospice. The support Our Mave received from all the staff and nurses there amazed us all. Their willingness to go the extra mile made sure she was comfortable and peaceful during her final days. I wish to raise money for St John's Hospice so that other people with cancer and their families can receive the help and support that my family and our beloved Mave received from this wonderful and special place."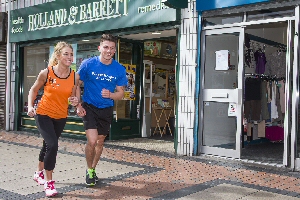 Derek Millar, Commercial Director for The Grange and Pyramids Shopping Centre, said:- "There is a fantastic amount of fundraising which goes on among the people who work at the centre and Luke's efforts are a terrific example of this. I feel sure his Nan would be very proud of what he is doing to raise money for the hospice which looked after her and I know this is a local cause which is very close to a lot of people's hearts on the Wirral. It does a fantastic job."

Talking of his training, Luke said:- "Although I keep pretty fit for my job as a personal trainer these will be the 1st 2 organised runs that I've done. Having my girlfriend Kelly running with me in the Mersey Tunnel 10K will be really good as it will help spur me on."

Girlfriend Kelly, who lives in Arrowe Park, will be running the Mersey Tunnel race in aid of the Multiple Sclerosis Society as a direct result of her 48 year old mum Helen Smith's distressing experience of the condition.

Kelly said:- "My mum was diagnosed with multiple sclerosis at Christmas in 1999 and has since become progressively worse with it. It is upsetting to see her as it affects her speech and she also has serious mobility problems. She had worked at a kitchen showroom in the area but had to give up her job some time ago. She is still very independent but my brother Chris Owens, who is 23, and I look after and do as much as we can for her. Multiple sclerosis has really touched my life, just as cancer has done with Luke and his Nan, so I wanted to run the Mersey Tunnel 10K to raise as much money as I can for the society and also to raise awareness of the condition which now seems to affect so many people."

Kelly isn't a complete novice when it comes to running and took part in last year's Birkenhead Race for Life, raising £300 for Cancer Research UK. But she added:- "Because he keeps so fit due to his personal trainer job Luke is a much stronger runner than me and will no doubt be keeping me in line in the Mersey Tunnel race. However, it will be good to be in the event together so we can motivate each other to do as well as we can for two causes which are so close to our hearts."

To support Luke, visit his online donation page at:- justgiving.com/LukeSullivan20.