No safe havens for offshore tax cheats
HM Revenue and Customs (HMRC) confirmed today that it is working with the United States and Australian tax administrations (the IRS and ATO) on data which reveals extensive use of complex offshore structures to conceal assets by wealthy individuals and companies.

The 400 gigabytes of data is still being analysed but early results show the use of companies and trusts in a number of territories around the world including Singapore, the British Virgin Islands, the Cayman Islands, and the Cook Islands. The data also exposes information that may be shared with other tax administrations as part of the global fight against tax evasion.

So far HMRC has identified over 100 people who benefit from these structures and a number of those individuals had already been identified and are under investigation for offshore tax evasion. They have also identified more than 200 UK accountants, lawyers and other professional advisors who advise on setting up these structures who will also be scrutinised. UK residents who use these offshore structures should review their taxation arrangements, and seek advice if necessary, to ensure they are compliant with UK tax law. HMRC encourages voluntary compliance and early disclosure of tax irregularities. Failure to do so may result in a criminal prosecution or significant financial penalties and the possibility of their identity being published.

Chancellor of the Exchequer George Osborne said:- "The message is simple: if you evade tax, we're coming after you. The Government has invested hundreds of millions of pounds to fund the fight against tax evasion, both at home and abroad. This data is another weapon in HMRC's arsenal. Ahead of the UK's presidency of the G8 this year, the Prime Minister has made it a key priority to drive an international effort to increase transparency and clamp down on tax avoidance and evasion. By working with our international partners in this way, we are again demonstrating our commitment to this work."

Jennie Granger, HMRC Commissioner and Director General for Enforcement and Compliance said:- "Working with the international tax community to pursue offshore evasion is another important step in closing the net on tax evasion.

There is nothing illegal about an international structure, especially in a globally integrated economy and these arrangements may be perfectly legitimate and may already have been declared to HMRC. However they may involve tax evasion, avoidance or other serious offences by taxpayers. What has to stop is using offshore structures to illegally hide assets and income".
Adult learners earn awards
ADULT learners who have been nominated for national awards are to be presented with certificates at a special ceremony. The event is part of Adult Learners' Week which celebrates of the benefits of lifelong learning and focuses on the many types of learning available to adults from all walks of life. It will take place at the World Museum on Friday 24 May

14 Learners from Merseyside who have been nominated for awards from the National Institute of Adult Continuing Education (NIACE) will receive certificates. There will also be presentations to four projects (information below).

A further 21 learners the City Council's and Unison schools project which brings training to school support staff and parents via Archbishop Beck and St Cecelia's primary schools adult learning service will also receive certificates along with 11 other learners from the adult learning services who have achieved level five in numeracy or literacy

The event will also involve more than 40 learning providers who will hold a learning market place with information stalls and workshops, followed by walks and tours of the City.

Councillor Nick Small, City Council cabinet member for employment, enterprise and skills, who will present the certificates, said:- "You are never too old to learn. It should be a lifelong process and we want to encourage adults to engage in learning of all kinds. We also want to recognise those organisations who provide the opportunity for adults to engage in learning and develop new skills."

The event is open to the public between 10am and 4pm. It has being led by unionlearn , Merseytravel and the Adult Learning Week NW Regional Consortium, who are deliverers for NIACE.
Detectives appeal after 25 year old has cheekbone fractured in Liverpool to Newton le Willows train assault
DETECTIVES from the British Transport Police are appealing for information after a man suffered a fractured jaw during an assault on board a train in Liverpool.
The incident happened shortly after 8pm on Sunday, 5 May 2013, the same day as the Merseyside derby; as a group of young men travelled from Liverpool Lime Street towards Newton-le-Willows.

A second group of older men boarded the train at Lime Street and immediately became aggressive to the younger men.

DC Mark Douglas said:- "The older group challenged the younger men who were singing football-related songs. The men stopped singing, but the aggressors continued to cause problems and punched one the younger men; a 25 year old; in the face, causing a double fracture of the cheekbone. As the train pulled into Broadgreen the older group became even more aggressive and threw the younger men off the train. The 25 year old victim was treated as hospital for his injuries and will need reconstructive surgery on his cheekbone. Following the incident the older men got back onto the train, possibly travelling to either St Helens or Newton-le-Willows. We have conducted a number of enquiries and are now appealing for anyone who witnessed the incident to come forward."

If you have any information which might assist the investigation, please call British Transport Police on:- 0800 40 50 40 or Crimestoppers, anonymously on:- 0800 555 111. In all calls please quote log:- B11/NWA of 20/05/13.

"YOU GOTTA BE LARGER THAN LIFE…"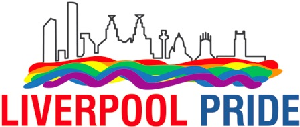 WHEN Tina Turner said that we don't need another hero, she was wrong. Liverpool Pride is expecting thousands of them to join this year's March, which will fly through the City's streets on Saturday, 3 August 2013.

The marvel of caped crusaders will take flight at St Georges Plateau at 12pm, with participants asked to gather from 11am. It will then process along Lime Street before taking in Queen Square Bus Station and Whitechapel before making its way along Lord Street and North John Street before turning down James Street, crossing The Strand over Mann Island and landing in front of the main stage at the Pier Head, where the afternoon's entertainment will begin.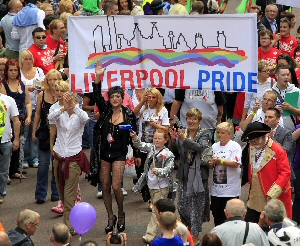 The undoubted highlight of the festival, the Pride March gives the LGBT community, their friends and their families the chance to take to Liverpool's streets in a blaze of colour, music and this year; SPANDEX, whilst raising awareness of homophobia and the importance of a united community in the local area.

Sponsoring this year's March and also taking part in force is Hugh Baird College, one of the largest providers of education and training in Merseyside. In addition to encouraging students to be entrepreneurial, the college takes pride in its reputation for promoting equality and diversity throughout the campus and beyond. A perfect match for Liverpool Pride.

James Davies, Festival Manager at Liverpool Pride said:- "We're delighted to return to St George's Plateau for the start of the March and are grateful to have Hugh Baird involved as a sponsor. The community well and truly spoke when they chose the superhero theme, so we expect to see everyone marching together as Wonder Women or Super Men on the day. We have already been inundated with registrations, a lot more than we had at this time last year, so we're expecting a record turnout of Liverpool Pride marchers through the City on 3rd August."

Smiffy's Liverpool have agreed to add some extra magic and sparkle to this year's March by offering Pride-goers a special 15% off super-hero costumes offer when you quote Liverpool Pride in store or type pride15 into the special offer box on the Smiffy's Liverpool website.

Last year, over 3,500 people took part in the Liverpool Pride March with Patron Angela Eagle MP at the helm and Liverpool Football Club leading the way as the UK's first Premier League team to take part in a Pride March. Political Organisations, Trade Unions, the Police and Fire and Rescue Service were also represented in addition to many local gay bars, shops, restaurants, individuals and their nearest and dearest. 7000 people turned out to cheer on marchers in 2012. Both of these figures are expected to increase in 2013 as the festival continues to grow in its popularity.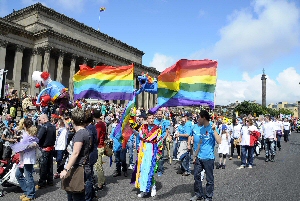 Similarly to previous Liverpool Pride Marches, there will be no motorised floats included, in order to place more emphasis on the issues of Homophobia in the Liverpool LGBT community and also to keep the festival's carbon emissions to a minimum.

Principal of Hugh Baird College, Yana Williams said:- "Hugh Baird College is proud to be sponsoring the largest free pride event outside of London - Liverpool Pride. As the event's first ever sponsor from the Sefton area, we're keen to encourage all of our students, staff and the wider Sefton community to show their support and join in the fun. At Hugh Baird College, we believe in giving everyone the opportunity to be themselves and achieve their full potential and we hope our involvement in Liverpool Pride will reinforce this ethos."
LIVERPOOL PRIDE NEEDS A HERO!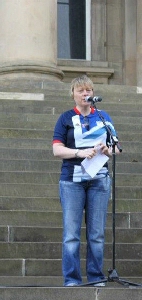 So, don your gold lamé cape, show us your underpants and bring yourself, your trusty sidekick, friends, family, work-mates and groups along-to take part in the March, which is completely free to join. Everyone is welcome and is invited to sign up at:- liverpoolpride.co.uk, before 31 July 2013. Liverpool Pride 2013 will take place on Saturday, 3 August 2013 at Liverpool's iconic pier-head and throughout the Stanley Street Gay Quarter. In addition to this, there will be a weekend of cultural events taking place at some of Liverpool's most influential arts and cultural establishments. Make sure you check out their website, @LiverpoolPride on Twitter and Facebook to have your say and for all of the latest pride news.