First class maps to teach local pupils a valuable lesson
COMPUTER GAMES are not the only activity stirring the nation's children this autumn - when it comes to adventure as it seems they are turning to traditional Ordnance Survey maps in a big way.

More than 776,000 youngsters have staked their claim to a free, detailed Explorer map of their local area by encouraging teachers at 7,158 schools to register their interest with the national
map-maker.

"This is an absolutely phenomenal response," says Ordnance Survey's Director General Vanessa Lawrence. "Our printing presses have been running flat out to cope with the demand."

She adds:- "The vast majority of children who could qualify, mainly 11-year-olds in Year 7 (Primary 7 in Scotland) are set to receive a map that will be theirs to keep and which they can use at home and at school."

It is believed there are close to a million 11-year-olds in Britain, so four out of every five children of that age will receive an Explorer map, each worth almost £7. The biggest take-up has been in Wales, where virtually every qualifying child has been signed up.

The maps, with a total shop value of over £5 million, are part of a major educational initiative to help youngsters experience both the fun and value of geography. Supporting the project, Charles Clarke, the Secretary of State for Education in England, comments:- "Geography plays a vital role in helping children to understand the environment in which they are living."

Formby High School Gets A Visit
Photographs by Patrick Trollope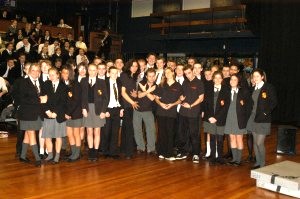 PUPILS at Formby High School had a visit on Thursday 20 November from the Crag Rats. More next week but you can also see last weeks report on to read about what the visit was all about.
Women Drivers Urged To Take Safety Seriously
A SURVEY of Britain's female drivers has revealed that shocking numbers are putting themselves in danger behind the wheel by failing to carry out basic car checks.

The results of the UK-wide survey of 500 women carried out by Nationwide Autocentre revealed that 73% of female car owners never carry out checks on their cars.

Nationwide Autocentre director Gwyn Jones said:- "From a personal safety point of view women should consider the prospect of breaking down when driving alone, and carrying out simple checks such as oil levels and tyre depth could prevent this from happening.

"Of course, all motorists should carry out regular checks on their cars but we are currently focusing our attention on female drivers as part of our ongoing road safety campaign. We want to encourage women to either carry out the checks themselves or take advantage of the free service we provide at all of our centres."