ARRIVA BACKS DOWN
ARRIVA has announced the return of the 47 buss loop. After a large outcry by locals in Formby, Arriva was asked by Formby MP Claire Curtis-Thomas to hold a consultation. The bus will cover Formby Bridge, Kirklake Road, St Luke's Church Road, Bushby's Lane and Queens Road half hourly during Monday to Saturday. Click to see our consultation report.
The Show are looking for a new singer...
THE SHOW, AKA Steve Mac and Mutiny boys Rob Davey and Dylan Barnes, are looking for a singer to record a track on their album in progress, due to be released on Mac's label Variation later this year.

"The Party", the first track recorded for the album and set for released on 15 March, is already a big player with the likes of Tong, Emerson, Lottie... But the boys are in need of new a vocalist to round things off.

"Basically, we're doing an album and we want a new vocalist to play with. Rob (Mutiny) is going to do some vocals and we've also got a great singer called Amrit singing on a few tracks (both Rob and Amrit did the vocals on 'The Party') . We're not going to stick to our house roots on the album, we want to take it the indie and hip-hop way too. Don't get me wrong, house music is my first love and I've been making it for nearly 15 years now - ten years under the Rhythm Masters name. But sometimes you need to experiment with other music to keep you on your toes. For the vocalist, anything goes really, as long as they can sing of course. We want to make this album fun, be a bit different and maybe discover someone new, who knows what we'll come out with... It will be good though." - Steve Mac

All singers need to send demos to: FAO:- Mutiny/The Show, Studio 207, Biz Space, 99 - 103 Lomond Grove, London, SE5 7HN. Closing date:- March 31st. The best 20 will then be called for a live audition.
"FAME" Search for a Star is NOW certainly INTERNATIONAL!

Photographs by Patrick Trollope.

THE Southport Reporter and the Southport Visitor supported "FAME" Search For A Star. It had 19 contestants, all showing what they are made off on stage at Pleasureland's Casablanca on Thursday night. If you missed it there are many more to see next Thursday and for quite a few to come...

Contestants this week came from as far as South Africa, if you add to that a young girl from Spain sang and went through, this makes for a really international competition.

Winners of Heat 3 above.


Singing on the night were Lesley McIver, Andre Louw, Laura Evans, Adam Ward,Jenny Doolan, Heather Boys, Michelle Gillespie, Marky Devine,Sarah Wharton, Kate Crummey, Paula Lee, Lucy Styles, Natalie Murray, Sam Jones, Andrew Carey, Helen Dixon, Jenny Spofforth, Neda Eshghi and Tony Finbar-Smith.

Click above for next page. Page 1 of 4.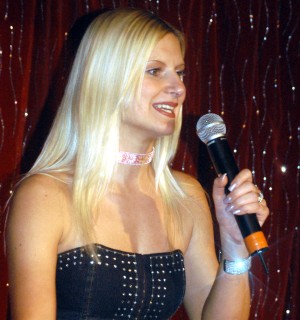 Page 1 of 4.