THIS years Curtis Cup is to be held on Saturday 12 and 13 June in the grounds of Formby Gold Club and is expected to be the most prestigious one yet. The club since it opened in 1884 has seen many amazing tournaments over the years, but this one is expected see the biggest media interest.

The cup will see the ladies of Great Britain & Ireland Team competing agenised the ladies of the United States Of America Team in what is hoped to be an amazing showdown of talent.

On the GB&I Team is Captain Ada O'Sullivan, Clair Couldhlan, Emma Duggleby, Anna Highgale, Anne Laing, Shelley McKevitt, Danielle Masters, Fame More and Nicola Timmins. For the USA, Captain Martha Kirouac, Erica Blasberg, Paula Creamer, Sarah Huarte, Elizabeth Janangelo, Brittany Lang, Jane Park, Annie Thurman and Michelle Wie.

The highlight for the media will be the youngest competitor Michelle Wie who is just 14 year old. It is still the wildcard, as t is unknown as to how she will get on. "She is the youngest winner of America's US Public Links tournament, so she should not be upset by the media interest." Britain's Emma Duggleby told the media, when asked if team GB&I thought the media interest in Michelle might give GB&I an advantage.

When Ada O'Sullivan was asked as to what the GB&I team had been doing to prepare for the event she said:- "We have been focusing on team building and also playing in all conditions. We feel we will win and positive about the way our team is working.

We decided to relax a bit from the tension and go into Liverpool and take a trip on the Magic Mystery Tour (Beatles Experience), this was also do to aid further team bonding. Our aim is to keep focus and working as a team."

Anne Laing told us that:- "We look forward to the weekend's competition and we will not be put off by the weather. We can and will play in all conditions and we will win no mater what!"

We had to ask one none golf question to Emma and Anne. Our question was just who picked the Beatles tour and witch one is the fan? Both replied:- "It was a fantastic distraction for us all and it was just a brake to help us focus more and to help us to work better as a team." continued left top...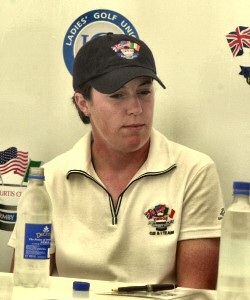 Photograph and report by Patrick Trollope.
continued.... "So we have to say that it was a joint decision as we all like the music. Nicola is the biggest fan, we think, but we all enjoyed it."

All of us at Southport and Mersey Reporter wish the contestants form both sides of the Atlantic all the best and good weather.