This site is an Award Winner!
2002-2003 Golden Web Award Golden Web Award Certificate.
Email as follows received this week "Congratulations! Southport Reporter has been reviewed and chosen to bear the 2002-2003 Golden Web Award. If this section has been checked, you will find the address below where you may pick up your award.

Note: As a recipient of the prestigious Golden Web Award, we invite you to join your fellow webmasters and designers in over "130" countries worldwide, by becoming a respected Professional Member of the International Association of Web Masters & Designers: ......"
Our web page has won this award. Well you would think we would be pleased. Well, this one is really a sales ploy as so many of the awards you see on the net today are.
Often awards like this one are given out as a way of creating sales. With this one we got a free logo for on the web page as shown above and if we wanted to pay, we could get a certificate! Well we decided to pay, just to show you all what it looks like. For a small fee of $17.95, we were awarded a certificate. In the email it says "You and Your Staff at Southport Reporter have Obviously Worked Very Hard - Proudly Display Your Award - AT YOUR BUSINESS, HOME or OFFICE: For Your Clients, Colleagues and Friends to Admire Golden Web Award Certificates (suitable for framing) Available for only $17.95 by visiting: ....... " All we say is, beware of claims made by web-pages that display awards. Of course, for some this may be their only way of achieving the recognition they crave..! We often find amateur builders find this type of award a good ploy to get others, who do not know much about the internet to think their page is the best. We are all aware that there are people around in other walks of life, whose 'degrees' and 'professional accreditations' come by the dollar! This is another scam of that ilk. The company awarding this award does have a correspondence course on it to improve your ability to work with WebPages, but this can be done by reading and also by hundreds of courses on offer at colleges and through places like Pitmans in Southport. We have not tried this course that is on offer, but we would suggest that before parting with your hard-earned cash for any correspondence course, you check it out thoroughly This awards site does have its bonuses as well, so it is not all bad, but it is more to the builder's advantage than the visitor's, as it is not a truly objective assessment of any site, because of the cash involved seems to be the prime criterion involved for the receipt of the certificate and advertisement of their site through the logo .
Cubs Visit Formby Fire Station!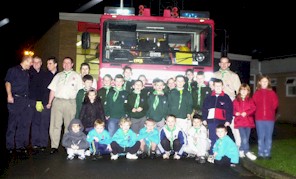 This week the 1st Formby scout Group visited Formby Fire Station. The firemen showed the cubs how the hose works and also what is carried on the fire engine.

Music Review.

Singles - Natalie Imbruglia -

"Wrong Impression" (BMG)


After recent attempts at angst, Miss Imbruglia now returns to the slightly more upbeat pop ballad. Flimsy as ever, this song will appeal to those who appreciate 'middle of the road' and desperately average songs accompanied by breathy vocals. Someone should explain to her that trying to play the innocent, naive card after you're 30 is quite embarrassing. "Didn't wanna leave you with the wrong impression", she sweetly sings. Really? You could've fooled us. Her worse single to date.


Albums - Chemical Brothers

"Come With Us" (Virgin)


The new Chemical Brothers album is a source of concern to me. The whole thing seems less aggressive. Even the title seems less of an order and more of a request than 2000's Surrender. Although the outright aggression has moved out of the foreground, we have been left with a record that has been written for the dance floor rather than the radio. With expansive production, such as seen on previous tracks Let Forever Be and Block Rocking Beats, taking a back seat, a more stripped sound takes center stage. With fewer samples, and much heavier use of sequencers and drum machines, there is an 'old-skool' feel to this record, reflecting the current retrospective stance in dance music: looking back to the rave scene of the early 90's for inspiration. Other influences come through though. In many places, this album is reminiscent of Radiohead's Kid A, and in others, especially on track 7, The State We're In, there are echoes of Bristolian trip-hop, such as Portishead and Massive Attack. However, the main thrust of this album is firmly into shaking booty on the floor of a club. In going back to their roots, the chemicals have returned to doing what they always did best; making some fine dance music.
Music Review Articles by Miranda.
Go to the top of the page.
Remember to let us know what you think if you go to the events. Let Southport know! Chat Forums