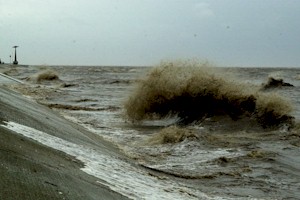 Interestingly, the work the Pier and on the plaza complex, carried on!
Photos by Phil, Patrick and Steve.
Our weekly national news comment articles.
History is lacking!
British youths have no idea about their history, a startling survey has revealed. A report, undertaken by the Encyclopedia Britannica, showed that only 26 per cent of people between the ages of 15 and 24 know what happened on D-Day and just over half can correctly state how many wives King Henry VIII had. Less than a third knew when St George's Day was although almost all Scottish, Welsh and Irish candidates could name the dates of their patron saints. The interviewees were also asked how many years Queen Victoria had been on the throne, in what century King Richard III reigned and who had invented television. Only 19 per cent could correctly answer the first two
and 33 per cent the third. The results have raised fears of decreasing standards in education and a general lack of interest in British history. British Marketing executive, Christine Hodgson said, "As a nation whose history has shaped the face of the world, it seems incredible that the younger generation has decided to dismiss it."
Cannabis.
Cannabis use in Britain has doubled in the last three years according to an independent report. The figures, released by the Independent Drug Monitoring Unit last week, show that cannabis consumption has risen from three quarters of an ounce per person per month in 1998 to 1.5 ounces in 2001.Cannabis production has also surged drastically. Homegrown 'skunk' accounts for approximately half of all cannabis consumed in 2001. Although the research was undertaken before the home secretary David Blunkett's announcement to downgrade cannabis to a class C drug and the relaxing of the policing of cannabis in Brixton, South London. It is believed that many attribute the increase to this change in attitude towards the drug. Danny Kushlick, of drug reform group Transform, believes the figures show that, with so many people using drugs, it is time society accepted it as a normal part of society. He said, "Given that this is a very natural human urge, isn't it time we gave up the fight to stop people doing it, and controlled and regulated production and sale of drugs through legal outlets?" Jon Owen Jones, the Cardiff Labour MP, who has previously stated his support for the relaxation towards cannabis believing that, as adults, we should be allowed to make our own decisions. Mr. Jones, who admitted to smoking marijuana last year and is currently campaigning for the legalization of cannabis, believes that by banning drugs people are more likely to take them. He said, "The policies of the last 30 or 40 years haven't worked. Prohibition merely promotes disrespect for the law." However, some people have stated that the relaxation of the laws could be a form of encouragement for those who would not usually sample drugs. The research also showed that Ecstacy and LSD use has declined in the last few years. Despite the price of Ecstacy dropping to a record low, use have fallen to 1994 levels. Cocaine, like cannabis, has seen a rise of 50 per cent in the last three years with the percentage of the population using cocaine on a weekly or daily basis rising from two per cent in 1998 to four per cent in 2001.
Comment Articles by Miranda.
Go to the top of the page.