THE CREAM OF IRISH MUSIC AT SOUTHPORT ARTS CENTRE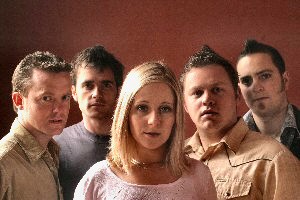 THE Southport Arts Centre continues to provide a stage for the best of the current crop of Irish traditional music acts, with a visit from the latest band to be acclaimed as the 'Future of Irish Music'. Gradá are a young five-piece from Ireland and New Zealand, noted for their outstanding musicianship, their original compositions and the enchanting voice of Anne-Marie Malley. And at least one of the musicians in the band has been heard by millions, Alan Doherty is the face behind the haunting flute that we've all heard on the Lord of the Rings soundtrack! Promoting a new CD (produced by Trevor Hutchinson of Lunasa and The Waterboys), this is just one of a handful of UK dates that the band are fitting into a busy 2005 schedule that includes extensive tours of the US and Europe.

Gradá play at Southport Arts Centre on Friday 22 April, doors 8pm. Tickets (£10/£8 concessions) are available from the box office on 01704 540011.

Further ahead, the Arts Centre hosts a return visit from a band who must be regarded as 'old hands' in comparison, Lúnasa (Friday 8 July), whose concert last year was a sell-out, and in September, some genuine stalwarts of the Irish music scene, Patrick Street (Friday 16 September), featuring former members of Planxty, De Dannan and The Bothy Band.
Live Acts For Formby Night Life
FORMBY'S Woodwards on Chapel Lane are to hold free music events. The events mainly start at 8:00pm, but it is advised to arrive early as they will get very busy.

The event details are:-

Sunday 17 April 8:00pm:- Swing singer Paul McCoy
Sunday 1 May 8:00pm:- The Real Deal (formerly Brit Pop band The Real People)
Sunday 15 May 8:00pm:- Motown singer Alfie
Saturday 28 May to Monday 30 May:- Woodstock - 3 days of music and entertainment recreating the legendary festival of love and peace
Sunday 12 June:- Soul singer, Mercury Records signed Michelle Lawson
Saturday 25 June to Sunday 26 June:- Summer jazz divas weekender (running concurrently with the Southport Jazz Festival celebrations)
The Pleasureland £5.00 Off All Day Wristband Offer 2005!!!
SOUTHPORT Reporter and Pleasureland have teamed up to offer you £5.00 off all day wristbands.
All you have to do is click here and print off the word document!
The voucher is not to be used in conjunction with any other offer or promotion. It can not be used on Bank Holiday or bank Holiday weekends.
Only one voucher per person. Valid from 9 April 2005 to 24 April 2005.
It can only be used during this time on Saturdays and Sundays from 10am. Please ring to check opening time before setting off.
Step into Spring with a challenge
YOUNG animal lovers looking for a new activity this Spring can take part in the PDSA PetAid Challenge to help raise funds for leading veterinary charity, PDSA.

Free to enter, the PDSA PetAid Challenge pack contains a number of different challenges to complete, which include:-
. Sponsor Challenge - the chance to do something fun, such as organising a sponsored dog walk with your friends, taking part in a sleep-over or organising a read-a-thon at school.
. PDSA Sack Run - simply fill as many sacks as possible with second-hand goods and donate them to your local PDSA charity shop.
. Party Challenge - plan a fundraising party with friends for sick and injured pets.
. Design your own Challenge - think of a new and exciting challenge to complete in order to help pets in need of vets.

Janet Compton, PDSA PetAid Challenge Organiser, said:- "Now the weather is improving and days are getting lighter, it's the ideal time to take up the PDSA PetAid challenge. Whether you decide to take up one challenge or five, the choice is up to you and there's no time limit. So if you want to take part in a fun activity with the knowledge that you are helping to raise funds for pets in need of vets, order your PDSA PetAid Challenge pack today."

To receive a free PDSA PetAid Challenge pack contact freephone 0800 854194, or write to PDSA, Unit 9, City Business Centre, Hyde Street, Winchester SO23 7TA.
YOU TOO COULD BE A HIGH FLYER FOR THE NORTH WEST AIR AMBULANCE
CALLING all skydivers! A charity skydive is to be held on Saturday 25 June at the North West Parachute Centre, Grange Over Sands, in aid of the North West Air Ambulance (NWAA).

Organiser Jenny Coulson from Wallasey is appealing for any budding skydivers to get in touch if they would like to take part in this daring challenge to raise money for the region's fastest and only air emergency service.

Costing £210 to take part, organisers ask that participants raise a minimum of £280, with any funds raised over the £210 skydive fee going straight to the NWAA. All skydives will be in tandem accompanied by qualified instructors and full training will be given prior to the jump taking place at 9am.

Jenny comments:- "We already have around thirty people signed up to take part, but the more skydivers we have, the more money we will be able to raise for this worthwhile cause. No experience is necessary, just a head for heights and the drive to raise lots of money!"

People can sign up to take part by contacting Jenny on 0151 691 0604 for further information.

At a cost of just under £1 million a year to maintain, the NWAA is a registered charity and receives no mainstream funding. Covering Lancashire, Greater Manchester, Cheshire, Merseyside and Cumbria - an area of 5,500 square miles and a residential population of seven million people. The NWAA responds to all major motorway incidents, all serious accidents including horse riding, rugby and motor cycling, serious road accidents and incidents in areas that have poor and restricted road access including golf courses, fells, woods or beaches. On average the NWAA is called out four times a day, rising up to ten in the summer.

Expert pilots and paramedics work 365 days a year to watch over the people of the North West. To donate to the NWAA call the free donation hotline on 0800 587 4570.