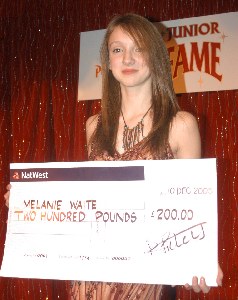 WHAT A SHOW!!!! All the performances on the stage were show-stoppers and I found it incredibly hard to pick whom I would have chosen as a winner. Thankfully, I did not have to. The contestants were truly amazing. All of them where aged between 10 and 15 and all of them put on equally talented performances that dazzled the packed out Casablanca. Sadly, only one could win and this year's winner was Melanie Waite. She went away with £200 after her stunning performance of "Get Here". Then, in a very close second place, was Michaela Hughes with Alice Barlow taking a close third place.

Congratulations to all who took part. In our eyes you are all equally talented and all winners. All of you have something unique and if you stick at it, I am expecting to see some of you in lights in the future.

We cannot forget to mention the fantastic performance of last year's Junior Fame winner, Grace McCarrick, who took to the stage once again at the end of the night. Her performance and talent just get better and better. Well done and we all look forward to seeing you again on stage. Both this year's winner and last year's winner are truly set to be come rising stars of the future.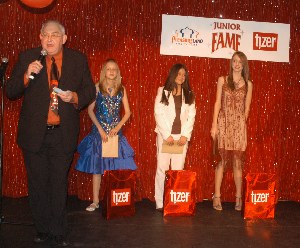 If you missed seeing this, do not miss the Fame Search For A Star in January 2006 and witness 16 to 30 year old singers battling it out to be come the Fame 2006 Champion.

The finalists where:-
Rachel Roberts, Alice Barlow, Gemma McDowell, Nicola West, Robecca Doyle, Chloe Baker, Stephanie Woods, Amy Slater, Jade Cotgrave, Michaela Hughes, Kingsley Judd, Hayley Smith, Craig Wells, Athony Millward, Nicholas Donnelly, Natasha Holdbrook, Laura Cherry, Jenny Barker, Max Alexander, Chelsey Wallwork, Melanie Waite, Samantha McGuffie and Robbie Carter.
5 Pages of photographs see below...
If the green box above does not show, you must download a new edition of Java. To get it just use this link:- java.com/en/index.jsp