Conquest Art holds SHOW with VIP's!

"What a fantastic show", was the word on the streets of Formby this weekend. Conquest Art (Formby) held a most interesting display of Art in its Open Day Exhibition at the Luncheon Club, Formby last Saturday (20th April). The work produced by disabled artists in and around Formby, no matter how they painted, by mouth or by foot or by hand the work was of a stupendously high standard. In addition to the series of paintings there was a tribute to Mr. Phil Jackman, the senior tutor, who is recovering from a mayor operation, and other items such as a copy of The Times dated 5th May 1798, and a Castrol wall chat of 1925 containing a fascinating list of cars and motor cycles current at that time. The occasion was graced by the presence of the Mayor of Sefton, Councilor Anthony Hill and the Local Members of Parliament, Clare Curtis Thomas, and such prominent citizens as Mr. N.O.K. Gibbon (President of Conquest art Formby) Dr. and Mrs. Barbara Yorke M.B.E. and Mr. Alan Wright, President of the Rotary Club of Formby.
The chairman extends profound thanks to a splendid team of volunteer helpers and to all who kindly supported the event.
Article by Mr. P Clulee.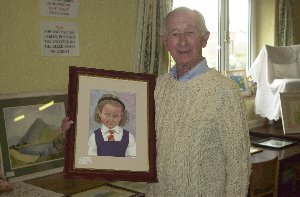 This man painted his grandchild.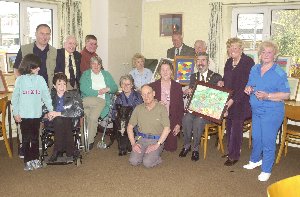 All the artists above and bellow the VIP's.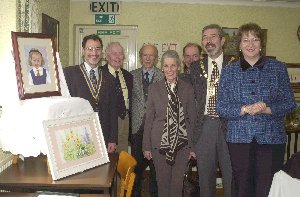 Formby Arts Festival Concert Ticket Prices.
PERFORMANCE
SEATS
GRASS
Swing Shift Big Band
Saturday 6th July
£5.00
£4.00
Humphrey Lyttelton
Sunday 7th July
£12.00
£10.00
Reckless
Monday 8th July
£5.00
£4.00
Folk in the Pinewoods
Tuesday 9th July
£5.00
£4.00
Wind Ensemble
Wednesday 10th July
£5.00
£4.00
Sefton Youth Brass Band
Thursday 11th July
£5.00
£4.00
Pirates of Penzance
Friday 12th July
£5.00
£4.00
ABBA UK
Saturday 13th July
£8.00
£7.00

Formby Hall Garden Party
Saturday 13th July

Adult ticket £10.00 - Family ticket TBA
To book tickets call now on 01704 877311 or call into the Formby Times Offices!
Formby Arts Festival 2002 ROLL OF HONOUR.
This year's festival in Formby is well underway now. Sponsors of the festival so far are:-
Southport Reporter, Formby Times, Alliance & Leicester, In House, Shorrocks Hill Country Club, McDougall's Chemist, Formby Health Food Store, Boots, Re-Aqua (at Just Beauty), Byrne's & Son, Maxwell Entwistle & Byrne, H.D. Vince Ltd., Ekaton Ltd., Brough Butchers, Alan Rumph & Co., Waterfields, Lloyds TSB, Backhouse, Trimmers, A.B. Lewis Ltd, AC Greeting cards, Colette Gunter Ltd, Animals in Need, Mr. Mint, Global Video rentals, Formby-Online & Derbyshires.
Got back to the Top of
the page.