St. Luke's Church Formby welcomes 36 Irish Friends.

The Percy French Society traveled all the way from County Antrim and County Down in Ireland, just to go the grave of the Irish poet and song writer who lived from 1854 to 1920 and was layer to rest in the peaceful graveyard of St Luke's Church Formby. Percy French was born in Cloonyquin, County Roscommon on 1st May, 1854. He became one of the foremost entertainers of his day. He was educated at Windermere College, Foyle College and TCD. In 1887 lost his capital in an unwise investment in a distillery he turned to journalism as editor of the "Jarvey", a weekly comic paper. When this failed his long and successful career as a songwriter and entertainer began. With a Dr. Collisson as partner, he toured Canada, the United States, the West Indies and England. He delighted in composing and singing comic songs, accompanying himself on the banjo. He gained considerable distinction with such songs as "Phil the Fluters Ball" and "Where the Mountains of Mourne sweep down to the sea." Percy French died from pneumonia on 24th January 1920, aged 65, but his songs live on. On Friday the society came over and stopped off in Southport and as a mark of respect for the song writer poet and comic, they held a service on Saturday Morning and looked around the Church yard. In the Evening they went to a local restraint in Formby and the on to a joint concert hosted in St. Luke's Church Hall with acts done by both St Luke's and them selves.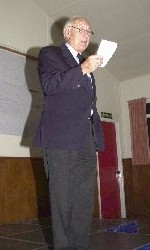 The Persy French Society Society Opened the night with a reading thanking St. Luke's Church and also with praise for their idle.