Letters To Editor:- "Orangemen's Parade."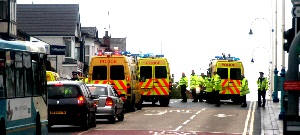 "I write to you regarding the above article as it stated in your column, that the Independent Orange Lodge has paraded through the town for many many years. It is infact the Loyal Orange Institution Of Englnad that has paraded through the streets of Southport for many many years, to commemorate King William third, Winning the Battle of The Boyne against King James. I am a little disappointed to think that you can point the finger at all Oragemen, Women & Children who walk on this parade, stating "that this years event was tainted by drunken and disorderly rabble", who are you to say that this is the Orange Men and Women of the L.O.I.E. We cannot and will not accept any responsibility for the people who want to disgrace themselves on this Glorious Day by parading themselves on the side walk in an unfit manner, those people are not part of the L.O.I.E. So please do not single us out as "Drunken and Disorderley Rabble". The photographs you have shown are of the L.O.I.E. and bootle province, which show you that we do present ourselves in an ordially fashion, so I ask myself do you Mr Reporter now who or what you are talking about, as I dont really think you do." From Lou

Editors responce:- We have read your email and would like to point out that the full report does not criticize your organization; rather it describes a rowdy minority. But this year's event in particular was heavily tainted by a drunken and disorderly rabble, which disgraced the majority by causing as much trouble as they could." It clearly implies that the majority were not causing offence. In particular, please note the words "who disgraced the majority. Also, please note that we quoted your spokesman's statement. we would like to point out that the problem group we have had this year are NOT what we stand for." Your own email acknowledges that we have published photographs which show the law abiding activities of your organisation in the parade. Clearly this is not portraying a negative image of your event. Our Editor has made a note that you state that it is the "Loyal Orange Institution of England" and not the "Independent Orange Lodge" as we were informed on the day. We apologise for any imprecise nomenclature. The fact remains that some of the perpetrators of the fracas were undoubtedly wearing Orangemen's regalia or ribbons. Whether or not they were officially or unofficially part of your organization remains to be seen. We can say that other websites, totally unconnected to us, such as Southport.gb.com, have displayed images of these alleged trouble makers, clearly showing their symbols of allegiance, on their sites. It is therefore reasonable to suppose that witnesses would conclude that these louts were your supporters. We do sympathise with any organisation if trouble makers hijack their events. It is sadly a fact of our times, as seen in hooliganism around football events. How perhaps could you in the future, combat this infiltration, if this is what occurred? If other organisations experience similar problems, has anyone found any solutions?

Please note that we do our best to give your event and all the other events in the town the best coverage we can afford. Our staff always try to stay objective and neutral in our reporting, just as our photographers photograph what they see at the time. If you would like to take this matter up further, please feel free to contact the Press Complaints Commission via the following link:- PCC
LITTLE MAN TATE & JOHN POWER ANNOUNCED FOR FREE ECLECTICA MUSIC FESTIVAL
LITTLE Man Tate and John Power (ex The La's and Cast) have been announced as the main support acts to Echo & the Bunnymen for this summer's free Eclectica Music Festival in Victoria Square, St.Helens on Saturday 11 August 2007.

Eclectica is one of the North West's most exciting, innovative, and up and coming summer music festivals. The event is being run by St.Helens Council in association with The Citadel Arts Centre and Love Music, Hate Racism.

As well as Echo & The Bunnymen, Little Man Tate and John Power, Eclectica will also show off some of the finest young musical talent including The Poems a Glasgow-based folk rock band who are impressing crowds throughout Scotland and further afield. Local bands The Aclyrics, Giant Root Attack and The Lancashire Hotpots will kick-off the event and will be sure to put on a memorable performance for their hometown.

Little Man Tate have spent the last two years gaining international recognition from the indie-pop underground scene and in 2006 they confirmed themselves as the latest success story out of Yorkshire as they signed a deal with V2 Records. Since then the band have been tipped for big things by Rolling Stone magazine and Radio 1's Zane Lowe, What? What You Gotā€ hit top 40 and with their debut album on the horizon, many music industry experts are predicting big things of the lads from Sheffield.

Also announced is John Power, member of legendary Liverpool band The La's and Cast. The former band's one album, a self-titled debut from 1990, sustains a fervent cult of admirers. In 1992 John Power went on to take charge of Cast, a formidable live four-piece with whom he'd sell huge amounts of records - 1995's All Change was famously the biggest and fastest selling debut album in the history of the Polydor label. Whether on the charts, on magazine covers or headlining at the Glastonbury festival, John Power was a phenomenon within the music industry. Now John has taken a new musical direction focusing his work on folk / grassroots music with his new debut solo album Willow She Weeps.

The Citadel Arts Centre will be hosting an Official Eclectica Aftershow Party immediately after the gig and will feature a DJ set from Echo and the Bunnymen's very own Will Sergeant and showcase from up and coming local acts The Loungs and The Maybes who both recently performed at Knowsley Hall Music Festival. Tickets for this event are selling fast and are available priced £8 For more information contact The Citadel Box Office 01744 735436 or online www.citadel.org.uk.

Councillor Neil Taylor at St.Helens Council comments; The free Eclectica Music Festival promises to be a fantastic day of live music in St.Helens. The location and accessibility of St.Helens midway between Liverpool and Manchester, plus all the amenities of a great town centre setting make the event a perfect free day out.

For up to date information go to the shows myspace or go to visitsthelens.com or telephone 01744 755150.