COMMUNITY VIGIL FOR RHYS JONES

DESPITE teeming rain, on Sunday 2 September 2007, many hundreds of Liverpool's citizens attended a Community Vigil to celebrate the life of murdered schoolboy, Rhys Jones, and to remember also all victims of gun crime, especially children. The vigil took place in Croxteth Hall Park, not far from his home.

Preceded by 15 minutes of inspirational music sung by Rachel Harland, it began with a welcome and introduction by the Bishop of Liverpool, the Right Reverent James Jones. It was led by faith, civic, community and police leaders. Described as "a reflection in four parts", each part was divided by music and quiet reflection.

Its objectives were firstly to express solidarity with Rhys' parents, Melanie and Stephen, brother Owen, family and friends and community.

His parents and brother lit a candle in remembrance and prayers were said. Various leaders spoke of the grief and sadness at his tragic death and offered sympathy and support to those affected.

Secondly, to:- "remember all victims of violence in our country and in our world". Leaders reminded us that although we struggle to understand such tragedies, we must remember that good still resides within the community and in the world and of our need to resolve to show care, love and compassion and not to repay evil for evil.

Lewis Ainscough, aged 9, a lifelong friend of Rhys, gallantly spoke of sadness and shock experienced because don't often think of young people dying. He expressed his belief that Rhys was with his Heavenly Father and prayed to "remember all the good and happy things about him" and "please comfort all who are unhappy."

Thirdly, "to express our commitment towards creating a safe environment for the members of our community." During this section the Lord Mayor, Cllr Paul Clark, in his address, paid tribute to Rhys as "a very special boy, a tremendously likeable, talented and friendly young man whose death has devastated everyone who knew him". The senseless murder of Rhys Jones had shocked the whole of Liverpool and united us in sorrow. He also paid tribute to the Jones family and offered condolences, but also said that this event gave us "the opportunity to express our outrage as a city and to pledge that we will all work together to make our communities safer". He stated that:- "99% of Liverpool's residents are decent, caring, compassionate people who value family and community who make it their responsibility to look out for their neighbour and to protect the vulnerable".

Although no consolation to Rhys' family, crime rates in Liverpool are falling; it's the second safest city in Britain. Unfortunately, there are a small minority who do not share the same values. "Their actions cause terrible damage and are a blight on our City. But we will not let them win". With the support of our communities they would be left with no place to hide. He described Rhys as a "boy who was full of love".

"The love that was in Rhys' heart should be an inspiration to us all, I believe that love is at the heart of Liverpool and we must use it to strengthen our communities, to reinforce our bonds with our neighbours and to make the safety of others our responsibility". Finally there was an appeal for anyone with information to come forward and assist the police with their enquires made by PC Robbie Pritchard, a local Police ...continued...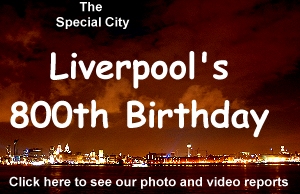 --- MORE NEWS REPORTS BELOW ---
Rhys Jones Vigil Photographic Coverage
Low Cost Airline Celebrates 10 Millionth Passenger
Southport Access For Everyone Forum
Low Cost Airline Celebrates 10 Millionth Passenger
Linda McCartney Cancer Centre "A tribute to Led Zeppelin"
2008 Flora London Marathon Places Now Available!
New look Somerfield for West Derby
Vue
Film Showing
Times
Osteoporosis sufferers denied diagnosis and treatment says new report
Blackpool International Beach Volleyball 2007
MAGHULL HERO HAILED REGIONAL WINNER FOR NORTH WEST IN NATIONAL LIFESAVING AWARDS
ST LUKES CHURCH, FORMBY TO HOLD 'NIGHT OF PRAYER'
CREAMFIELDS 07
Hidden treasures revealed
Trust in Yellow coach to Leigh RMI
SHOW IDOL COMES TO MERSEYSIDE
Freshfields Leonard Cheshire Home Jazz Night
The Ship, Southport
Musicfinity Launch Site to Help Bands Promote Their Music
GRAPHIC WARNINGS HERALD END OF 'SEXY SMOKING'
The British Country Music Hall of Fame
NEW CONTROLTOWER ANNOUNCED
Liverpool's 800th Birthday
SOUTHPORT WEEKENDER 41 - 2/3/4 NOVEMBER 2007
ALL WORK AND NO PLAY FOR MERSEYSIDE'S BUSINESS OWNERS
FINE WINE AT THE LIVERPOOL FOOD LOVERS FESTIVAL
At the Latin Lounge
...continued... ...Officer who reiterated appeals mentioned by the Bishop and the Lord Mayor. All suggested that those responsible and those who know who is responsible will know no peace and must come forward.

The vigil ended with final prayers and the blessing and dismissal was given by Bishop James and Bishop Tom Williams.

Leaders included Rev David Leslie, Vicar of St Cuthbert's Cof E Church; Fr Andrew Unsworth , Asst Priest Our Lady Queen of Martyrs RC Church; Mrs Jube Simm, Teacher, Fazakerley High School.

| | |
| --- | --- |
| | Click here to play video footage of the plea to find Rhys' killer. |
Any witnesses and anyone with information who has not yet come forward is asked to contact the Major Incident Room on 0151 777 8722.
Alternatively, you can contact us by texting the word CRIME followed by your message to 61051.
If you have any information about gun crime anywhere in Merseyside contact the Gun Crime Hotline on 0800 458 1211.
~HAPPY BIRTHDAY~
If you have someone you want to say happy birthday to, for free,
then use the email address below to send us the names
you want us say happy birthday to, and/or a photograph.
Email us today!