THE HONDA FORMULA 4 STROKE 2007 POWERBOAT CHAMPIONS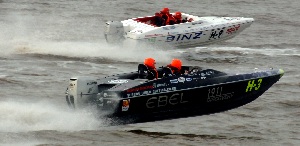 THE most exciting finish to the 2007 Honda Formula 4-Stroke Series Powerboat Championships took place on the River Mersey with thousands of people lining the banks. The event lead to Lings Racing and Negotiator on Sunday being declared winners of the 2007 Honda Formula 4-Stroke Series. The atmosphere was electric both on the water and off it, with the closest views of any Formula Powerboat Racing in the world...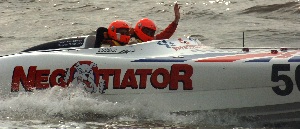 On Saturday, 29 September 2007, saw not one, but two dramatic races taking place. One of the races resulted in the 225hp championship being settled with a stunning win from the leading boat, Negotiator. Not only that, but one of the boats was damaged as it raced round the course. Another boat in the 150hp championship lead to a steward's review after Salcombe Racing missed a buoy, for which they were docked a lap. Fantastic boat handling, driving and navigating in that race, made amazing viewing for spectators.

On Sunday, the conditions where harder, yet it was full throttle and hold on tight for two closely run races. This was a thrilling weekend. Sunday's races, in both championships, led to nail-biting displays as the boats took off. One of the 225hp boats capsized and had to be pulled into the dock upside down, with its crew being picked up by a rescue rib.

Sunday's race for the 150hp class had a few surprises as well. Salcombe Racing lost the championship in an impressive race. "We're gutted to lose the championship, but it was something of a consolation to win today's final event. It was a thrilling race and other teams put up a great fight. It's been a fantastic championship and we will be pushing for the title next year". Said Salcombe Racing's driver Jerry McArthur.

Berkshire, navigator of Lings Racing commented:- "Sunday's race was really tough. Tactically we opted to stay out of the mix but halfway through we decided to push harder, we had a championship to win! It's been a long season but all our hard work has paid off, we are over the moon. We told spectators in Lowestoft that we were going to win and we refused to let them down."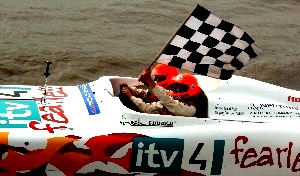 On Sunday, Rupert Pugh, in ITV4, 'Fearless', finished the series in style by crossing the finish line in first place for the first time this season. We caught up with him on land He told us:- "We all drove like devils on the water the last two days. Liverpool is a fantastic place to race as the atmosphere is so friendly for all of us crews and spectators alike. Also the views the public get of the racing are amazing and team online get to see the race unimpeded from start to finish. It is the closest you can get to the action if you are a spectator! On the water, the river is also a fantastic place to be as you get an enjoyable course to navigate around."

225hp Championship winners, 'Negotiator', which had already wrapped up the series in Saturday's race, maintained the pressure throughout revelling in the conditions and the competition.

Nathan Libby, navigator of 'Negotiator' commented:- "We are both really pleased with how the whole series has gone this year. We had great fun in the choppy conditions and Rupert drove fantastically for ITV4 'Fearless'. We are looking forward to coming back next year; there isn't a better series out there."
2007 HONDA FORMULA 4-STROKE CHAMPIONSHIP FINAL POSITION AFTER 10 RACES HF4S 150 Series
1. LINGS RACING - David Cowley & Paul Berkshire

2. SALCOMBE RACING - Jerry McArthur & Jonny Twelvetrees

3. PREMIER CREW - Neil Crabb & Lee Darbyshire

4. CIDER DAZE 150 - Jak Cockman & Andy Phipps

5. QUALITY JOB - Tom Plant & James Plant

6. TEAM EBEL - Graham Foster-Vigors & Harry Armer
7. DELMAR GROUP - Tony Crossley & Mark Glanville

8. CONSTRUCTION RACING - Marcus Bradshaw & Paul Wilkins

9. EARLS COURT BOATSHOWS - James Brooke & James West

10. SPIRIT RACING - Lee Smith & Suzy Smith

11. LOCAMOTION - Rose Lores & Sharyn Brown

12. AIRWAVES CLAYGATE - Nick Clemson & Paul Trow-Smith

13. APPGATE MERMAID - David Hobson & Kirsty Clark
| | |
| --- | --- |
| | Don't let your business sink with advertisement that does not work! TaKe nOte! |
GET YOUR

NOTICED!

Remember to check out our advertisement offers via clicking here.