The Ninth British Musical Fireworks Championships

THIS year we had the usual great entertainment from six competitors, two on Friday, 5 October 2007, two on Saturday, 7 October 2007 and two on Sunday. What an excellent show they each put up. Some were absolutely mind-boggling, while others were excellent; so we had a show on each evening, which was musically, and artistically stunning. Even the weather on both Friday and Saturday was perfect for firework display. On the Sunday, under heavy cloud, an inconsequential light breeze wafted the smoke towards Morrison's Supermarket, the thousands of spectators, who eagerly awaited the displays, were not at any time disappointed. The commentator, Simon Smithies, kept the show moving with a very knowledgeable series of commentaries. The annual Education session was very interesting, even to those who have heard it before and the warning about safety concerning buying and using Fireworks at home was most apt.

Each evening, on the Marine Lake, we were entertained by past competition winners and the British Fireworks Champion of Champions, Jubilee Fireworks, to an enchantingly magical 'Son et Lumiere' using the most advanced computerised firing system, 'Fire One'. This new pyro-presentation, entitled 'Lake of Dreams', used the lake's reflections of the fireworks to enhance the visual subtle effects and low level illuminations, which held many spellbound. It was a real proof that water and fire can be mixed!

'Festival Fireworks UK', from Sussex, were the first to fire on Friday. They set a very high standard for the others to follow. They are the only importer of fireworks manufactured in China with an ISO accreditation. Their display was absolutely stunning from beginning to end. They were followed by a very enthusiastic and fast growing six years old company called 'Pyromania Displays'. They put on an excellent reply to the previous team, but were not quite able to put Festival Fireworks totally into the shade. A stunning beginning to the competition now signalled that there was a great battle to come.

So to Saturday, as the skies darkened, the crowds poured into the Lake Park with anticipation. The two companies competing were 'Anytime Fireworks' and 'G-Force Fireworks'. 'Anytime Fireworks' took part in this competition in 1999, and like all the teams they have a very dedicated pyro crew. They continued to emulate the achievements of the previous night with a colourful and cheerful display, which incorporated a rousing finale. 'G-Force Fireworks' with a well choreographed and imaginative offering, continued the evening's entertainment. The crowd left well satisfied with the night's entertainment.

The final night's show, Sunday, began with grand expectations and excitement gleaned from the previous two evenings' displays. The crowd was not disappointed. 'Essex Pyrotechnics', who are one of the largest designers and manufacturers of display fireworks, as well as importing them, did not disappoint the crowd. Their show was well designed and exciting. They had made an excellent attack upon the title. However the crowd waited with baited breath for the final team's contribution. 'Phoenix Fireworks', who have a 35 year Safety Record, started out with a spectacular opening. They put on a magnificent display of music combined with colour and special effects, which excited the crowds of spectators. The show was over and the spectators departed, well satisfied and looking forward to next year's competition.

It is sad to note that with such complex firing systems some gremlins are likely to occur. Unfortunately for a few teams this problem occurred, affecting some more than others. But as one of the teams said:- "It is a competition and with pyrotechnics, sometimes things do go wrong. It would not be a challenge if they did not go wrong from time to time. The fun, and the challenge for all teams are to limit the chance of errors and keep the safety and display levels high. I think all the teams did this, this year."

It was a first class competition. It was a show, which truly, in all aspects entertained the crowds. Well done and thank you to all the teams who competed, to the supporting personnel and to the sponsors.

Click here to see our photographic coverage of this amazing event...

| | |
| --- | --- |
| | Sorry - Video highlights from the event to be added soon. |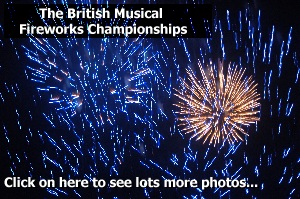 --- MORE NEWS REPORTS BELOW ---
Southport Marine Lake Re-Named The Irish Sea!
Rachel gives unhealthy eating the boot
MAJOR NEW CAMPAIGN TO HELP CHILDREN IN THE NORTH WEST GROW STRONG
RNLI AND GOODYEAR CELEBRATE SAFETY SUCCESS
Tomorrow's World - Re-evaluating the Role of Marketing
Merseyside finalists gear up for tourism 'Oscars' of England's Northwest
FLYING FISH BOMBARD THE BOATS
PUDSEY BEAR TO MAKE MASCOT GRAND NATIONAL DEBUT
Vue
Film Showing
Times
LEARN TO EARN A MILLION
Open road to a car for every occasion from car exchange club.com
Emma's out to help the North West's working students
The future of education
Lots more photos of the 2007 British Musical Fireworks Championships
FRAUDSTERS GO UNDERGROUND
Kids Across The Nation Go Silent For School Aid
Lottery win for Sefton cycling
WHAT ARE THE BEST IDEAS DREAMT UP IN THE PUB?
£19m Terminal To Be Dismantled
MCDONALD'S ADDS FREE WIFI TO THE MENU IN SOUTHPORT
Stress reigns supreme for workers in Liverpool offices but we're still calmer than Cardiff
The Lancashire Business Fair 2007
INVESTIGATION OF ULTRASOUND AND MRI SERVICES PROVIDED BY ATOS ORIGIN
Bus Artwork on Display
Velvet Young Nature Photographer of the Year Competition, in association with WWF
Modern Day Bayeux Tapestry to be launched in Liverpool
Magic of Star Wars returns to Spaceport – bigger and better!
Lawyers Not Ready for Retirement
Magnum coming to 53 Degrees on their Wings of Heaven 20th Anniversary Tour
ARE YOU RELOCATING DOWN SOUTH? HOUSE FOR SALE £425,000
74 extra car park spaces to be made at Ormskirk & District General Hospital
BoUNcE @ Southport's Underground!!!
Postal Workers On Strike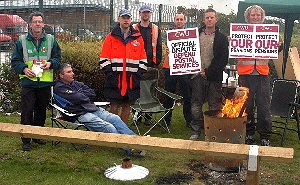 THE Post Office Workers are on strike once again, protesting about loss of 2,500 Post Offices and a reduction in weekday post box collections and no Sunday collections. They are also on strike due to low pay, loss of benefits and increasing retirement age from 60 to 65.
The CWU says that:- "Royal Mail senior management are insistent on driving through major changes across all postal services. This change will have a direct and negative impact on CWU members' lives and ultimately the loyal services they provide to their clients. Unless an agreement is reached it will result in a less reliable service, later deliveries, and poor morale. This is what we do not want to happen for our members and for you the customers of Royal Mail and why our members are on strike." A member of the CWU told us.

Another member quoted in their handout says:- "Postal workers are being asked to accept changes without any guarantee of recompense or job security from an intimidating employer.
The impact of changes will see massive cuts in services, resulting in the loss of around 40,000 postal jobs."
What are your views on this issue? Please email us to
news24@southportreporter.com
and let us know what you think about the action the Postal Workers are taking.