Thursday the 16th of May saw the launch of the Southport Nightime Safety Initiative at the Scarisbrick Hotel.
Lord Fearn and other dignitaries were in attendance and told how the Initiative would work, and how it would cut down crime.
The whole point of the Initiative is to promote a feeling of safety within the resort at night, for those out socializing, and to cut down the number of violent incidences at the weekend.
Southport Neighborhood Inspector Steve Hall said: "Southport has a very successful ant-crime partnership with the local daytime businesses and we are confidant we can extend tat partnership to the nigh time economy."
"Southport has a wealth of restaurants, bars and theatres that attract people from all over the country. As a tourist resort it enjoys a reputation for being safe and welcoming. By extending this partnership into the evening we are further proving our commitment to making Southport a crime-free resort."
Although the Initiative has been up and running for a couple of months now, with high-visibility police patrols, other comprehensive measures are now being added, these include, a radio link which has been installed between all members of the Initiative, enabling them to all talk to each other and the police, to ensure rapid responses to violence and troublesome customers. And an exclusion policy for any person caught committing a disorderly or violent act, steals, uses or deals in drugs, anywhere near a member premises.
The partnership will meet once a month to monitor the Initiative and to share information about crime and offenders. This will have a very positive effect and a reduction in crime can only follow.
Bill Asbury from Southport Town Centre Management explained:- "Merseyside Police have been very supportive and we applaud the excellent work by the team. It is important that the business community work together and we welcome new members to the group. I would urge any Southport business to get involved."
Area Commander, Chief Superintendent Dave Jones of Merseyside Police added:- "Last year the force introduced Neighborhood Policing and the Southport Town Centre team are working hard with the business community to make the public of Southport feel safer. They are achieving excellent results and we are in daily contact with the businesses and their staff. My message to any criminals in Southport is that businesses, the public and the police working together will take swift action against you."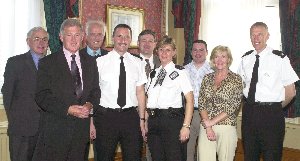 Photograph by Editor Patrick Trollope
To go back to the Top of the page.