Hitting Car Crime.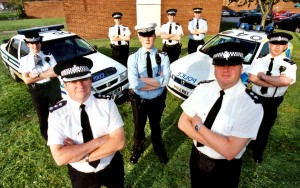 Photographs with thanks to Merseyside Police.
Above Left to Right are Chief Inspector Gary Colquitt of Merseyside Police, and Inspector James Lee of Lancashire Constabulary.

Police in Merseyside and Lancashire have arrested over 70 people during a four day operation, codenamed Coalition.

The operation saw special teams of officers from the two Forces using high performance vehicles to target the activities of criminals in and around Kirkby, Maghull and St Helens in Merseyside and Ormskirk and Skelmersdale in Lancashire.

The aim of the operation has been to detect and prevent "hook and cane" type burglaries, where thieves hook keys through the letterbox to either burgle homes or steal cars using the keys. Both Forces have found offenders travelling across the county borders to commit these offences, and officers have been sharing intelligence to crack down on the would-be thieves.

Over the weekend, the operation has netted a number of arrests for car theft, burglary and for other related offences, such as robbery. Over sixty police officers were involved including Merseyside Police officers from Knowsley, Sefton and St.Helens, and their colleagues from Lancashire. With the launch of the Robbery Reduction Initiative, Merseyside Police is placing a greater emphasis on intelligence led operations such as this.

Chief Inspector Gary Colquitt of Merseyside Police, who was in charge of the operation, said: "This type of crime has been a real problem in the area, which doesn't just impact on the victims of crime, but also road users who encounter the dangerous driving of the offenders on their travels. Operation Coalition's highly intensive approach focuses resources very closely on known offenders and crime patterns. Our message to criminals is clear, that no matter where you commit crime, the police will find you and take action against you."

"This is by no means a one off and shows our clear commitment to bringing the offenders to justice and improving the quality of life of residents across the areas. We will be working with our colleagues in other Forces on a number of initiatives like this in the coming months. The arrest of these people means greater safety and an improvement in the quality of life for the public of both Merseyside and Lancashire."
IAM Launches new Road Safety Award!
The Institute of Advanced Motorists (IAM) has this year launched a new road safety award. This is designed to reward and recognise an individual who has made significant contributions to young driver and rider safety. Which as most people realise are the most vulnerable people on our roads.

Nominees for the Dominic Fox Award, named after the youngest council member, who died unrepentantly in 2000, at just 32, can be of any age, and from anywhere in the UK. They do not have to be road safety professionals or active in the voluntary movement. Their work must however, have contributed to the safety of younger drivers and riders.

Statistically, one in three crashes involve young men under the age of 20. 12% of drivers involved in injury accidents are aged between 17 and 21, yet as whole, they only account for 7% of all licence holders in the UK.

"Through this award, the IAM is seeking to recognise and encourage the work of many who are dedicated to improvements in road safety - an area of endeavour which generally does not receive the recognition it deserves. It is given in the name of Dominic Fox who bought a fresh eye to the promotion of safer driving for the younger drivers and motorcyclists. This continues to be a vitally important area for road safety, as each year's road casualty figures show." Said IAM Chief Executive Christopher Bullock.

The deadline for all nominations is the 31st of August 2002, and the award will consist of a monetary prize and a trophy. Forms are available from the IAM Head Office on 020 8996 9600 or can be downloaded from the IAM website, www.iam.org.uk

Written by Eric G Lyon-Taylor
____________________
To go back to the Top of the page.
Back to main page!