Merseyside Police Horses join Golden Jubilee Celebrations!
Eleven Merseyside Police horses and their riders have ridden in an equestrian extravaganza at the Royal Windsor Horse show. They were there to pay tribute to Her Majesty the Queen on her Golden Jubilee.

Inspector Cath Calveley, Head of Merseyside's Mounted Unit, and her colleagues joined representatives of other police forces from across the country when they took part in the 'All the Queen's Horses' event.

The officers, who work all over Merseyside and are based at the Force's Mounted Unit on Mather Avenue, have been in training with colleagues from Greater Manchester Police in preparation for the event which took place during the evenings of 16, 17, and 18th of May. The Saturday show, the 18th of May, is also going to be shown on television on BBC1 on Sunday the 2nd of June.

'All the Queen's Horses' involved a cast of 3000, including some 1000 horses, and was set against the backdrop of a floodlit Windsor Castle, during the three days of the annual Royal Windsor Horse Show, of which the Queen is a patron.

The performances included a recreation of the 1953 coronation procession with the Golden State Coach, a police horse display and a musical procession, all this culminated with the show done before Her Royal Majesty the Queen.

Inspector Calveley has been seen on TV before usually leading the Grand National Winner at Aintree, an honour shared by others of the unit. She has been with the unit for 10 years and in the Police for 32 and she postponed her retirement to participate in the show, 'All the Queen's Horses'.

Inspector Calveley said: "We are delighted to have been invited to join this very special event, which will be spectacular to watch, in addition to being tremendous fun to take part in. It's a honour for Merseyside Police to be part of the Golden Jubilee celebrations, and 'All the Queen's Horses' is something which our officers will no doubt remember for the rest of their lives."

The officers who took part were: Constable Mark Davies on Eric, Constable Brian Seddon on Gus, Constable Beverley Jones on Jake, Constable Paul Coleman on Sherwyn, Constable Gary Pickford on Gambler, Inspector Cath Calveley on Jag, Constable Ken Lawson on Ryan, Constable John Cunningham on Benson, Constable Tony Jones on Melwood, Constable Lynn Maher on Vic and Constable Simon Griffiths on Lego.

Written by Eric G Lyon-Taylor
Southport beach was a doggy paradise.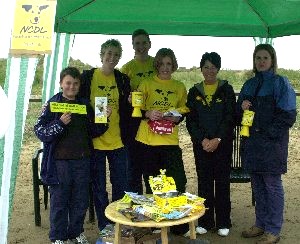 The rain did not put of hordes of dog walkers who came out to support a sponsored dog walk for the National Canine Defense league on Sunday.
One dog walker said "Only in the UK can you get rain on a planed walk and when it is finished it goes sunny! This has not put me or my dog off as the charity does a very good job and we are pleased to support it. it is a fantastic day out for the dog as he will be a lot quieter when we get back. The charity has even put water on for the dogs and that is a very very good idea." As well as the charities stall they also had a dog display course and dog displays on the beach and to warm up every one hot drinks were being served from a mobile café.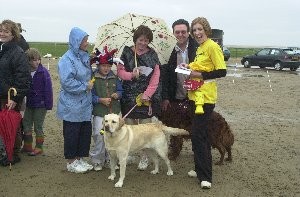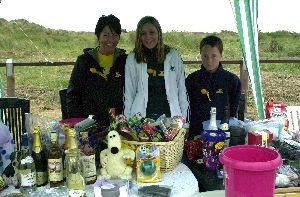 ____________________
To go back to the Top of the page.
Back to main page!