Liverpool's New Arena...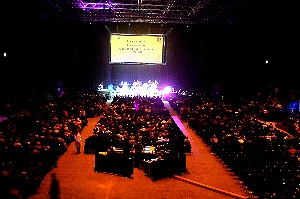 THE New Liverpool Arena emerges as a shining star in Liverpool's galaxy of renowned architecture. It opened its doors to the public for a free showing on Friday evening as a rehearsal for the forthcoming 'Liverpool The Musical', the official Capital of Culture opening, one of the events on the 11 January 08 and 12 January 08. It is too late to obtain tickets for that event as the 10.000 tickets were sold out almost immediately, we were told! However, there will be an opportunity to join the people's festivities, this Friday, around St George's Plateau. These will feature local artists of prominence including Ringo Starr and a cast of thousands. Bring a torch, Jayne Casey and Nigel Jamieson, the Creative Cultural Directors exhorted us, as helicopters will be hovering overhead and it's a chance for the public to show how passionately we care about Liverpool as we turn our torches skywards.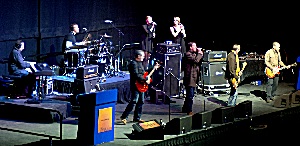 In the free event for Culture Ambasidors, on Friday 4 January 2008, hundreds braved the rain to look inside this intriguing new stadium, all curves and contours, very spacious and apparently very well appointed for its artists. With this capacity, Liverpool can now host major events with confidence. Throughout the evening we were entertained by talented local artists; the first to take the stage in public was a girl group, Sweet XX, followed by a local boy band, and then by Major Major and The Farm. All of whom acquitted themselves admirably and served to remind the audience of how much talent is still budding in this great city.

Pete Price, the Radio City Compere, did an excellent job of M C'ing the programme and regaled us with his beautiful singing voice. Speakers included Warren Bradley, Liverpool City Council Leader, Bob Prettey, Chief Executive, Jayne Casey, Nigel Jamieson and Phil Redmond, the renowned writer well known for Brookside. Between them they reminded us of what Liverpool has achieved over the years and the world famous people who have emanated from this city. Our culture is authentic, home grown talent. Warren Bradley described the Liverpool Welcome as very special and said that together we can make Liverpool World Class. Even now Liverpool's economy is growing faster than anywhere else in Britain. This City can do it!! Bob Prettey mentioned the pivotal role of the new stadium in generating new income and its employment of about 500 people already. Over the coming year many high profile events will occur in this unique venue including pop events with Boyzone and Girls Aloud due to appear and the prestigious MTV Awards event booked for November. The Conference Centre are also going apace including the LibDems' Spring Conference and the National Association of Head Teachers' also booked in. Phil Redmond thanked all the Volunteers and Ambassadors for what they have done and will continue to do. It was very important the public drowned out the moaners and whingers and we will have a tremendous year ahead, making this the, "Biggest, best, broadest Capital of Culture ever".

Pete Price started two Mexican Waves around the Stadium, which added great hilarity, before drawing 2 lucky winners for the formal Opening Ceremony. This year no longer belongs to the City Council, nor to the Culture Company. It was EVERYBODY'S CAPITAL OF CULTURE he added.

So make the best of the very many events, which will occur through the year from classical music to pops, art to theatre, museum adventures and many community shindigs. Keep in touch and support the City all you can. Fly the flag for Liverpool and for Merseyside in general.
Click here to see more photographs of this stunning building.
~HAPPY BIRTHDAY~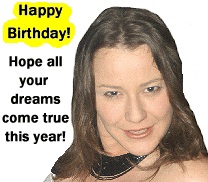 If you have someone you want to say happy birthday to, for free, then use the email address below to send us the names you want us say happy birthday to, and/or a photograph. Email us today!