Irish Centre plays host to Cooperation Ireland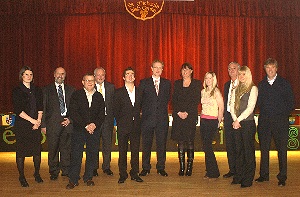 ON Tuesday, 29 January 2008, a networking session was held at St Michael's Irish Centre in Anfield, giving local business people the chance to meet people from the Irish community, including Irish Businesses Abroad, championing businesses in Ireland and especially to hear representatives of Cooperation Ireland and one of their sponsors, Braidwater, who are planning a black tie Gala Fundraising Dinner, to be held in Liverpool Town Hall, on Thursday, 6 March 2008, at 7.15 pm. There are, reportedly, a few tickets still available.

This will be a repeat of last year's successful event at the same venue. The dinner will be attended by Roman Catholic Archbishop Kelley and Anglican Bishop Jones as well as Cllr. Bradley.

Mr Mike Murphy, Co founder of the organisation, spoke about its origins. It was instigated nearly 30 years ago, by a group of Dublin business men, when the troubles were at their height, to help bridge the divide between North and South. It works steadfastly to promote peace and reconciliation between the peoples of the Republic of Ireland and of Northern Ireland and also cross community in the latter, including a project involving some 9000 people; probably the largest reconciliation programme in the world. There are a wide range of undertakings, advancing mutual respect and understanding by promoting practical co-operation. Support is also given by the EU and USA. Prestigious patrons are Her Majesty the Queen and President Mary McAleese of Eire. Vice patrons are the Archbishop of Canterbury, the Archbishop of Westminster, the Chief Rabbi and the Moderator of the Free Church Federation. Mike Murphy told us that, despite the big changes for the better, there is still a real need to continue work at community level. There are still tensions .Violence is unlikely to return but still possible. It may take two or three generations to fully resolve. Meanwhile such programmes remain vital.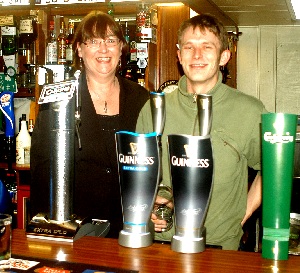 Fund raising events are being held throughout the year, across Britain and Ireland but Liverpool has been chosen for special, mutually helpful projects because of its strong Irish connections and because of its status as European Capital of Culture, this year. Initially teachers from Liverpool schools will be chosen to become part of a cross cultural association but it is also planning to begin schemes working with children in more challenging areas of this city and to involve them in programmes which have been so successful in Northern Ireland. It is vital to work with young people both here and in Ireland. Cooperation Ireland deserves our full support.
For more information, log onto www.cooperationireland.org or ring 0151 601 8 688 for more details

Another event for your diaries:- Liverpool Irish Centre – who, incidentally, provided us with a delicious bowl of Irish stew. Thank you! - is running an event on Sunday afternoon, 20 April 2008, in St Georges Hall and will portray the story of Liverpool's Irish community, from their immigration at the time of the potato famine, in the 18 century, to the present day.
It sounds fascinating and will, we hope, we hope it will be well supported.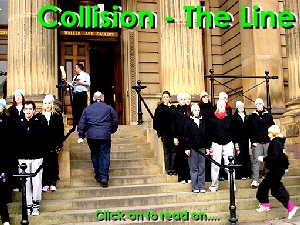 New snack hits the market
A new snack is being introduced to the market. St Dalfour, French Bistro is a convenience food with a difference. It is innovatively vacuum- packed with an easy, peel back lid, without a single additive; no colorants, no artificial sweeteners, no chemical nasties, all natural but still tasty! French Bistro is being offered in a range of nine dishes, including four vegetarian and four are wheat and gluten free. It is low in fat and calories. Salt is included but additional salt and pepper comes in a separate sachet, a nice touch. French food without fuss, healthily prepared and ideal for snacks, picnics and lunch boxes, it can also be used as an adjunct to other foods. It can be microwaved for a warming dish. Worth looking out for!
For more information;- www.stdalfour.com.
~HAPPY BIRTHDAY~
Happy Birthday to Linda and Colin from Patrick & Edmund.
If you have someone you want to say happy birthday to, for free,

then use the email address below to send us the names

you want us say happy birthday to, and/or a photograph.

Email us today!