Eating Out in Formby
Review by Q?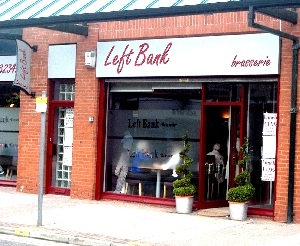 ON Valentine's Day, my family and I went for a walk in the village centre of Formby. It was a cold day, a biting wind, but dry. As it was close on one o'clock, we debated as to where we would have lunch. Finally, we decided to go to a restaurant that we had not yet visited. We settled upon 'The Left Bank Brasserie', in the Beacons, Halsall Lane. Upon entering, we found that it was humming with happy eaters. Every table appeared to be filled. However, a smiling young lady, behind the bar, informed us that there was plenty if room upstairs and immediately a waiter appeared who guided us through the restaurant to the stairs.

We were shown into an attic room, that was very well lit from two skylights. It was light and airy, walls painted in a whitish colour hung with several mirror like pictures contrasting with the dark reddish wooden and glass well appointed bar. In the centre of the room was a long table with a group of mothers and toddlers, chatting gaily, as they awaited their ordered meals. We were shewn to a table against the wall, given a comprehensive and well set out menu. It was the lunch menu. The choices were very varied and in some cases looked as if they would be exciting. We settled on two braised duck wraps and a goat's cheese bagget as well as a pot of tea for three. The meals, which arrived very promptly in the very busy restaurant, were all with salad and most artistically presented on their plates. Very impressive as the kitchen is quite compact! The tea arrived in three individual pots and we were able to get them refilled several times by the very helpful and pleasant waitresses. The sweet choice was also rather good, and, like the main course, there were generous helpings. There was no pressure to vacate the table, even though the room had quickly filled up, shortly after our arrival. In fact, they were in no hurry with presenting the bill. A very satisfying meal in all aspects for each of us, which did not brake the bank, and was of excellent value.

It was a very pleasant and happy choice made on the spur of the moment. I like to do things that way as it makes eating-out that much more exciting. Being in a place where the staff are friendly, helpful and polite helps to make the meal more enjoyable, coupled with the right atmosphere. This particular place, although modern in design and layout, has those qualities.

I will definitely use this restaurant again in the near future. Not only that, but I fully recommend it to anyone who would like to know as to where to eat in Formby village. The proprietor, Hakan Esgin, is to be congratulated on his choice of staff, menu and everything else concerning the Left bank Brasserie.

It is at:- 1a, The Beacons, Halsall Lane, Formby, L37 3N.
Telephone:- 01704 832342 Email:- hakanesgin@supanet.com
More photos taken at The Merseycats St. Valentine's Dance 2008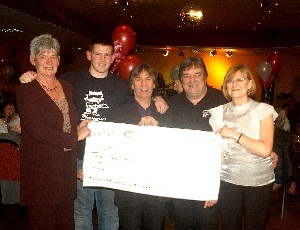 THESE are a few more photos taken at the Valentine's Dance night, full report on this edition's main page. Click here.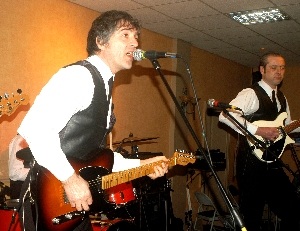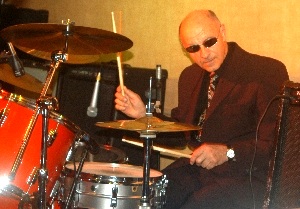 Photographic Report Page 1 of 3.