The Merseycats St. Valentine's Dance 2008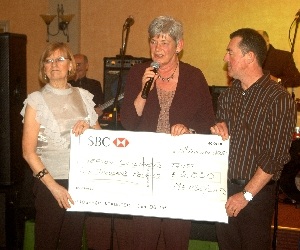 IT has been a number of years now since some of the original Merseybeat era band members got together with their wives, roadies, promoters and so on, for the first time, to form a band in the New Montrose Club, in Liverpool, in 1988. It was an event to raise cash for charity and was organised to commemorate the death of the Merseybeat's drummer, John Banks. At this event the idea came to form Merseycats and in January 1989, at the Penny Lane Wine Bar, Merseycats was born. The group's membership is now, no longer, just Merseyside bands, but encompasses the world. The latest event, "The St. Valentine's Dance" was held at the Gild Hall on Church Road, Formby on Friday, 15 February 2008. The event was a huge success and four bands played well into the night, 'The Shakers', 'The Del Renas', 'The Tempest' and 'The Skifflers'. At the event, a presentation was made of £2000 to the Sefton Children's Trust. Receiving the check on behalf of Sefton Children's Trust's, Pam Mutch, said:- "We would like to thank all of the Merseycats for raising this money and for their support. The money will be gratefully received by all of us at the Trust." Merseycats' Beryl Prescott said:- "This is just one of many cheques which we pass out to charities each year, and we hope it will be of great use to the Trust. The group raises around fifteen to twenty thousand pounds a year for charity, but we need the public's help to keep up the momentum. If you do not know what we are, Merseycats is a body of musicians, ex-promoters, roadies, etc., which organises shows, with the original Merseybeat-era bands, to raise funds for sick, disadvantaged and needy children over the whole of Merseyside. Merseycats are very proud that, by using our musical talents, much needed cash can be raised to help so many children's charities. All our members are united by the happy, precious memories of the Merseybeat boom days, in the clubs and dance halls around Merseyside of that era. We are also determined to use our talents for the benefit of those Merseyside children who do not have the chances which we ourselves had. It is our way of giving something back to Merseyside. This has become our main objective over the years. Merseycats consists mainly of current players and ex-members of the many groups from the Merseybeat days, (Many of whom were, and still are, celebrities and household names). But the list of members also includes their wives, families, friends and supporters! Stars who were part of the sixties scene now wear the exclusive Ambrose Mogg membership pin, (The Mersey Cat) with great pride. To find out more about us, please go to our website or head on over to our LIVE Music Nights, every Thursday from 730pm at the Royal British Legion, Old Roan, Aintree, Liverpool. We do charge at regular Music Night a small entrance fee of £1, but everyone is welcome and it is for good causes."

Parenting 2000 Children's Centre
THE Mayor councillor Hands accompanied the Mayoress Kathryn Hibbert and opened Parenting 2000 Children's Centre on Mornington Road Southport to the public on Thursday 14 February 2008 with a valentines day theme.
This Children's Centre is unique in Sefton, as it is the first which is a partnership between the community voluntary sector and Sefton Council Children's Services.
Parenting 2000 has been a popular One Stop Information point for families for over 9 years. It first opened its doors with the support of Southport Partnership and Single Regeneration funding in 1999.
Parenting 2000 Children's Centre is based next door to college in the town centre and will provide a venue for parents to access a wide range of activities and services such as health advice both antenatal and postnatal with regular health visitor sessions, baby massage, parenting courses, parent and children together play sessions, employment advice. Along with family workers who will be able to offer more individual support for families.
The Parenting 2000 Children's Centre also has strong links with a variety of agencies such as Sefton@Work, Extended Schools, Sefton Equalities Partnership and the International Community. It alos has the first Quiet Place in a community setting which is a setting to encourage calm and stress management.
Anne Burman the chief Executive Officer said:- "We look forward to the challenge of offering the local families the best possible service to support them to achieve their aspirations for themslves and their children"
For more information contact Anni Quinn or Bethan Cross on 01704 380047 or email.