Early spring mixed with a late winter…
WARNINGS of yet more bad weather to come and the recent cold snap mean that in 2008 there could be yet more massive rises in fruit and vegetable prices in the UK. Each spring, farmers throughout the world look forward to the thaw, a natural heating up of frozen ground. When the ice melts away and the soil warms, the spring growing season has officially begun.

The spring thaw over the last few years has been getting earlier and earlier and this could easily spell disaster. The fact that the dates are changing so much is making it harder to forecast just when the growing season has begun. As a result, we might just see even more price increases than we expect, warns the UK farming community! With a world

recession looming on the horizon and the ever increasing cost of transport pushing up prices, combined with increases in grain prices (like wheat and maize), this year will see escalating food prices which are already climbing higher according to London Stock Exchange market analysts. In the USA, Scott Faber, Vice President of Federal Affairs for the organisation, which represents names such as Campbell Soup, Hormel, Nestle, Coca-Cola and Kraft said:- "Food prices are rising twice as fast as inflation, placing significant pressure on American families who are already suffering from economic uncertainty."

NASA scientists have recorded an earlier regional thawing trend across northern high latitudes, advancing almost one day a year, since 1988. This trend, a likely result of global warming, leads to longer growing seasons. Some new studies, though, warn that this situation could actually increase the effects of climate change in the long term. In the UK, it is not only environmental changes that are affecting us, but also the effect of taxes hiking skywards, and the strains of the world economy, that we have to worry about, but also the effects the climate change has on our natural habitats.

On the surface, a longer growing season can be seen as positive. It supplies more time to harvest, but all it takes is a cold spell or extreme weather, such as we witnessed in 2007 and this could decimate many of the insects required to pollinate crops, which will be ruined. Also the higher temperatures lead to Heatwaves; as in Europe, in 2003, where 35,000 people died.. This extreme weather not only kills people and live stock, but also reduces water supplies.

Already, in the UK, we have had a spate of droughts over the long summers and this has led to the loss of more crops as irrigation fails. Such a scenario would have a massive impact, not just in the UK, but on the world's food prices. In Formby for example, already pear trees, and other fruit trees, are budding, but the worry of many environmental charities is that this early blossoming combined with a sudden cold snap, could kill off many of the insects, like the bees, leaving unpollinated crops and fruit trees. Combined with extreme weather, as in 2007, later in the year, the consequences would be a devastating impact on the UK food market. Already, in February 2008, International wheat prices had risen 83% according to the (FAO), in the past 12 months. The effects of this rise not only affects fruit and vegetable markets, but meat markets too, for live stock require the feed derived from wheat. United Nations' Food and Agriculture Organisation (FAO) said in February that it is warning that 36 countries around the world were facing a food crisis this year and that it is a "major global concern". Already the Bank of England has said in January 2008 that:- "Food prices on world markets are a third higher than they were six months ago. Food price inflation in our own Consumer Price Index reached almost 6% in December, and that has been feeding through to prices in the shops." So if this cold spell and continued bad weather persists, the long-term impact on the UK's economy will be mighty. One member of the local agricultural farming community on Merseyside, who does not want to be identified told us:- "As the National Farming Union (NFU) celebrates its 100th year since its formation, it is interesting to note that, in 2008, we are facing a massive crisis within the rural community. One that is not only natural, but also man made. A crisis that will affect us all in the UK and will have repercussions throughout the world at large. The government should be looking at lowering the cost of food and travel, not increasing it! If the current trend of the UK banks not lending cash to people with poor credit records continues, the economy will collapse in the UK. not only here, but also around the world. Many farms are struggling to regain cash lost in the foot and mouth crises, combined with the massive losses of crops due to last year's floods, in some parts of the UK. No wonder why cost of living in the UK is increasing! Many farms this year face going bankrupt, as the banks will not lend cash to them. Yes, the banks have had a bad run on their credit, and as the farming community has taken such a battering, many banks are refusing to lend cash to farmers, who are now seen as bad investments, thanks to their poor credit ratings. But the worry the farms have is not only one of cash flow, but one about the environmental changes going on, which will make it harder and harder to budget for the future. The rural community more than ever requires the help of the banks and Government! The cost of distribution of the food is massive, as are planting costs, because fuel costs are now so high. Yes, we get red diesel, but that does not help enough. The other big issue about fuel costs is that many farmers must use 4by4's, yet the Government, in its drive to get cash and to be seen as environmentally friendly, has forgotten, yet again, the impact of not making concessions for the rural communities. The basic 4by4s are often a necessity for getting around the farm, yet red diesel is not allowed to be used in them. There are now the increased costs of replacing them. Such measures have been aimed at the yuppie society in London but it will also increase the stress on finances upon the farming community. Then there are the rises in house prices, mortgages and again a government move to make changes to the banding of houses. Most rural communities have suddenly found that the tax band has increased dramatically under the new tax rules, yet no allowances have been made as to who owns the property nor their income. How are we meant to live and go about our everyday lives? If we are to prevent an economic collapse, both the banks and Government need to think outside the box and see the bigger picture. It is more than figures; it is people's lives, not just their livelihoods that are literally at stake now. At the launch of the NFJ, the first President Mr Colin Campbell, said it was his object "to launch out into a National Farmers Union, because a local branch, in any county, was unlikely to carry any weight with any government department or with Parliament." It is ironic that once again, 100 years on, it should be fighting to get its members worries heard."

"Both the UK Banks and the Government need to take note that the smallest problems are often highly exacerbated by the financial pressures, long working hours and increasing isolation experienced by many in farming. If the government does not intervene and give the farmers the support they desperately need, food prices will climb ever higher and as a result the economy will go into a state of free fall. We are facing a complex crisis in 2008 and action must be taken now to divert problems later down the line. We need support more than ever." said a live stock farmer from West Lancashire.

It is not just English farms that are worried, but Welsh and Scottish farms are saying the same:- "Figures published by the Assembly only in March showed that incomes in Wales' Less Favoured Areas have fallen by 63% on last year (2007), to stand at £3,000 per annum. Whilst in the lowlands net farm income was shown to have fallen by 24% over the same period to stand at £8,500. Such low incomes are a significant contributory factor to the experience of absolute and relative poverty and deprivation amongst many farmers and their dependants in Wales' countryside. The increased cost of living, relative to income, is an issue that affects many in rural Wales, and the problems associated with accessing services that are often few and far between are particularly acute for the elderly and low income households without access to private transport. Another major issue is that of affordable rural housing. Intensive external pressures on a limited housing stock, coupled with restrictive planning policies have combined to create a situation in parts of rural Wales where affordable housing to buy or rent is well beyond the means of many people, particularly those seeking to get a first step on the property ladder. More attention needs to be paid to the social impact of policies on issues such as the environment, planning and transport, which may be worsening the incidence and experience of poverty and deprivation in rural Wales." said NFU Cymru President Dai Davies in March 2008.

Please email us your views about this topic to our newsroom via:- news24@southportreporter.com.

Useful Website References:- Farming Help Appeal, Bank Of England Report, NFU, DIUS Report.
Headworx Salon Opens With Bubbles And Nibbles!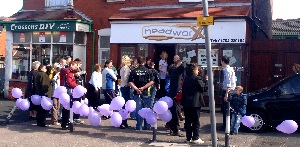 HEADWORX on Rufford Rd. Crossens, Southport, opened in style on Saturday, 5 April 2008, with a champagne reception and ribbon cutting ceremony. The small salon had a massive welcoming party outside, as the ribbon was prepared for cutting.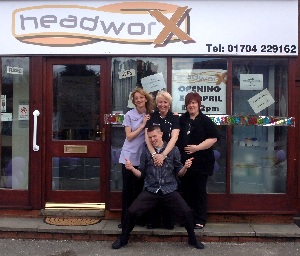 The salon is now owned by Julie Palmer, who started out in hairdressing at Southport's Headlines and was trained by Southport's top hair designer and owner of Headlines, Tony Marriott. After her stint at Headlines, Julie left hairdressing for a few years to look after her family, but the call to do the job she loved was so great that once her children were old enough, she decided to return to hairdressing, opting to do a refresher course at Southport College. Having opportunities in more than one salon, Julie decided to open her own salon, having already established a mobile round that took her all over the area. By coincidence Julie was offered the chance of buying into a partnership and spoke to Tony Marriott, who offered Julie the chance to have her own salon. How could she resist? Julie then took on Nikkei, a newly qualified stylist and Lesley, a junior stylist currently at level two, both from Southport College. Julie's son, Neil, has recently been offered an apprenticeship with Mr Marriott in hairdressing/barbering as well.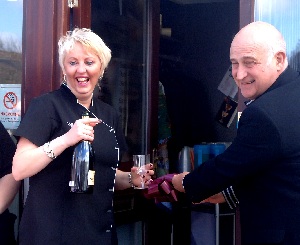 So on the big day, before the start of the Grand National, the punters lined up outside and fittingly, Tony Marriott was asked to do the honours of officially opening the shop by cutting the ribbon. And then they were off!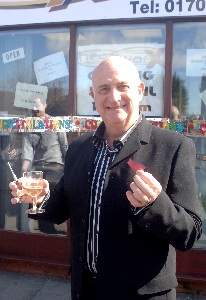 Tony told us that:- "It is a very pleasing feeling to see one of my star hairdressers opening her very own shop. Quite a few young ladies have gone on to open their own shops around Southport after getting trained by me. We are a very close knit community in the hair dressing world, so it might surprise many to hear this but... it is a very warming feeling to know that I have had an input in their development. Also that I get asked to open salon like this one."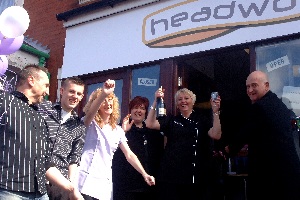 Julie told us that:- "I am very exited and exhausted at the same time... The hard work has just begun though and I am already looking to the future. I hope that we can offer a cheep and friendly service to the community and also follow in the footsteps of Tony, helping others to learn the art of hair dressing."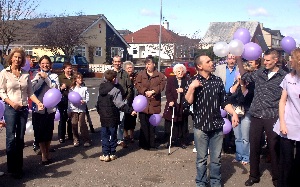 So we asked what she is going to be getting up to in the near future and she told us that:- "I have already decided that at Headworx we will be holding monthly ladies nights, which will be held on a Friday between 7pm and 9pm. Tickets for these evenings will cost £2.50 and the evening consists of; Facials, hand/ foot massage, drinks and a light finger buffet. These tickets can be purchased at the salon. Products being used on these evenings are Virgin Vie, with the sale of products used. Tickets now available for the evening of 25 April 2008."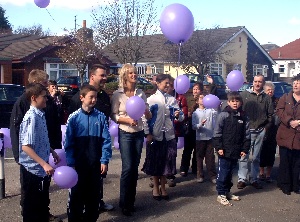 Page 1 of 2