The Liverpool Lord Mayor's Parade 2008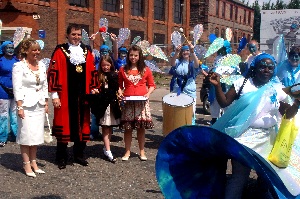 SATURDAY, 7 June 2008, saw the annual Lord Mayor's Parade take to the streets of Liverpool. As Liverpool is the European Capital of Culture 08, the parade was even bigger and better than usual.

Before the parade, the crowd amassed around the saluting base, where local dignitaries included Cllr Warren Bradley, Leader of the City Council and Royal Naval Officers from HMS Ark Royal, visiting the city this weekend and representatives of many cultures, religions and organisations. There was a great display of Irish dancing, given by youngsters 4 to 15 from St Michael's Irish Dancing School. Riverdance will have to watch out for competition! They were introduced and teased by Peter Price, who once again had a fine line of patter. He also kept everyone up to date as the various contingents appeared during the parade. Introduced by the traditionally clad Town Crier, the parade was led by the Lord Mayor's coach with the new Lord mayor, Councillor Rotherham, the Mayoress and their children. They were escorted by at least 43 impressive Police horses, all ridden with skill, drawn from all around.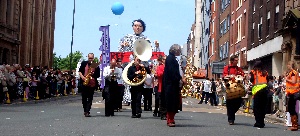 A tremendous of amount of enthusiasm had obviously gone into many of the floats and entries and the city experienced the delightful show. The parade ranged from gaily bedecked dancers and carefully costumed characters aboard colourful floats to smart, proud marching bands, public services representatives with vehicles past and present and a spectacular Samba team. All of these representing Liverpool's huge and historic diversity of cultures, religions and organisations, all proud to represent their City. At the end of the parade ,the Lord Mayor gave a brief acknowledgement.

Busy collectors took contributions from the crowded streets along the long route for the Lord Mayor's Fund, which, this year, is divided between Alder Hey Children's Hospital's Imagine Fund, The Cardio-thoracic Unit at Broadgreen Hospital, The Marina Dalgleish Appeal and, close to the Lord Mayor's heart because his late mother was a sufferer, The Alzheimer Society. Once again, Liverpool has produced an event to be proud of! Thank you to all concerned.

See our 36 pages of photographs by clicking above...