Blokart National Champ on course to retain trophy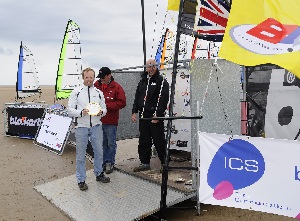 JUSTIN Heap, national Blokart champion for 2007 from Cheshire , is on course to hang on to his trophy for a 2nd year after a storming weekend at Ainsdale. Leading the way to the finish in most races by a significant margin, Heap tested the 24 strong fleet of 3 wheeled 'go-karts with a sail' to the best of their abilities in varied conditions for the 2 days of competition. It wasn't quite the walkover that might sound though, with tough challenges from many on the course and some very close racing, inches apart at speeds well above the town limit.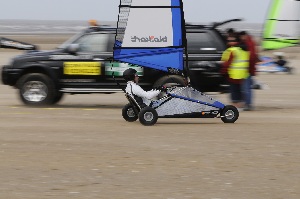 While it was supposed to be a summer event, layers were the order of the day with particularly heavy showers on Sunday and slightly variable winds. There was a lot of sail changing as a distraction, since the wind was on the cusp of sail sizes most of the time, and the balance between upwind and off the wind performance proved critical.
Newcomer and local Jonathan Sharp mounted a strong challenge but couldn't sail consistently enough to make it stick, though the strength of previous dinghy knowledge nearly paid off. Most local Tim Seed made a strong showing but couldn't put it together consistently enough to head the rankings despite knowing his local beach well.

The Ainsdale beach venue proved a good new home for one of the rounds of the British Blokart Championships this year, and may retain it for next year. The condition of the beach was good, and the Sefton Rangers proved accommodating to this well-organised and controlled event. A few spectators stopped by and it looks like this easiest way to learn to sail and eco-friendly sport could grow significantly in the area.

It's worth noting that the juniors were sailing with everyone else. With protective headgear in place it's sometimes hard to tell who is who until the trendiest Ruroc helmet on the block comes off, and then you find it's not the kids who are last. There is increasing strength in depth in the sport already, and with the upcoming schools program and junior specific competition on the slate for 2009, sailing could get a significant lift in the future.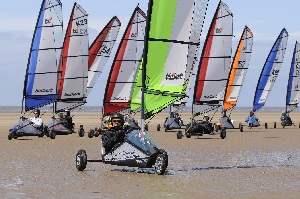 With competitors travelling from the south west like Graham Bobin of Speedsail UK, the south east in the form of John Gilborn – Team ICS Comms – and Scotland and Northern Ireland as well as points in between, covering a big age range (11 to 67!), this small but inclusive sport looks good for the future.

A bigger challenge is expected at the last round of the championship in Cornwall in October. Will Justin Heap retain his title and keep a Champion out of the south? Watch this space! Or go to www.blokart.org.uk, or call Rob on 07771 542220.
Click here to see last weeks report and photos about this event.
HERE TO STAY
MORE than half of British homeowners have resigned themselves to the fact they could be living in their current house FOREVER, it has been revealed.
A study revealed 61% of us have put off moving house due to the current financial climate. And 8 in 10 homeowners have shelved plans to move house in the next 5 years, regardless of whether things improve or not. By contrast 62% of homeowners are now planning to invest their hard earned cash into doing up the house. The poll also revealed 14% of people have already taken a further advance on their existing mortgage to free up some cash to spend on the house, and 1 in 10 have an application pending. But 30% of people admit they are so worried about negative equity they can't risk borrowing more money from the mortgage company, and would rather save up for any DIY projects.

Chris Elsworthy, designer of www.power8workshop.com said:- ''Only 18% of the 3,500 people polled said they were in the house of their dreams, which means that more than 32% are gutted they can't move. But decorating a property can give it a new lease of life, and is a great way of making money long term, assuming the mortgage market can get back on track.''

It also emerged that 24% of homeowners are now considering adding an extension to their existing house, whilst 23% want to add a conservatory. A 3rd of folk are already planning to landscape the garden, whilst 21% will replace all the windows with matching double glazing. And 22% say they want to convert the attic into another bedroom, to compensate for the fact they can't move to a bigger house. And whilst a third of folk will get tradesmen in to do the bulk of the heavy duty work, 68% want to do as much as possible themselves.

Chris Elsworthy added:- ''The survey results seem to suggest that homeowners will be more content in their homes by making them bigger. Brits are certainly becoming much more hands on when it comes to DIY and I think TV programmes such as Grand Designs and Property Ladder have encouraged people to make improvements to their property without outside help.''

The kitchen is the room most people want to renovate, believing they will make money on the house long term if they replace the existing units. Whilst 45% of folk will decorate the living room, 43% want to tackle the bathroom and 24% would like to update the dining room.

The poll of 3,500 Brits was conducted by www.power8workshop.com, the cordless power tool workstation which allows DIY enthusiasts to work wherever they are.
"Summer luncheon...had me a blast..."
TOMMY'S, the baby charity is proud to announce the launch of the party event of the summer for nursery children: "Let's Do Lunch - With Teddies", sponsored by Colgate Smiles.

Giving an updated twist on the traditional Teddy Bear's Picnic, Tommy's is inviting parents and nursery school/toddler group leaders to sign up to host their own "Let's Do Lunch - With Teddies" this summer, to raise money for the charity which funds research into the causes of miscarriage, premature birth and stillbirth.

Last year hundreds of nurseries and play groups enjoyed teddy-tastic events, with tons of fun activities such as teddy bear treasure hunts, face painting and ginger-ted biscuit making, raising £22,000. Getting involved this year couldn't be easier, simply register your nursery/toddler group or even your own child, to host a Tommy's Let's Do Lunch - With Teddies party on any date throughout July, August or September, and Tommy's will send you all the tools you need to make yours the best lunch date in town, including:-
► Balloons
► Stickers
► Posters
► Sponsor forms

Tommy's will also help you with lots of ideas to put the fun into fundraising! In return, each child to take part is asked to make a £1 donation, in the hope of raising a whopping £30,000 for the charity. Every participating child will also receive a Colgate Smiles brushing chart and a Colgate Smiles placemat. The Colgate Smiles range of Toothpaste and Toothbrushes have been developed with the help of Paediatric dentists to ensure they meet children's evolving oral care needs, for a healthy smile at every age.

Andrew Brown, Colgate Smiles Brand Manager, commented:- "We are delighted to be involved with such a great initiative. It is great that children can have a fun filled day whilst raising money for such a fantastic cause."

For more information and to register, log on to www.tommys.org/teddies or contact Diana Stenning on 020 7398 3475 or email them.