Woodvale Rally 2008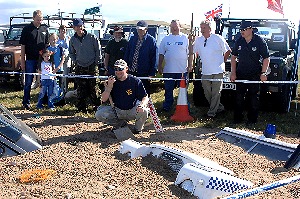 THE Woodvale Rally was held again on 2 August and 3 August 2008, just outside Formby and it was a fantastic show, despite there being less attractions on site this year. "The show is as strong as ever, but sadly we have lost a few attractions due to insurance issues this year. This will be rectified for next year", one of the rally staff told us. From what we could see of the show however, it was hard to find anything to complain about. The show had a very large Family Fun Fair on hand, massive kites flying all day long, vintage and classic cars as far as the eye could see, model aircraft displays, model railways and real steam engines, live music and other entertainment... Model boats, food, model motorbike racing, a car restoration workshop, even a working Merlin Aero Engine display... It truly was a great weekend out for all the family. Even the younger members of the public were kept entertained by local performer, DJ and kids entertainer, Mr Trix, as well as the Crazy Bears.
All We can say, other than that we will let our few hundred photos tell you the rest, is "IF YOU DID NOT GO.... GO TO THE NEXT ONE!" You will not be sorry! For more information 2009's show, visit woodvale-rally.org.uk.
Click here to see our photographic coverage of the event.
Find out what sex is the best Male or Female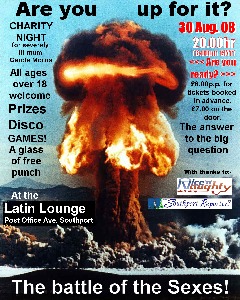 DO you know who is best... Find out at the Battle Of The Sexes at the Latin Lounge, on Post Office Ave. Southport. The night will be full of entertainment all designed to find out just who is better, male or female. With a Disco, Games and a free glass of Punch, the night will be a real blast... So are you up for it? All the money raised will go towards the medical treatment of Carol Morris, who is a Southport Mum, who is severely ill, with Cancer. Tickets are £6.00 in advance and £7.00 on the door. Strictly 18 and over.
The night is supported by Southport's Nice 'n' Noughty Adult Shop and ourselves at PBT Media Relations Ltd. - Southport Reporter.