Rosetta observes asteroid at close quarters
Imagewith thanks to ESA and VAGA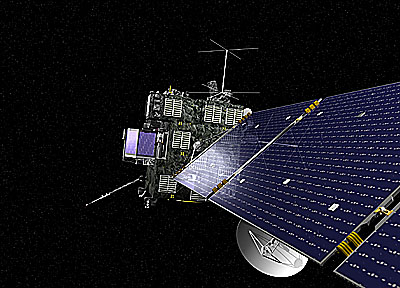 ESA's comet chaser, Rosetta, on Friday, 5 September 2008, flew by a small body in the main asteroid belt, asteroid Steins, collecting a wealth of information about this rare type of minor Solar System body.

At 20:58 CEST (18:58 UT) on Friday night, ESA's Rosetta probe approached asteroid 2867 Steins, coming to within a distance of only 800 km from it. Steins is Rosetta's first nominal scientific target in its 11 and half year mission to ultimately explore the nucleus of Comet 67P/Churyumov-Gerasimenko.

The success of this 'close' encounter was confirmed at 22:14 CEST, when ESA's ground control team at the European Space Operations Centre (ESOC) in Darmstadt, Germany, received initial telemetry from the spacecraft. During the flyby operations, Rosetta was out of reach as regards communication links because its antenna had to be turned away from Earth. At a distance of about 2.41 AU (360 million kilometres) from our planet, the radio signal from the probe took 20 minutes to reach the ground.

Steins is a small asteroid of irregular shape with a diameter of only 4.6 km. It belongs to the rare class of E-type asteroids, which had not been directly observed by an interplanetary spacecraft before. Such asteroids are quite small in size and orbit and are mostly found in the inner part of the main asteroid belt located between Mars and Jupiter. They probably originate from the mantle of larger asteroids destroyed in the early history of the Solar System, and are thought to be composed mainly of silicate minerals with little or no iron content.

The data, collected by Rosetta on Friday, will now be analysed over the coming days and weeks and will finally unveil the true nature of Steins.

Through the study of minor bodies such as asteroids, Rosetta is opening up a new window onto the early history of our Solar System. It will give us a better understanding of the origins and evolution of the planets,and also a key to better interpreting asteroid data collected from the ground.

This is not Rosetta's first look at Steins. Over two years ago, in March 2006, the Osiris camera onboard Rosetta observed the brightness variations of this rotating asteroid from a distance of 159 million kilometres (a little over the distance between Earth and the Sun), and was able to determine that the tiny asteroid spins around its axis in about six hours.

Together with the two navigation cameras onboard, Osiris was again pointed towards Steins on 4 August 2008 and continued to observe the asteroid until 4 September 2008, in order to assist Rosetta's navigation by optical means it is a first in the history of ESA spacecraft operations. A few days before the flyby, most of the Rosetta orbiter instruments, as well as the Philae lander magnetometer, were switched on to collect science data on the asteroid, with ever-increasing accuracy as the spacecraft closed in on it.

Rosetta's powerful instruments have initially been focusing on the asteroid's orbital motion, rotation, shape and density. As the distance has diminished, the investigation has broadened to take in the observation of surface properties and features, and the analysis of the chemical and mineralogical composition of the terrain's, as well as their relative ages and the effects of the solar wind on the surface.

At its closest approach, Rosetta flew by Steins at a relative speed of 8.6 km/s. To keep the small asteroid in the field of view of its instruments, the spacecraft had to perform a rapid and highly demanding rotation manoeuvre, which had been successfully rehearsed in March this year (2008).

A preliminary analysis of the first data from the flyby was presented to the press at ESOC at 12:00 CEST 6 September 2008.

"Steins might be small, but we're making big science here. The better we learn to know the different kinds of asteroids, the better we will understand our origins in the past. Moreover, when such Solar System wanderers escape from the belt they could become a threat to Earth.
The better we know them, the better we will be able to mitigate the risks some of them might present in the future. Rosetta performed very well all along.
This was a complex manoeuvre to keep such a small target in sight, but the spacecraft came through with flying colours.
Now we are even more confident in its capacity to conduct the complex tasks that await it at comet Churyumov-Gerasimenko." said Dr David Southwood, ESA's Director of Science and Robotic Exploration.

Science observations of Steins will continue until Wednesday, 10 September 2008.

Since its launch by an Ariane 5 rocket on 2 March 2004, Rosetta has already travelled about 3.7 thousand million kilometres and swung by the Earth twice and Mars once for gravity-assist manoeuvres.
On 17 December 2007, Rosetta will reach the maximum distance from the Sun in its current orbit, and will then head back towards Earth for the next and last gravitational kick from our planet on 13 November 2009. This will give the probe its final push toward its commentary target.

On its way, Rosetta is scheduled to conduct another flyby, this time with the much larger (21) Lutetia asteroid, on 10 July 2010.
Arrival at 67P/Churyumov-Gerasimenko is due by mid-2014. By that time the probe will have covered a distance of about 6.5 thousand million kilometres.

Related stories on Southport & Mersey Reporter:-

Rosetta spacecraft meets asteroid Steins = Click here to read.
Exclusive:- Space Missions Has A Local Connection = Click here to read.
PAWS FOR THOUGHT
DOG lovers in Sefton are being warned of a scam which could lead them being duped into paying hundreds of pounds for puppies that do not exist. Trading Standards in the borough have been alerted to the scam after a woman from Crosby nearly fell foul of buying a puppy online..

Conmen often from overseas, place online adverts for pedigree puppies for 'adoption' claiming to be based in the UK.
They request the funds to be sent by money transfer then upon receipt claim they will arrange to have the puppy flown and delivered to your door.

Once the consumer sends the payment they then request a further fee of £250 for insurance, inoculation fees etc which needs to be paid before delivery can be confirmed. Consumers end up parting with their cash to find that no puppy is going to be delivered.

The woman from Crosby didn't part with any cash and Trading Standards is warning other residents in the borough to ignore such scams and choose reputable breeders.

Sefton Council Trading Standards Manager, Andrew Naisbitt, said:- "Please don't get sucked into a scam like this.What might seem like a bargain to buy an adorable puppy is in fact another means by scamsters to get their hands on your hard earned money. If you are thinking of purchasing a dog, always choose a reputable breeder. There are clubs and schemes available where you can get details of accredited breeders."

For help and advice on all consumer issues, residents can contact Consumer Direct on 08454 04 05 06.

Advise for residents:-

* Never buy a puppy on impulse, always make sure you view the puppy before you purchase.

* Choose a reputable breeder, visit the Kennel Club or other organisations for details of your nearest local breeder.

* Ask for a copy of the pup's pedigree and certificates of hip scoring and eye testing.

* However cute the puppy looks don't always buy the first one you see, go and look at a number of litters.

* Visit the breeder or the kennels and ask to see the mother and pups together. A reputable breeder or kennel will expect you to request this.

* If possible speak to people who have purchased dogs from the breeder and find out about their temperament.

* If you are considering purchasing a pet, remember there are lots of unwanted animals in rescue homes and shelters that are in need of a loving home.
STOP, CHAIN, CHECK
ON the 16 August 2008 a man with a black labrador dog knocked at a premises in the Marshside area of the town.

The man claimed to be blind and was invited in to the premises. He asked the resident about his eye sight and asked him if he had any impairments. Using a pen, the visitor wrote down the answers to his question on a piece of paper. The man then left the premises causing no alarm or distress.

Approximately 3 days later following a knock on his front door, the resident, looked out from his upstairs window and noticed two men at his front door wearing white shirts or tops and black bottoms. He did not open the door but noticed when they failed to get a reply they tried to gain access around the side/rear of the property. They failed to gain entry.

The two incidents may or may not be connected. This message is to advise members to report to the police if they have received any similar or unusual visits that have left them feeling uneasy.

Home Watch advise is:-

Please remember to use the chain when you open the front door to a stranger.

Ensure your rear door is kept locked.

What ever the story you are told by a stranger who cold calls at your door, be very wary about letting them in to your property.

While your door is closed or you have the chain on, you are in charge.
ISLE OF MAN STEAM PACKET COMPANY SUPPORTS WORLD FIREFIGHTER GAMES
THE Isle of Man Steam Packet Company is pleased to have been able to support local firefighters at the 10th World Firefighter Games. The Company provided travel for 30 Island firefighters to and from the event and would like to congratulate everyone who represented the Isle of Man during the ten days of competition. Based in an around Liverpool, the Games saw 3,500 firefighters representing 38 nations take part in 73 sports. There were 16 medals won by the Isle of Man team – eight gold, five silver and three bronze. The gold medal successes included Floyd Askin in light heavyweight judo and Neil Parsons, who was awarded seven in trap, skeet and sporting shooting. Sub-officer Mark Caley, who came 14th in the mountain biking, said everyone involved had thoroughly enjoyed the experience. "It was a fantastic event, and it was great to meet up with so many colleagues from around the world. The mountain biking was tough. It was a good course and great fun, but it did get very muddy!" Chief Fire Officer Brian Draper, who came 23rd in the mountain biking, said:- "The Games take place every two years and with this year's event being held so close to home, we really wanted to represent the Isle of Man. On behalf of our team, I'd like to thank the Isle of Man Steam Packet Company for providing travel for us to the games." Other competitors who took part included Tim Calladine, Gary Hinds and Steve Brearley. Isle of Man Steam Packet Company Chief Executive Mark Woodward said:- "We were only too pleased to be able to help the Isle of Man Fire Service. The event is a fantastic idea and we were happy to play our part in helping the team promote the Island."