Christingle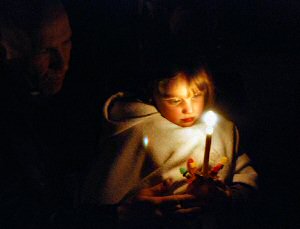 IN common with churches all over the land, St Luke's Church, Formby, held its very popular Christingle Service last Sunday, 30 November. During which, candles on top of oranges banded with red ribbon and four sticks carrying sweets are distributed to the children and young at heart, as a potent symbol of the meaning of Christ's coming into the world.

The orange represents the world. The ribbon represents the blood Christ shed to save the world. The four sticks with sweets show God as provider of the fruits of the four seasons. The central mounted candle, lit during the final hymn, stands for Jesus, the Light of the World.

It was a very moving service. A church near you is sure to hold a Christingle Service this month, and would welcome those who wish to attend. The money collected is given to the Church of England Children's Society to aid their work. A very pertinent cause, unfortunately, at present. It is a lovely start to the Christmas Festival.
Click here to see our photographic coverage of the service.
Liverpool ranked as one of the UK's top entertainment hubs
IN London on Monday, 1 December 2008, Seatwave, who are the UK's largest fan-to-fan ticket exchange, revealed that Liverpool is one of the top five fastest growing live entertainment hubs in the UK. Since January 2008, the city has seen explosive ticket sales for music, sport and theatre events, with The Liverpool Sound ranking as the city's second most popular event of the year, marking Liverpool's success as this year's European Capital of Culture. A full analysis of entertainment hubs, undertaken by Seatwave, indicated that attendance for live events across the UK is bucking the trend for a slowdown in consumer spending, growing by over 50 per cent in the year to date. Other regional hubs entering the top 5 included Manchester, Birmingham, Cardiff and Glasgow. The latter two experienced up to 150 per cent growth in tickets sales this year (2008).

Joe Cohen, CEO and Founder of Seatwave said:- "The popularity of live entertainment is increasing across the UK and now, more than ever, fans are demanding to make their own decisions about where they sit and how much they are willing to pay for the tickets they want. Seatwave's growth is testament to the shifting of control from the cartel of promoters to fans themselves."

The hottest ticket in Liverpool was Oasis, followed by The Liverpool Sound, The Grand National and Michael Bublé.