Thousands of Santas run in Liverpool's Santa Dash 2008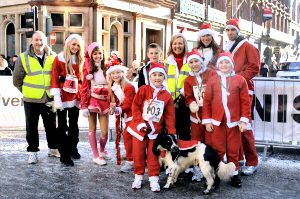 IT was a dry but freezing cold Sunday morning on 7 December 2008, with the temperature below zero, it was hard to picture many turning up for this year's Santa Dash in the European Capital Of Culture 08, Liverpool. Amazingly, they did; several thousand of them and some came from as far away as New Zealand... The event was started to the Sounds of Liverpool's Samba Schools Drums... Then as the runners shot around the course, the band got in place at the finish... At the Finish line runners where watched by the Lord Mayor of Liverpool and race MC, Alan Jackson of BBC Radio Merseyside kept the spectators entertained. The event was a huge success and it raised lots of cash for many charities. That made the day even more interesting was not only did normal passengers on Mersey Travel's Trains got charged £1.00 for a ticket to travel in to Liverpool, but all the runners using Mersey Travel's trains travelled for FREE! We will let the photos our editor took at the event tell you the rest of the story. To see our photographic coverage click here. Well done to all who organised this and to the thousands who took part...
Competition time:- Vampires Rock 2008!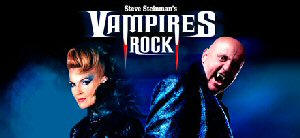 THIS is your chance to get one of 4 pairs of tickets to this years amazing Vampires Rock - Christmas Show at the Liverpool Echo Arena. The show is on on Saturday, 27 December 2008... and has Steve Steinman and Toyah Willcox staring in this unusual panto! This show is a worldwide success and to find out more about it and to help you answer the questions we have set below, please see our report from last week and also play the audio interview! To read last weeks report and to play our interview click here... Now these are the two questions...
1. What is the character Toyah Willcox plays in the show?
2. Name the two cast members who are on the audio interview presented by our editor Patrick Trollope.
Email us to news24@southportreporter.com by 11am, Thursday, 18 December 2008 with the your full name, address and phone number and of course the answers! We will contact you, should you win and let you know how to obtain the tickets the before Monday, 22 December 2008.

Please note:- ONLY the named winners can obtain the tickets. The Liverpool ACC rules for attending performances apply and also that they reserve the right to refuse entry. No cash alternative will be issued. No members of staff from Taylor Herring Public Relations Ltd. / PCBT Photography and the Liverpool ACC can enter. If your contact information is not correct you will not receive your tickets should you win. The judges decision is final. Also see our standard T&C for or normal rules.