Sporting Star of Formby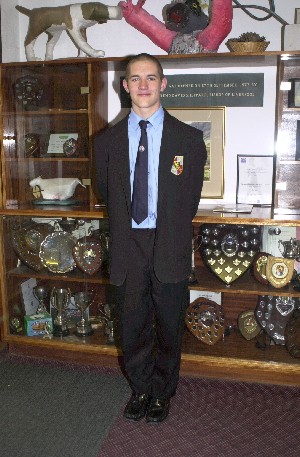 David Gairn a pupil from Range High School in Formby told us this week that, over the last few months, he has taken part in several sporting events. Train 6 days a week, two running, two doing Judo and two swimming and also doing his school work!

"I have take part in my Judo clubs championships and won. In Judo, I have also recently graded, receiving my three blue tabs making me the equivalent of a senior blue belt. In the Merseyside Youth Games I took part in Judo representing Sefton, I came first receiving a Gold Medal."

"In my other activities, I took part in a 3 km race, at Waterloo Rugby Club and out of 433 competitors, I came first receiving a Gold Medal. Most recently I took part in the Sefton Schools triathlon held at Crosby Swimming baths. In the triathlon you had to complete a course of 8.1 KM. This consisted of a 100 m swim then a short run to your bike and then a 5 KM cycle. Unfortunately my bike's tyres where not suitable for the bike course so for 3.5 KM I ran carrying my bike on my back. I then rode it for nearly 1.5 KM to the end of the bike course. I then jumped off it and ran yet another 3 KM to the finish line. After all that, I still managed to finish in second position, receiving a silver medal and only 30 seconds behind the winner.

"

"As well as all my recent achievements, I am also part of the Lancashire developing team for Rugby and the schools swimming team captain and part of the schools rugby team."

Well done and good Luck from us all at Southport Reporter!
Visit of Eva, Head Teacher of Shyira Secondary School, Rwanda.
Eva Karemera Kirebwa was on a visit to the UK organised by St Luke's Church, Formby, who have links with Shyira in Rwanda, and sponsor some of the children who attend Eva's school. She had requested a visit to a secondary school, so one of Range High School's governors, a Reader at St Luke's Church, Colin Trollope, hosted the visit and accompanied Eva there last Wednesday.
Mike Dixon, the headteacher, welcomed Eva to the school. After they had told each other about their two schools, Mr Dixon, with Colin Trollope, took her on an hour-long tour of the school. Mike's two daughters, Pam and Anna accompanied them. Both are university students involved in Church of England organised work with disadvantaged children in third world countries. Anna worked in Uganda last year and is now going to Brazil. Pam is about to work in Ghana.
After the tour of the school Eva joined a group of Year 8 children working on Range's newspaper day in one of the ICT rooms (this is where the photographs were taken). She was interviewed by a 6th former for the school newsletter to parents.
Eva was educated in Uganda and recognised much of the English school's curriculum from her own schooling. Her school uses a different model, but Rwanda is seeking to develop its schools' curriculum, and she wanted to see an example of current English education. She was particularly impressed by the integration of our physically disabled children, which would not be contemplated in Rwanda.
At the end of the visit, Eva presented the school with a map of Africa carved from a single piece of wood, which will be displayed in the foyer. Mr Dixon presented her with a bouquet of flowers.
Eva's visit to Formby along with that of the vicar of Shyira, Emmanuel, and the Shyira Hospital Administrator, Ambroise concluded on Tuesday morning. After refreshments, and prayers led by the Rev. Canon Allison Woodhouse, in St Luke's Meeting Room where a large number of the different hosts and parishioners said their good-byes, they left by car for Manchester Airport and their long journey home. Their visit of 20 days was organised by one of the Readers at St Luke's, Professor Allan Hobson, who was also responsible for their itinerary during their stay in the parish.
They experienced a great culture shock, but thoroughly enjoyed their visit to Formby and their various excursions, including one to London. They found everything very expensive, and considered that we are all very rich! They said that they had learnt a lot, and many of the people who met them said the same. They were most appreciative of the fellowship shown to them.