Everton End Of Season Awards Dinner 09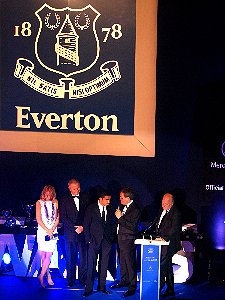 ON Monday, 18 May 2009, Everton FC held its 'End Of Season Awards Dinner' at St George's Hall in Liverpool city centre. The lavish dinner event was run in association with Mercedes-Benz was amazingly well attended with lots of high profile local dignitaries, including many former players from the Club's illustrious past...

The black-tie ceremony started outside under an Everton Blue and White sky with guests arriving at the North Entrance of St George's Hall. Media from all over the UK lined up as well as some from other countries. The biggest VIP's had to be the entire Everton first-team squad will be in attendance along with manager David Moyes, who received a standing ovation as they entered the hall. Over the night many awards were issued by the club, with the likes of Marouane Fellaini picking up the Young Player of the Year Award. One of the most interesting things was seeing him trying to say thank you in English, as he is, if you didn't know from Belgian. Most of the press agreed that we would not like to have to stand up on stage and give a speech in Belgian, if French (Walloon), Flemish or German was not our native tongue. Especially when we did not know we were going to be called up! But he did well and you can see it on the Everton's website. Despite Phil Jagielka's injured knee, he was amazingly receptive to the media and had a long lively and very friendly chat at the end of the night; after he had scooped both the Supporters and Players' Player awards. Also it was not just the main Stars who got awards; Everton Female Disabled Player of the Season was awarded to Chelsea McGlory.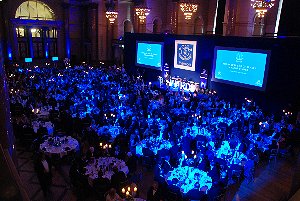 We have added a few photographs to this week's issue, but lots more in will be added in next week's issue...
Click here to see for more photographs...
Editor's note:- "We would formally like to thank Everton FC for their hospitality on the night and for inviting us along. We hope you do well at Wembley in this year's FA Cup."