AINSDALE TARGETED IN HARD HITTING LEVEL CROSSING SAFETY MESSAGE BEING DRIVEN ACROSS EUROPE
Photograph by Patrick Trollope

LAST week, Network Rail's dedicated community safety team held a series of 'Don't Run the Risk' awareness events at Britain's most misused level crossings in support of a European level crossing day of action 25 June 2009. After reports from ourselves and other people Ainsdale was one of the crossing placed in the UK that had attention focused on it due to the numerous recorded instances of vehicle and pedestrian misuse.

The team, together with the British Transport Police, handed out leaflets that spell out the chilling truth that taking a chance at a level crossing might be the last thing you do, and pose the question:- "Would it kill you to wait?"

Wayne Menzies, Network Rail's area manager Merseyside, warned of the consequences of misusing the level crossing:- "The
crossing has full barriers that come down right across the road, but they come down in such a way that vehicles and pedestrians part way across don't get trapped – that is part of the safety system. But it also means that there is the opportunity for impatient people to weave round the barriers. Even when they are fully down we get pedestrians, both young and old, vaulting the barriers simply because they want to save a few seconds."

Inspector Gary Jones, who is co-ordinating the activities of British Transport Police during the day of action, said:- "The multi-agency action taken follows an extensive programme of awareness and education carried out by local BTP officers. The crossing at Ainsdale has been identified to us as problematic and we have committed resources to educating road users and pedestrians about how to use this crossing safely and in accordance with the law. The Neighbourhood Policing Team has carried out surgeries during which vehicle drivers and pedestrians were given safety information and leaflets showing how level crossings should be used. Police Community Support Officers have also visited many schools in the area to give the children advice and to highlight the potential dangers. Of course, there will always be a small minority who choose to ignore the law and days of action such as this will specifically target these people as well as reinforcing the message that level crossings are safe when used in the correct manner."

The awareness day, which aims to combat level crossing misuse and highlight the dangers of ignoring warning signs and barriers has been organised jointly by road and rail sector organisations and government agencies across Europe and will see activities take place across 23 countries.

Over 600 people die at level crossings across Europe each year. Last year, 15 people lost their lives in Britain with more than 3,400 incidents of misuse. On average, more than three motorists a week were involved in a near miss, where a train narrowly avoided hitting them after ignoring warning signs or weaving round barriers. There were 20 collisions between trains and motor vehicles for those that didn't beat the lights.

Whilst even one fatality is too many, the latest European fatality statistics (2008)* reveal Switzerland, Germany, France, The Netherlands and Spain have all tragically seen higher levels than Britain.

European Country/Total number of persons killed by level-crossing accidents in 2008:-

Hungary 118
Germany 52
Czech Republic 43
Romania 42
Poland 40
France 38
Latvia 27
Austria 25
The Netherlands 18
Spain 17
Portugal 17
Slovakia 17
Great Britain 15

Network Rail's hard hitting level crossing safety campaign 'Don't Run the Risk' is beginning to have an impact on people's behaviour, according to research conducted for the company by Millward Brown.

An online survey this spring found:-

· Before the recent advertising campaign (November-February) 55% said they understood what not to do at level crossings, post the campaign this rose to 67%.

· 54% of people said that the advert had already influenced their behaviour at level crossings.

· 67% said that it would influence their behaviour at level crossings in the future.

On the campaign research results, Mark Shaoul, head of marketing for Network Rail commented:- "The impact we've had in driving recognition of the safety campaign with the recent bursts of activity has been phenomenal. We know that translating what people say they will do into real action will be the litmus test, but these results show us we are on the right track for helping to deliver. This, along with many other activities that the business is working on, will help to reduce level crossing incidents and needless injuries and deaths."

Also did you know that last year, over 55 days of delays to trains and passengers were caused by level crossing misuse, costing Network Rail around £1.8million – money that could have been invested in the railway? Also the real cost to the industry far exceeds this, as it does not include actual damage to trains or tracks or staffing time and cost?

* The European fatality figures have been provided by International Union of Railways who coordinated the 'European day of action'
Related archived reports Report 1. Report 2.
Exclusive Lancashire Hotpots Interview
ON Thursday, 25 June 2009, we had a phone interview with the St Helens based band, The Lancashire Hotpots, thanks to thanks to or friends at Manilla PR, before they headed down to Glastonbury. If you missed our interview on our online radio station, Liverpool Reporter or you want to play it again, you can hear the full show now by selecting play below. If you want to use your browser for other work, please use our pop up player instead.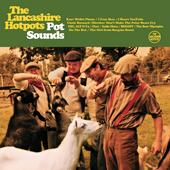 One thing you must not miss this year is the The Lancashire Hotpots performance at the Southport Arts Centre, that will be an all seated gig, on 11 July 2009. For more information about the band go to the bands MySpace and to pick up a copy of the groups latest CD "Pot Sound" go to:- townsend-records.co.uk.
The stars come out to play in Chorley
NO Limit Events will play host to a star-studded fundraising ball at The Pines Hotel, Chorley, on Thursday, 16 July 2009 to raise much needed funds for Make-A-Wish Foundation® UK. Make-A-Wish is the leading wishgranting charity that grants magical wishes to children and young people fighting life-threatening illnesses.

Tickets cost £20 each or £25 for VIP tickets. VIP tickets include a free DVD of the evening, canapés, use of the chocolate fountain and hotel room discount as well as entry into prize draws. Tickets are available at:- nolimitevents.co.uk, or call Paul Johnson on:- 07892 657 465.

Lucky guests will rub shoulders with stars from Emmerdale, Waterloo Road, Hollyoaks, Big Brother, X-Factor and Britain's Got Talent, as well as hear Darnel Swallow, from Big Brother 9, perform his new single:- "Kisses Aren't Contracts".

The evening promises to be full of glitz and glamour with paparazzi turning out to photograph guests on the red-carpet.

The evening's funds will go towards granting more magical wishes for children in the area, such as Chorley boy, 12 year old
Curtis Thomas, who is recovering from a heart transplant. In April, Curtis had his wish granted to own an Apple – MacBook Air so he could stay in touch with his school friends while he recovers.

This year, Make-A-Wish estimates that over 1,000 children will turn to the charity for a wish. Make-A-Wish needs to raise over £5 million this year to grant all these wishes and can only do so with the generous help of people in the UK and wonderful fundraising events, such as these. To find out more please visit make-a-wish.org.uk.
Emma Kelly Audio Interview about the 2009 Merseyside



ON Wednesday, 24 June 2009 we conducted an audio interview with Emma Kelly, who is the head of PR for Merseyside Road Safety Partnership following up on this years Scooterfest.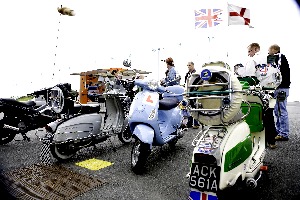 Emma also highlighted plans for future campaigns and also gave very interesting statistics. She also explained why they targeted young people aged between 16 and 24 years with the is event. Sadly at this point, due to time we are very sorry not to have any text copy of this report has been made at this point.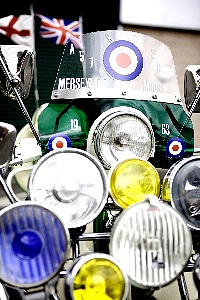 Please click above to play the audio interview.
For further information on Scooterfest check out the website.
Also take a look at:- drivehomesafe.com.
Photographs with thanks to Tangerine News.