Rusty riders return to a different world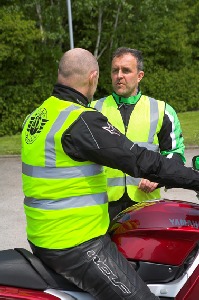 MANY road users who previously rode a motorcycle are returning to 2 wheels without polishing up their riding skills and this is causing serious concern for RideSafe BackSafe. Known as 'born-again bikers', they are typically middle-aged motorcyclists who owned a bike for a few years in their teens and early 20's, before trading it in for a first car. With the cost of motoring on the increase some are now returning to motorcycling as a cheaper and more enjoyable form of transport.

RideSafe BackSafe Project Co-ordinator Shelby Williams, explains;- "As a road safety initiative dedicated to motorcyclists, we are talking to increasing numbers of born-again bikers at dealership open days, bike meets, other events and through the website forum. Although they love being back on a bike, many are telling us that they feel rusty and much more vulnerable on the roads than they used to.
There is now more traffic and aggressive behaviour on the roads than there was 10 or 20 years ago, but this also suggests that road users generally become more aware of the risks as they get older. This is why we have incorporated a new Training Directory on the RideSafe BackSafe website ".

RideSafe BackSafe is urging motorcycle returnees to get their riding techniques assessed and refresh their skills through training days. Many schemes are available through registered training schools, representative bodies, charities such as IAM (Institute of Advanced Motoring) and county council initiatives. Some schemes even offer free assessments and subsidised fees.

Shelby Williams continues;- "It is possible to buy a high-powered machine for just a few thousand pounds and the overall cost of fuel, servicing, road fund licence and an MOT can be significantly less than for a car. In difficult economic times, this is enticing former bikers back on to 2 wheels but we need to encourage them to take training; almost as a part of a 'package deal'. Protective clothing and body armour has also developed significantly in recent years and new gear could offer much, much better protection."

More information about RideSafe BackSafe and the new Training Directory can be viewed at:- ridesafebacksafe.co.uk
Related story:- Scooter fest audio interview.
SOUTHPORT LANDLORD JOINS SEARCH TO CROWN PUB POET!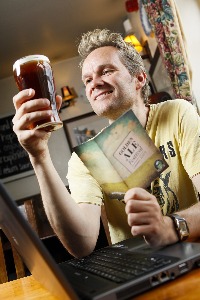 AS the nation rediscovers verse, thanks mainly to the BBC's Poetry Season, a Southport landlord is looking for the best Pub Poet from Lancashire to represent the region in a national competition.

The search for The Pub Poet is being launched to coincide with a 'golden ale' festival being held in The Hesketh Arms on Botanic Road and 10 other Vintage Inns in the region, throughout July and August. The regional winner, chosen from entries from the pub, and the other Vintage Inns in the Lancashire collection will have their verse judged against winners from 22 other Vintage Inns collections - and a national winner will then be chosen.

One of the award winning golden ales on offer is Young's Kew Gold and to tie in with the 250 year celebrations of the Royal Botanical Gardens at Kew, the national winner will land a VIP weekend -for four people - in London including rail travel, accommodation, champagne picnic and tickets for Kew Gardens.

Landlord of The Hesketh Arms, Rick Butterworth, explains:- "Can there be anything much more inspirational, when it comes to writing poetry, than enjoying a quiet a pint of golden ale on a warm summer's evening? We have decided to join the other Vintage Inns in the Lancashire collection to find the best poet in the region. Their verse will be published along with those of the winners from around the country and we'll be asking customers to vote for their favourite in an online poll."

To keep a flavour of local inns in the verses, it has been decided that any poem entered must contain a reference to Lancashire and one of the six beers included in the real ale festival. So before putting pen to paper entrants may want to visit the Hesketh Arms website and download a specially written guide to pubs in the Lancashire collection as well as the tasting notes for all the beers in the festival.

Entries must be sent by email and entrants should put The Hesketh Arms in the subject line of their email and include their name and telephone number in the email itself. The deadline is Friday, 31 July 2009. And as well as having their poetry published, the national winner will win a VIP summer weekend in London and Kew Gardens - fit for a prince of poetry!