Ronald MacDonald House, Arrowe Park Hospital Officaly opened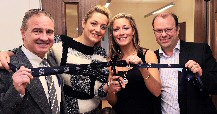 EX-BROOKSIDE actresses Ann Marie Davies and Suzanne Collins official opened Arrowe Park Ronald McDonald House on 16 December, 2009. Since opening in October 2009, the new Ronald McDonald House at Arrowe Park Hospital, Wirral, has helped 14 families from across the country, allowing them to be close to their child in Hospital. Families have saved an average 16 hours and 385 miles travel every week – just through the reduction in travel to visit their child. The Charity provides free 'home away from home' accommodation for the families of children being treated at Arrowe Park Hospital – helping parents, grand parents, siblings, and foster parents alike. Many children have to travel long distances to be treated at the hospital, and the Ronald McDonald House will allow parents to stay close by and provide important emotional support during their child's stay. to find out more go to:- rmhc.org.uk Harriet Fitzgerald told us after the event that:- "The event went really well. It was good that both Ann Marie Davies and Suzanne Collins, who have supported the charity, came to the house and cut the ribbon. it was also so nice to see them talking to the staff and the families who are staying in the house. We would like to thank them for their continuing support."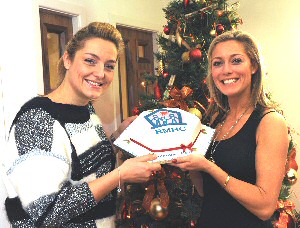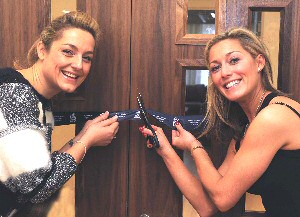 Related report 423.
APPEAL FOR INFORMATION - INCIDENT SEFTON PARK ROAD
AN appeal has sent out by Merseyside Police asking for the driver of a taxi to come forward to assist police with an on-going investigation.

On Thursday, 10 September 2009, the driver of a red or maroon London LT1TX1 or TX11 hackney cab, stopped a police patrol car at around 7.45pm on Sefton Park Road.

He reported that on Lodge Lane, he had seen what he thought was a man brandishing a gun.

A man was subsequently stopped nearby and an imitation weapon recovered from a car. He was arrested and released on police bail pending further enquiries.

Enquiries are on-going into this investigation and officers are keen to speak to the taxi driver in an effort to piece together the events of that evening.

Merseyside Police would urge the taxi driver to contact DC Tim Rowlands at Admiral Street CID on:- 0151 777 5364.

Anyone else who witnessed this incident or who has any information is asked to contact:- 0151 777 5364 or Crimestoppers on:- 0800 555 111.
WRITE NOW ~ THE PLAYS!

WRITE Now are delighted to announce that the plays to participate in this summer's festival have been chosen and invited. The EIGHT plays which will come together to make the First Annual Liverpool One Act play Festival running from Friday, 26 March 2010 to Saturday, 3 April 2010 will be:-
The Dressmaker's Gift by Anita Franklin
The Guy's A Monster by Dave Young
Heart by James Stewart
I'm Ed Caesar by Nick Brelsford
The Person Without by Jenny Yates
Pippin Hal by Paul Williams
Second's Out by Helen East
Under My Skin by Rob Johnston
Eight original, exciting, new pieces of theatre to add that extra sparkle to the Easter weekend! In addition, we are delighted to announce that we have developed a play text workshop strand in conjunction with Everyman Playhouse Literacy Team which will see a one-day event for those submissions who didn't make the final eight, and two workshop / rehearsed reading events during the festival for:-
No Smoke by Annabel Dearing
Everything Must Go by Graham Chadwick
WE WANT YOU TO BE INVOLVED!
Too long the word on the grapevine has been one of not enough work or recognition for Fringe theatre in Liverpool, well, here is an event that we hope will rectify that. But it will only work if you get in involved!
We are currently seeking one or two directors to assist in the delivery of the EIGHT plays. Your chance to show the city of Liverpool what you can do! Email your current CV to info@writenowfestival.co.uk to contact Write Now if you'd like an introduction to participating writes.

Actors, Stage Managers and Technicians
We are also seeking to cast and crew the shows!
Write Now are hosting a network casting and crew event called the 'Meet' Market on:- Wednesday, 20 January 2010 from 5 - 9pm at The Contemporary Urban Centre, 41 to 51 Greenland Street, Liverpool, L10BS
This will be a Networking event where interested parties can meet and talk to the writers and directors. Bring along a handful of CVs and headshots (actors only) it's your chance to promote yourself. We will be casting the must see event on the Liverpool Arts calendar 2010 from attendees of this event. If, however, you're unable to make the 'Meet' Market, all remaining roles will be listed after the event on a page on the Write Now website, immediately following the event.
The Volunteer Programme needs you! Volunteers are crucial to the success of Write Now. They are the first point of contact for audiences; they help generate an atmosphere needed during the Festival period.
Should you wish to be part of the Festival, but not on - or back-stage, then email us. Alternatively visit the website, where you can download the Volunteer Application document. There will also be a chance to talk to the Write Now Team at the 'Meet' Market, so, if you prefer, you can bring the application with you.