Miss England Rides Her Luck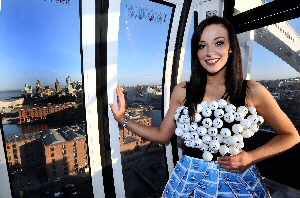 MISS England beauty Katrina Hodge had a "wheely" good time as she became one of the first people to ride in Liverpool's new big wheel.

The stunner took the inaugural spin wearing a dress made entirely out of lottery balls and tickets as part of a promotional campaign for the National Lottery Euromillions draw.

One of life's big winners, Corporal Hodge, 23, from Tunbridge Wells, was awarded a commendation for bravery after saving a colleague's life while serving in Iraq. Dubbed 'Combat Barbie', Hodge has been granted 6 months leave to fulfil her role as Miss England. She said:- "It's been a whirlwind few months for me, absolutely crazy. It just goes to show how one stroke of luck can change your life and make your wildest dreams a reality."

The new 60 metre high tourist attraction, which is sponsored by the Liverpool Echo, is positioned on the piazza outside the Arena and Convention Centre Liverpool – just a stone's throw from the Albert Dock. It includes 42 fully enclosed and air-conditioned capsules and will offer riders spectacular views of the city including the River Mersey, the Welsh mountains and World Heritage Site waterfront. It also offers a VIP luxury capsule with leather seating, DVD player and a champagne fridge.

Great City Attractions, which will operate the waterfront wheel, has run similar attractions in Belfast, Brisbane, Brussels, Copenhagen, Glasgow, London, Manchester, Paris, Perth, Sheffield, Singapore, Windsor and York. The waterfront wheel has planning permission to operate for 12 months.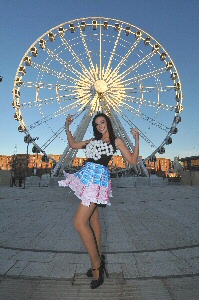 Tickets cost from £6.50 and are available from the on-site ticket office or via the Echo Arena website:- echoarena.com .
CLICK HERE TO READ OUR OTHER MISS ENGLAND REPORT AND AUDIO INTERVIEW!
From Liverpool to Liverpool: John Lennon's spirit lives on
CITIES around the world named Liverpool and towns twinned with the UK city have taken part in a global candle lighting ceremony to celebrate the life of John Lennon and spread a message of peace.

9 places around the world, including Liverpool in Nova Scotia Canada; East Liverpool in Ohio USA, fellow European Capital of Culture cities and twin towns in Finland, Germany, Norway and Sweden joined Julian Lennon and Liverpool Lord Mayor, Cllr Mike Storey to light their own 'White Feather: Spirit of Lennon' candles.

Julian Lennon lit the first candle in 2009 outside the Beatles Story, Liverpool to coincide with the launch of his moving exhibition "White Feather: Spirit of Lennon" detailing life with his father John. He hoped that the candles would spread a message of peace and raise awareness of humanitarian issues around the world. Candles were sent across the globe, where local leaders were asked to light a White Feather candle in front of a landmark building.

Liverpool in Ohio was the first to take part with the Mayor of East Liverpool lighting a candle in front of the Carnegie Public Library. In Liverpool, Canada a child won a competition to light the symbolic candle and the ceremony was observed by thousands of well-wishers. In Bonn, Germany the Director of the Beethoven Museum lit the candle outside the composer's birthplace in reference to The Beatles' 1964 hit "Roll over Beethoven". The Mayor of Stavanger Norway, a fellow European Capital of Culture city, lit their candle next to a national Viking monument.

Jerry Goldman, Managing Director of the Beatles Story said:- "We sent candles to cities around the world that have a connection to Liverpool. The success of this simple gesture has been wonderful and to see the pictures from all over the world featuring the White Feather candle is quite powerful. Julian is continuing his father's work to great effect."

Julian Lennon said:- "I started The White Feather Foundation in memory of my father. Its mission is to raise awareness of environmental and humanitarian issues around the world. It's wonderful that all these countries have taken the time to light their symbols of peace and it gives me hope that so many people out there care".

Cllr Mike Storey, Lord Mayor of Liverpool said:- "I'm astounded by the response and messages we have had from Liverpool's and twin towns across the globe, proving how strong our relationship with these places is. Through lighting the candles we've helped spread a message of peace and I'm sure John Lennon would be proud of his hometown."
Knowsley U19 Representative Football Squad head Off to Dallas USA!
DAVE Mercer who is the Dallas Cup Programme Manager is getting his team ready for another tour. Knowsley Youth have been sending a team to Dallas for 20 years and we hope this year will be our year and this year's team has now been selected. This is not only a world class International Football Tournament, but also an amazing opportunity to build international friendships for the members of the squad. We will keep you all posted on how the Knowsley U19 Representative Squad are getting on. The tournament will run from Friday, 19 March 2010 to Tuesday, 6 April 2010.