Miss England visits Southport! Report, photos and audio interview.
Photographs by Patrick Trollope.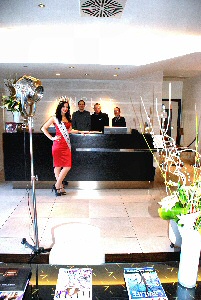 WOULD you like to become Miss Southport? Would you like a chance at being Miss England and going to Miss World? In the passed we have backed this competition, as many of our established readers would know, so when we got the call, we had to go and see what was going on. Over the years the compaction has gained a reputation of being no more than a glorified beauty show, and many of us, including our selves turned our backs on it. But last year things changed and a new face of Miss England emerged. Following a two year break the regional heat of the nationwide beauty and talent competition, which dates back to 1928, has returned to the town.

Katrina Hodge is not only Miss England, but also a full time serving member of the armed forces in the Adjutant Generals Corps. In fact she is a Lance Corporal and has fought in Iraq. This amazing young lady, who is only 23, also received a bravery award for apprehending an enemy that put her and her comrades at risk. This is a new image and one that Miss England 2009 is hoping will continue.

Taking unpaid time off from her army duties, she visited Southport on 12 February 2010 and we met up with her at the Vincent Hotel on Lord Street. "I am here to promote the Miss Southport leg of the 2010 Miss England competition." she told us as she sat in a leather chair, in the Tony McGee Bar in the hotel. Relaxed and very openly, before we started the audio recording, she told us all about what she thinks Miss England is all about and how she got it. "I was not expecting to become Miss England. I had come runner up in the 2009 and it came a quite a shock to find out I was to become Miss England. It happened whilst I was in my barracks. I received a phone call from the organisers to say the winner had stepped down and I was offered the Miss England 2009 title. Suddenly I found my self jetting off to Miss World. It is amazing and it is like a dream. I now have so many friends all around the world and I have seen so many amazing things. I have learned all about the England and seen places I would not have thought of going to in the past. I am still a serving member of the Army though and my thoughts are always with my fellow compatriots. I have not lost site of that. I am keen to promote the Army through out my roll as Miss England and I am extremely keen to raise cash for Hep the Heroes and other charities connected with the armed forces. It is who I am and my real life. In my view any female can be Miss England, you don't have to be amazingly stunning. I do not class my self as an outstanding looking girl, like so many fashion models are. That is why I am looking girls who have personality and want to promote England, by upholding all that it stands for. They must be true and open about them selves. Anyone can do it, as I have shown. When I start judging, I want to see the real you, should you enter." She told us.

Miss England 09, aka Katrina in our view has really opened up the competition and shown it can be more than just about butie. She is a warm and friendly girl and we wish her all the best for the future. To hear the interview press play.

Also if you want to meet this young lady, then you can get the chance by entering the Miss Southport 2010 competition as she will be a judge! Contestants for Miss Southport just have until 26 February 2010, to enter via the Miss Southport website misssouthport.co.uk. You can also find out more about Miss England via:- missengland.info.
Contestants entering must be aged between 17 and 24, and must never have been married or have children. Successful entrants will be invited to take part in an X Factor style panel interview at the Vincent Hotel. This year Miss England aims to raise money for the Variety Club Children's Charity through contestant fundraising and activities. The winner of Miss Southport 2010 will, amongst other prizes, win a place in the Miss England semi-final where she will have a chance to go onto Miss World 2010, in Vietnam, where the main prize is $100,000.

Anna Matthews, event manager at the Vincent Hotel, said:- "It is great for Southport to have such an iconic competition, as Miss England, returning to the town. Southport has produced five previous Miss England winners but the last one was 12 years ago so it's about time we had another winner. We're hoping as many local girls as possible enter the competition so we can show the rest of the UK that some of the hottest girls in the country come from Southport."

Event Organiser Nadia Musa said:- "We haven't had anyone representing Southport in the Miss England final since 2007, so it's important that this year we have an ambassador to represent the town."
Good luck to all of you who enter this years Miss Southport!
Extra Play.... Miss England Interview


WE have played this interview on Liverpool Reporter already, but if you missed it then this is your chance to hear it, or if you heard it, to play it again.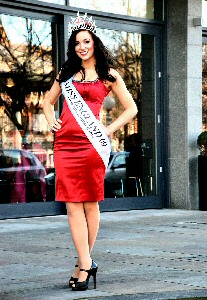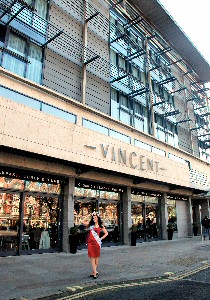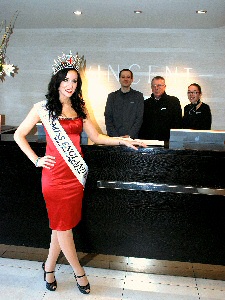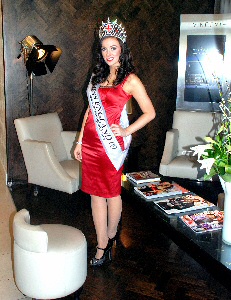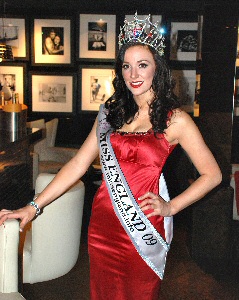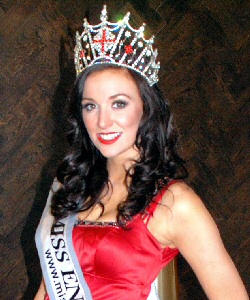 | | |
| --- | --- |
| | DID YOU KNOW? Southport has a strong track record in the Miss England competition with five previous winners! Could you be the next one? |