Next Step Representing Southport in Miss England!
Photograph below by Dale Robinson.

IT was an amazing night at the Mr & Miss Southport contest. Havana helped to provide the perfect stylish backdrop for the very important competitions. The event was held on 29 April 2006 for the first time in years and at stake was the reputation of the town! The event brought with it a sell out crowd and lots of dazzlingly dressed models everywhere you looked! It was not just the models and the audience who looked stunning but so did the hostess, Miss Liza Bond. Not only did the evening have models and the competition, but it also had entertainment from the North West's leading dance company M-D Productions and girl band Diverse! That's not forgetting Mr James Rooney! The night also raised over £50.00 for Southport St John Ambulance who did a very quick collection in one of the intervals. Emma of the three event organisers from Bedazzled Model And Casting Agency said:- "This has been one of the best shows we have had, thanks to Havana and all its staff. The Club's Staff and owners could not be faulted. We also have to thank Southport Reporter for installing extra lighting for the event and putting up backdrops, lots of flags and lots more work behind the scenes, like helping us with event coverage. That was only the tip of the iceberg, as also backing the event was Southport's Letter Box Bar and Springbok Trekkers Night Club. I have to say that the night would not have been as colourful without the help of Amy Booth who owns Amber Fashion Ltd, on London Street in Southport. She did a fantastic job of dressing the girls with up the latest night-time glamour outfits..." The results of the event for Miss Southport 2006 follows:-

The title of Miss Southport 2006 goes to Danielle Burton. She will now represent the town in Miss England and who knows, she might even represent England in Miss World! Coming very close in second place was Sarah-Jane McCabe. Her dazzling looks and bubbly personality proved a hit with the judges... Keep a look out for this girl as she will be a top model if she keeps on the way she is going. Third place was Rachelle Perez, a lovely friendly girl who also shines brightly. Well done to all the contestants. You all put on a stunning show and is was only a few marks that separated you all.

Now the title of Mr Southport 2006 went to Wesley Tagoe. Again he will be strutting his stuff and representing Southport in Mr England... Again he might even be the next Mr World! Well done to all the lads.

We would like to thank Dale and Mark for their help manning the lighting desk, and taking photos on the day.

Click on below to see four pages of photographs from the night.

If the green box above does not show, you must download a new edition of Java. To get it just use this link:- java.com/en/index.jsp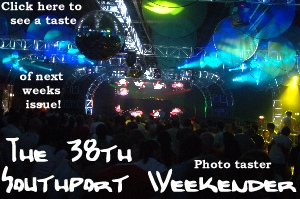 Beach Closed To Public...
END OF THE BEEF BAN:- CONSERVATIVES TO HOLD CELEBRATION BARBECUE
F.A. Cup Final 1986 Reunion match
Vote for Liverpool's Council Idol!
Search is on for green royals
Vue Film Showing Times.
Letters To Editor:- "Search for lost Relatives"
Jason Eddie, Billy Fury's brother in fantastic new tribute show
999 CHIEF ANSWERS 18 MONTH CALL TO RACE PACIFIC
FOCUS ON LOCAL PEOPLE DURING NATIONAL M.E. AWARENESS WEEK 8 May to 14 MAY 2006
ONLY 1 IN 3 BRITS ARE HAPPY WITH THEIR JOB
GIANT PUMPKIN CHALLENGE FOR CHILDREN
Letters to Editor:- "Air Show 2006"
DRIVING NEED
Usdaw welcomes Trade Minister's clear commitment
Liverpool 08 Open Squash Championship, St George's Hall Liverpool
HELP THE AGED LAUNCHES BROADBAND PACKAGE
Lords slash asbestos compensation
THE SOUTHPORT WEEKENDER 2006 - A Taste of Next Weeks Issue!
ROBBERY- SCARISBRICK NEW ROAD, SOUTHPORT
ST MARGARET CE HIGH SCHOOL U16 FOOTBALL TEAM COMPETE FOR ESFA FINALS CUP
You've been framed, Ma'am
Usdaw warmly welcomes Prime Minister's commitment
BRITAIN TO LEAD THE WORLD IN WORK REVOLUTION
SAFE SCHOOLS CHARTER
Government report admits extending Sunday shopping hours will not create extra jobs
Electoral Commission to evaluate Sefton, Liverpool and Knowsley election pilots
Forums welcome rethink on hospital mobile policies
LETTER TO THE EDITOR:- "UK Farm Payments"
MISSING FROM HOME:- JUOZAS VAITKEVICIUS
TVYP SEARCH FOR TV STARS OF THE FUTURE
GREEN LIGHT TO ENTER NATIONAL RECYCLING AWARDS 2006
Oxton Art Fair
FORMBY HALL GOLFING GLORY
SOUTHPORT FLOWER SHOW LAUNCH DAVID BELLAMY SCHOOLS COMPETITION
New look for Liverpool libraries
DIVE WITH SHARKS FOR CHARITY
PARENTS URGED TO BEACH SAFE
Meet World Champion Stunt Rider
VICTORIOUS VICTORIA SCORES A HOME RUN!
Photos from Mr & Miss Southport 2006
~HAPPY BIRTHDAY~
If you have someone you want to say happy birthday to, for free,
then use the email address below to send us the names
you want us say happy birthday to, and/or a photograph.
Email us today!