Young Role Models Honoured In Liverpool
Photographs and written by Colin Trollope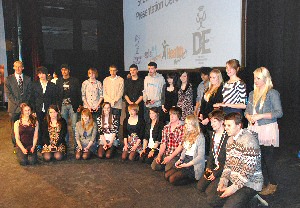 ON Wednesday, 10 March 2010, David Carry, a Swimming Commonwealth Gold Medal winner along with Anthony Quinlan, who plays the part of Gilly Roach in the TV sit-com Hollyoaks, and Councillor Mike Storey, The Lord Mayor of Liverpool presented certificates and badges to Liverpool young people. It was an Oscar's style ceremony in the Liverpool BT Convention Centre.
About 400 pupils and students, from a large number of Liverpool Schools, who had taken part in the Duke of Edinburgh's Award Programme, were honoured along with 36 Street Mates and 40 Health Mates, each of them had received training before assisting with the Liverpool Youth and Play Service's Splash programme of school holiday activities programme. Incidentally, there are over a thousand young pupils at schools and in Youth Centres currently enrolled in the D of E Scheme in Liverpool.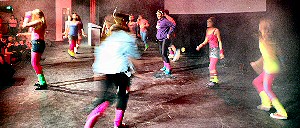 The Lord Mayor has said that it is a great chance to show case the traffic number of talented young people we have in Liverpool. By becoming Street Mates and Health Mates and taking part in the Duke of Edinburgh's Award Scheme they are developing valuable team building and people skills, which will serve them well when they start work. There was a grand and very professional set of acts between the presentations provided by talented young performers from St John Bosco Arts College, SFX College Choir, Catalystics and Cody Urban Dance.
Well-done everybody who took part; it was a stupendous night in fabulous surroundings.
Click on here to see more photographs taken on the night at this event.

GET OUR DAILY NEWS EMAIL

KEEP up-to-date with our daily news email service. We are slowly getting to the end of our Beta Test of our new news service on Formby-Reporter.com. So if you have not signed up, do so now. If you have already subscribed and not getting emails, remember to click on your confirmation email. So if you did not get one, email us today via:- news24@southportreporter.com and we will resend it to you!
BUSINESS FOR SALE

SOUTHPORT'S small, yet well known Shamrock Sandwich Shop on Hill Street, Southport (PR90NW) is now up for sale. The business has a good regular clientele, making it an ideal business opportunity. Call 01704 501 769 for more information.