Radio Host Martin Hovden goes out and about for Dune 107.9fm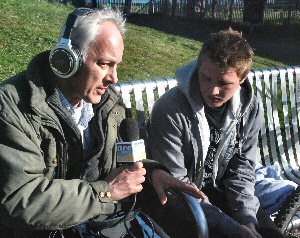 THE ex-editor of the Southport Champion has developed a keen ear for news and now putting it to the test on the radio. Each week he hosts very informative programs on the local radio station. On Friday's show, called:- "Martin Hovden Live From Studio One", will again be on air form Dune 107.9fm from 6pm to 7pm. This time went out of the studio after picking up on a news item that affects lots of kids and some adults from all over the Sefton, Merseyside area. So Martin armed with his recorder, took to the road and headed to Southport's Town Centre skate park next to the Marine Way Bridge on Southport Promenade. Marten picked this topic as he has found out through chatting to young skateboarders, that they are unhappy with the current state of the facilities on offer. They claim the site is beginning to show its age and at times is dangerous with gangs of youths, who are not skateboarders, causing trouble. They want Sefton Council to include a new skate park in the multi-million pound development of Kings Gardens on the Promenade.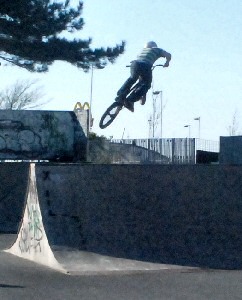 Martin explained:- "Residents will remember the problem skateboarders caused when they used the Princess Diana Gardens in Lord Street to skate, plus the area around the band stand. The council eventually built the skate park next to the Marine Way Bridge. Then after a eloquent deputation of skateboarders petitioned the council at a lively meeting at Southport Town Hall, the local authority installed floodlights so the youngsters could skate at night. However, the area has now been neglected and the youngsters want a new skate park, preferably near the Morrisons end of the Promenade."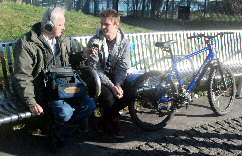 Martin is also taken on a fascinating guided tour of historic Churchtown by Gladys Armstrong (the show's resident local history expert). Martin explained:- "Gladys often conducts guided walks around this most beautiful village and her commentary is packed with fascinating and historic information about Churchtown. Along the way we meet residents and are at one stage are surrounded by youngsters from Churchtown Primary School, all keen to tell us why they love the village. I thoroughly enjoyed my walk around Churchtown and would urge others to do the same."

He will also be playing his other local report about local history with the help of expert Gladys Armstrong, who gave Martin Hovden a fascinating guided tour of Churchtown.

Do you have a view, if so please email us at:- news24@southportreporter.com and also Martin on his email, via emailing:- martin.hovden@blueyonder.co.uk.


STOP PRESS:- Martin will be hosting a live, no-holds-barred Candidates Debate on his show a week on Friday, 30 April 2010, with Southport Liberal Democrat candidate John Pugh, Conservative Brenda Porter and Labour's Jim Conalty. Martin, who takes no prisoners with our local politicians, was described recently as "Jeremy Paxman but more polite", so expect a lively debate.
If you want to put forward a question for the candidates, please feel to contact Martin via emailing:- martin.hovden@blueyonder.co.uk.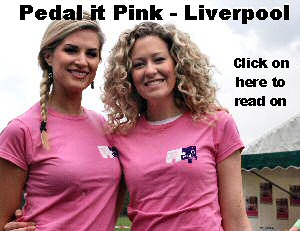 --- MORE NEWS REPORTS BELOW ---
Owning a home a dream not a reality for young people
Night Life - Tom at 101
MFH - KEVIN JOSEPH ASPINAL
SKELTON'S COURIER SERVICES SET TO BOOST BUSINESS AS MEMBER OF TRANSPORT EXCHANGE GROUP
ROBBERY AT KFC, TUEBROOK
BOOTLEG BEATLES OPEN HAYDOCK PARK'S MUSIC NIGHTS
Peter Brown Craven Minor JFL
FIREARMS INCIDENT - CROXTETH
Mark the 65th anniversary of VE Day and the 70th anniversary of Churchill coming to power
INTERNATIONAL HARM REDUCTION ASSOCIATION'S 21ST INTERNATIONAL CONFERENCE
Letters to the editor:- "Brookside To DVD"
RICS UK Commercial Property Survey April 2010
ARRIVAL OF ENTERPRISE HUB SIGNALS EXCITING CO-OPERATIVE FUTURE FOR SOUTHPORT BUSINESSES
NURSES SIGN UP TO UNISON'S HARD-HITTING HEALTH MANIFESTO
Elderly people in Knowsley get fit without leaving their armchairs
NEXT OF KIN APPEAL - GORDON MILLS
Wigan unites to Keep Britain Tidy
E-FIT AND CCTV WITNESS APPEAL - ROBBERY WALTON/ANFIELD
Brits' spare time is a click away
Friends of St George's Hall - Liverpool
Older workers suffer on Merseyside
St Lukes Formby Flower Festival
CUT - What else are people eating, snorting and injecting when they take illegal drugs?
Pedal it Pink - Liverpool 2010
MERSEYSIDE POLICE LAUNCH NEW CHINESE LANGUAGE LINE
Riverside Steam and Vintage Vehicle Rally 2010 Report
MFH - JOHN JOHNSON
BUS PROJECT AIMS TO CRACK DOWN ON ANTI-SOCIAL BEHAVIOUR IN TUEBROOK
Radio Host Martin Hovden goes out and about for Dune 107.9fm
BUSINESS FOR SALE

SOUTHPORT'S small, yet well known Shamrock Sandwich Shop on Hill Street, Southport (PR90NW) is now up for sale. The business has a good regular clientele, making it an ideal business opportunity. Call:- 01704 501 769 for more information.
| | | | |
| --- | --- | --- | --- |
| This weeks news in pictures | | | |
GET OUR DAILY NEWS EMAIL

KEEP up-to-date with our daily news email service. We are slowly getting to the end of our Beta Test of our new news service on Formby-Reporter.com. So if you have not signed up, do so now. If you have already subscribed and not getting emails, remember to click on your confirmation email. So if you did not get one, email us today via:- news24@southportreporter.com and we will resend it to you!
...HAPPY BIRTHDAY...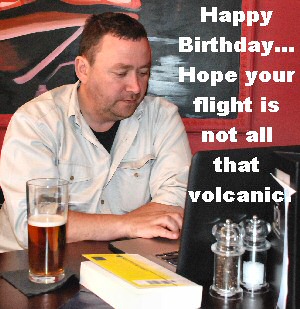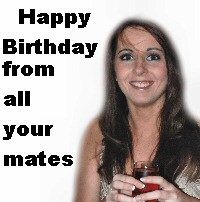 If you have someone you want to say happy birthday to, for free,
then use the email address below to send us the names
you want us say happy birthday to, and/or a photograph.
Email us today!