A Chance to see the stars of tomorrow to day!

Photographs by Patrick Trollope. Page 1 of 2.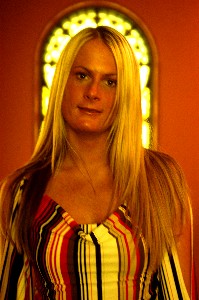 This heats rising star is Anthony Hannah, even at 13 he is certainly a star of the future.
Anthony has been singing and dancing since he was 5. He is currently a member of the Anglican Cathedral choir and is at home in all kinds of musical situations.
Recently, Anthony sang in the opera "Emilia de Liverpool" at the Royal Court and has appeared on many famous stages including the Liverpool Empire and the London Palladium. Heat 4's surprise guest artist, who will entertain the audience during the judging process, will be Michelle. Michelle is well known throughout the North west both in musical theatre and on the club scene. Her numerous stage appearances in many theatres including the Liverpool Empire have given her an extensive repertoire and her vocal range enables her to stun audiences with a wide variety of music from classical to pop. Natalie Shaw has been singing for the past six years. She was a former member of the Harlequin Roadshow which won numerous competitions. Natalie has appeared on the Liverpool Empire and many other North west theatres. She appeared on Micheal Barrymore's "My Kind O People".
Catherine Whitehall is an ex Blue Coat at Pontins in Wales. She has just returned from Disneyland in Paris where she was a parade and show dancer. Catherine has recently completed the recording of a CD of original material. The latest news is Catherine has landed the role of Cinderella with M and M Productions (the No 1 Children's Touring Company). Scott Dylan, from Halewood, is a favourite club act up and down the UK. He hopes this is a springboard to greater things. Scott has been singing since he was a boy and performs a variety of music and especially enjoys Rat Pack material.
Simon J, from Burscough, is an electric performer who is a real treat for the ladies. Simon is well known throughout the UK he is an ex Pontins performer and recently played a lead role in the sell-out production of "Her Benny" at the Liverpool Empire.
Suzanne Morris, from Aintree, has been singing and dancing from the age of 5. Suzanne has been in two of Bill Kenwright's productions "Annie" and "Robin Prince of Sherwood". She has performed on Liverpool's Empire, Playhouse and Philharmonic Theatres; Blackpool opera house and various venues in the North west. Suzanne was the winner of the Variety Club of Great Britain award for Achievement and was chosen as a semi-finalist for ITV's "This is my Moment" with Mel B. LOST, from Ormskirk, is a five piece band who write their own music who have been together for four and a half years and have just recorded their first album. They have been described as a guitar based pop/rock band.
Rose, from Litherland, is the only female comedienne in the competition. She writes her own material and is a graduate from from Hope University in Drama and Theatre Studies.
Elaine has appeared on stage at the Neptune Theatre and the Liverpool hope Theatre as well as being currently on the North West Comedy circuit. J. Tarjanyi, from Southport, has been singing around the country in hotels during the past 10 – 15 years. He plays the keyboard and guitar and loves a wide variety of music. This is the first time he has entered a talent competition. A.J. is also a solo artist as well as coming together with other musicians as a workshop.
Karen Hughes, from Aintree, works both as a solo artist and as a member of a band called "Double Trouble", the cabaret act which appears throughout the North west. She was a semi-finalist in The Crown Talent Competition. This is the second year that Karen has entered "Search For A Star".
To go back to the Top of the page.