BRITANNIA VISITS LIVERPOOL!
Photographs by C Trollope & L Trollope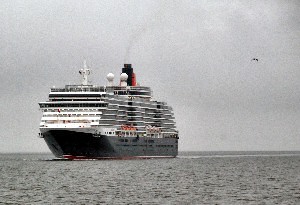 ON the anniversary of the day the very first Cunard Ship, Britannia, sailed from the River Mersey, in 1840, The 16 deck Queen Victoria, with about 2,000 passengers, sailed into the Port of Liverpool, said by Cunard to be its spiritual home. The wood-paddled Britannia had sailed, as a Royal Mail Ship, carrying only mail to the United States of America. She would have fitted into the space of one of Queen Victoria's ballrooms. Our stately visitor, Queen Victoria, was welcomed into the River Mersey by two tugs, a pilot boat, a private yacht, and two of the world famous Mersey Ferries, the Royal Daffodil and Snowdrop. This beautiful, second largest Cunard liner was an awe inspiring sight on Monday, 26 July 2010, as she sailed, thinly veiled in the drizzle, up the Mersey. She appeared to dwarf the river-side buildings. Sadly, the Three Graces, and other iconic Liverpool Buildings, were hidden from view by the weather. On the road behind the Cruise Liner terminal, a very large, excited crowd watched her berth at the commencement of her inaugural visit. She berthed just after 9am. People continued to come down to the Waterfront to admire the ship. On board that afternoon, Camilla, Duchess of Cornwall who, because she had named the ship 3 years previously, is known as her God-mother, unveiled a plaque commemorating Britannia's voyage from Liverpool. The Queen Victoria sailed at 11pm, after a fire-work display, to Belfast. To see our photographic coverage of this event, please click on here.
Liverpool City Central BID Invite Nursery Children To Open Children's City Garden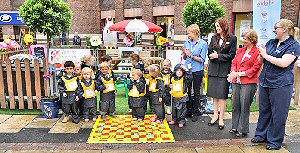 AN enchanted summer garden, set up with colourful kiddie picnic benches, toad stool seats, fake grass and lots of fun that make up the dreams of most three and four year olds. Local nursery children had their wishes come true when they were invited as VIP guests to officially open the City Central BID children's garden based near the big TV screen in Clayton Square. Children's furniture and toys in the garden were kindly donated by Mothercare, Clas Olsen and Boots.

The children from Hopscotch Childcare were invited along to the ribbon cutting, armed with their child friendly scissors and joined by Carol Cooper the marketing manager of Clayton Square and St Johns shopping centre to declare the children's garden officially open.

Formalities were over quickly as the youngsters rushed to play in the garden which will be open to the public until the end of August 2010.

St Johns and Clayton Square Shopping Centre's are working in partnership with City Central BID to support Child Safe, a UK wide initiative in Liverpool City Centre. The children's garden will be a secure Child Safe Zone, Child Safe promotes shopping for the whole family in a secure and friendly environment; parents can pick up free wristbands, fill in their contact details and attach to their child's wrist. Each shop displaying the 'Child Safe' window sticker is a safe zone for any lost child.

Ged Gibbons, Chief Executive of City Central BID said:- "The new extended summer programme is in place to drive foot fall into the city centre and boost trading opportunities for local businesses. The premise behind the children's garden is to provide a fun and safe area for younger children to enjoy play time in their city centre; parents can have peace of mind that their children are in a safe environment. We wanted to invite children from a local city centre nursery; the little ones from Hopscotch Childcare were very well behaved and had a great time in the garden."

Sue Adamson, Owner of Hopscotch Childcare said:- "The children's play garden is an excellent idea, there is nothing worse than having stressed out kids with parents out shopping and this garden gives them the perfect opportunity to have a run around and a play in a safe, fun environment. The children felt very special indeed being invited to open the garden, so much they wanted to stay!"